Midleton GAA news 31st December 2012
31 December, 2012
Midleton GAA ASAP Programme
As part of the GAA's ASAP Programme we have a couple of events starting in the New Year. Firstly we are running a ' Life Skills & Health Promotion Programme, this programme is specifically for our Fe 15 & 16 boys. Also included in this is the Midleton Ladies football team. The course will be run over four weeks (1 night per week)
The course will touch on a health & life skills. We plan to make the course interactive with a fun element to it.
Gordon Kinsley (Development Worker) & John Dennigan (Foroige) will run the course. Gordon has been a great friend to the club and has helped us out greatly in the past. John has played with the club in the past and now has offered his services to us which we are delighted with.
We will be requesting the help of the coaches of these teams to help out on these nights.
Parents will be issued with letters on same in early January

Off The Booze & On the Ball
We will take part in this challenge for the month of February. We would encourage both players & non players to take up this challenge in the New Year.
The aim of this is to promote a healthier lifestyle and raise some cash for your team at the same time.
For more info check: www.gaa.ie/club zone/asap-programme/
Ardmore GAA Long Puck Fundraiser
On Saturday last 29th a Long Puck fundraiser was held in Ardmore Waterford for a former player Johnny Hennessy (who incidentally is living in Broomfield now and is looking forward to his kids donning the Black & White over the coming few years).
We entered two teams , one being the winners of our own Sean Keohane Memorial Long Puck which were Mickey "Bok" Walsh, Muiris Quirke and Coleman Quirke and the second team comprised of Pat Walshe, Declan Ryan and Padraig O Shea.
Over forty teams supported this competition, neither of our teams finished in the prizes but with a late surge the Pat Walsh team took the bragging rights with a very late finish. Words like miracle, nail biting and emotional could only describe this contest best!! The clubs Waterford brigade of Liam Ryan, Mick Tobin and Gavin Power were also out in force.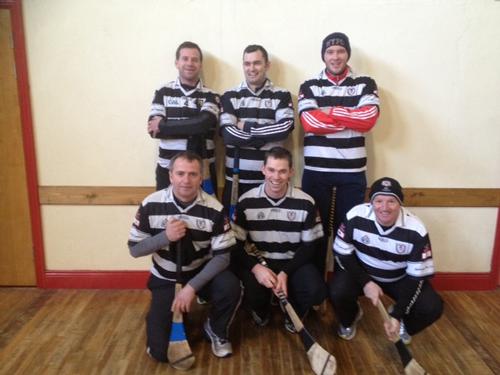 Club Lotto/Bingo
Our Lotto Jackpot is currently at 1,600e and will recommence on the 4th of January. Tickets can be purchased from any of the following outlets for €2; – O Neill's Bar, Linehan's Bar, Club Bar, Maple Leaf Bar, O Farrell's Butchers, Frank Murphy Butchers and Chadwicks.
We also have monthly; yearly and direct debit payment options available, for further information please contact any club officer.
Bingo takes place each Friday night at the Club starting 8pm
Club Gym
One of the biggest events of 2012 for Midleton GAA Club was the opening of our new development including the well equipped modern Gym.
Gym membership for 2013 is now available in conjunction with club membership. The fee for full membership for 2013 is €150 and €100 for students and unwaged. These prices include full club membership. Once full payment is made you can start using the gym as soon as you complete the induction course run by Paudie O'Keeffe. Only FULLY paid up members will be issued with fobs to enter the gym.
For further information or to apply for club and Gym membership; please contact Terrence McCarthy on 086 6013228.
Club Shop
The Club shop is up and running with the last number of weeks and proving to be a great success. Michael Crotty and Mary Quinn have been holding the fort on Thursdays 7.30-8.30pm and Saturdays 11-12 and a generous stock of Jerseys, Skins, Hoodies, Socks and Shorts are available.
Club Membership
For full details of the 2013 Membership rates please log on to our Club website and check out the Download section for a detailed breakdown of the various packages available. Contact our Membership Officer Terence McCarthy @ 086/6013228 for any further queries.
Club Meeting
The first meeting of the H & F Club Executive will take place on Monday 7th of January @ 8pm, all officers and team reps are requested to attend.
The Executive committee of the Club would like to wish all our members and supporters a Happy and Healthy New Year.
Juvenile Notes
Long Puck
The 2012 Long Puck was down on numbers compared with 2011 probably due to the poor weather. This said we still had a good turnout of 20 juvenile teams and 24 adult teams.
The participants left the club grounds at 10am on St Stephens day and dropped off the juveniles first and then went on further to drop the adults.
The juvenile teams were made up mostly of parents and children with a few older juveniles deciding they were big enough and bold enough to do without their dads.
The juveniles got the best of the weather with most getting home before a heavy dose of driving rain which caught most all of the adult competitors and a handful of juveniles.
Following the Long Puck itself it was back to the club where soup and rolls were laid on for the wet and weary. And then it was down to the real work of speculating who won the competitions.
This was a special year for the adult competition with a new trophy "The Sean Keohane Memorial Perpetual Plaque" in memory of our club mate and former juvenile and adult club chairman.
Sean is sadly missed by the club and this will be a wonderful reminder of a passionate and dedicated club member.
This year the trophy was won by Mickey "Bok" Walsh, Coleman Quirke and Muiris Quirke. The prize was presented by Sean's son Micheal Keohane.
The juvenile section had a cup donated by Kevin Hennessy. This competition was won by Tom Abernethy and Padraig O'Brien.
For all the photos from the Long Puck click HERE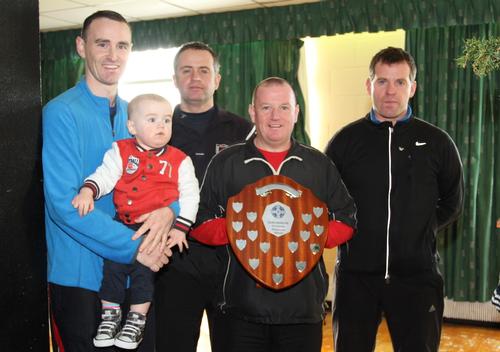 Sean Keohane Memorial winners: L to R: Micheal Keohane & Son (presenting), Coleman Quirke, Mickey "Bok" Walsh and Muiris Quirke.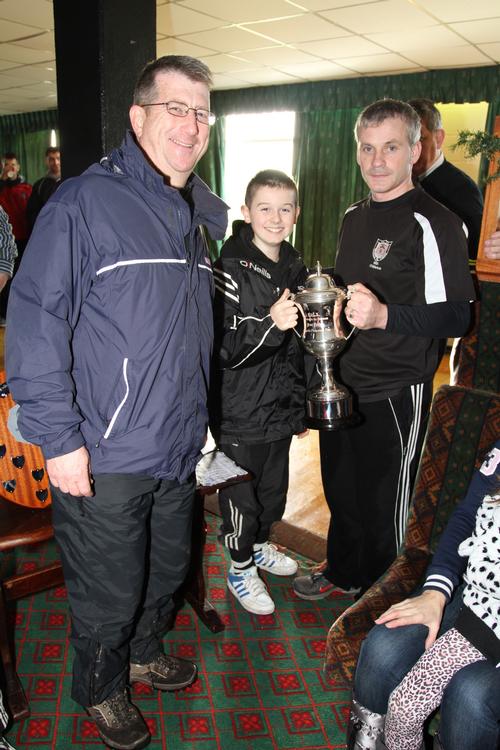 Juvenile Long Puck winners: L to R: Tom Abernethy, Padraig O'Brien, Cormac Quirke (Juvenile Chairman)
Training
Training for juveniles will be starting again shortly. Team managers will be texting details to each team. Also keep an eye on the club website www.midletongaa.com on the juvenile team page for your child's team training times. We would ask parents to encourage their children to practice during the week even if the weather is bad, parents can practice catching the ball indoors. For players from junior infants to Fe 9 please remember to bring your €2 to training sessions. This money is vital to keep the juvenile section of the club funded.
Club Gear
The Club shop will be open from 7.30 to 8.30 on Thursday evenings and from 11am to 12pm on Saturday mornings. A full selection of gear is available including new club branded base layer tops. Anyone looking for presents can also buy gift vouchers from the club shop. Full price lists are available on the club website.
Happy New Year
The juvenile committee would like to wish all players and their families a happy, healthy and prosperous new year.