Midleton GAA notes 17th December 2012
17 December, 2012
Midleton Hurling & Football Notes
Munster Council Grant
At a recent presentation in Pairc Ui Chaoimh the Munster Council Development grants were awarded to a number of Cork clubs. We were the lucky recipients of just over 23,000e towards our recent Club Development. On the night we were represented by Club Treasurer John Fenton who was presented with the cheque by Sean Walsh Chairman of the Munster Council.
The Club would sincerely like to thank the Cork County Board Treasurer Pearse Murphy and our own Ian O Brien for their input and support towards our application.


Pictured above are Jerry O Sullivan, Sean Walsh, John Fenton, Bob Ryan & Tracey Kennedy
Winter work planned for the Club
Over the coming number of months there are a number of jobs planned for throughout the Club premises, we hope to carry out these works with as little as possible disruption.
These works include new external lighting around the premises and car park, upgrading our Security systems, replacing the old committee room window and door, verti draining the pitch and re sodding the goalmouths.
Club Lotto/Bingo
Our Lotto Jackpot is currently at 1,400e, tickets can be purchased from any of the following outlets for a little as 2euro – O Neills Bar, Linehans Bar, Club Bar, Maple Leaf Bar, O Farrells Butchers, Frank Murphy Butchers and Chadwicks.
We also have monthly; yearly and direct debit payment options available, for further information please contact any club officer.
Bingo takes place each Friday night at the Club starting 7.30pm
Club Gym
Our new well equipped Gym is in full swing and new members are very welcome.
Equipment includes spinning bikes, treadmills, rowing machines, bench presses, kettle bells, medicine balls and many other free weights.
The Gym is open daily from 7am to 9.30pm and access is only available to fully paid up members with a Key fob, membership rates and offers will be displayed on the Club website very soon.
Club Shop
The Club shop is up and running with the last number of weeks and proving to be a great success. Michael Crotty and Mary Quinn have been holding the fort on Thursdays 7.30-8.30pm and Saturdays 11-12 and a generous stock of Jerseys, Skins, Hoodys, Socks and Shorts are available.
Midleton CBS
Last week the draw for the quarter final of the Dr. Harty Cup took place and Midleton CBS were drawn to play Our Ladys Templemore, this game will take place on the 16th of January in Cahir @ 1.30pm.
GAA Golf Society
The final outing of the Golf Society (Xmas Prize) will take place on Sunday the 30th of December from 11 – 12.30 @ East Cork Golf Club, all members are asked to make a special effort to play in the competition.
50 years ago
Fifty years ago in 1962 the Club grounds were officially opened by the then President of the GAA Mr. Hugh Byrne on the 8th of April, the grounds were blessed by the Parish Priest of Midleton and Dean of Cloyne and Club President The Very Reverend Edmond Canon Fox. A senior Hurling challenge game between Cork & Limerick followed with Cork winning by 1.08 v 3.01, a remarkable outcome of the game was that not a single score was recorded for the whole game at the Railway end goals.
Local players included our own Paddy Fitzgerald, Michael O Brien & Liam O Driscoll of Cloyne, Liam Dowling of Castlemartyr and Christy Ring.
The same year our Intermediate hurlers won the County Championship defeating Cobh in Riverstown by 3.08 v 2.03, the team was captained by Vincent Flanagan, Michael Horgan was a selector and trained by Willie John Daly.
Midleton Team: Tom Donegan, Willie Hennessy, Willie Flanagan, David (Dots) O Brien, Paddy O Donoghue, Paddy Hartnett, Patrick Flanagan, Paddy Fitzgerald, Con O Sullivan, Tim Nagle, Gerard Murphy, Vincent Flanagan, David O Brien, Michael Lordan and Frankie Walsh, Subs were Garrett Cashman and Eddie Murphy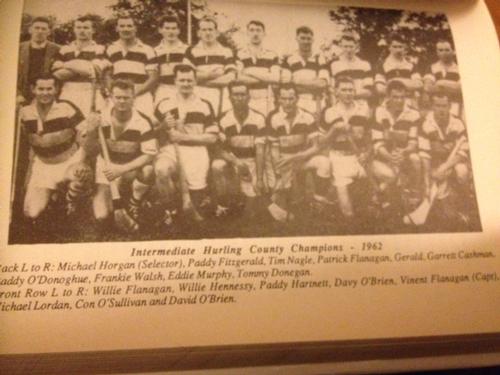 25 years ago
Little did we think when our senior hurlers began a championship campaign with a comprehensive first round victory over Seandun in Caherlag that it would be the start of travels throughout Munster and All Ireland in a quite historic year.
After securing back to back County hurling titles by defeating Na Piarsaigh in the final, Clarecastle were defeated in Ennis and Ballyduff from Waterford were accounted for in Midleton to secure a Munster Club final place against Cappawhite from Tipperary. After a pulsating hour at Kilmallock Midleton emerged winners on a scoreline of 1.12 v 1.11, statistically the Magpies hit a total of 16-89 in the seven games and only conceded 8-68.
Midleton Team: Ger Power (capt), Denis Mulcahy, Michael Boylan, Sylvie O Mahony, Edser Cleary, Sean O Brien, Pat Hartnett, Tadgh Mc Carthy, Michael Crotty, John Fenton, John Hartnett, John Boylan, Colm O Neill, Gerard Fitzgerald and Kevin Hennessy, subs were Vincent O Neill, Kevin Coakley, Gerry Smyth, Ger Glavin, Coleman Quirke, David Quirke and Jerry O Farrell. The selectors were Joe Desmond, Fr. Denis Kelleher and Paddy Fitzgerald.
The Club Executive committee would like to remember any member, player, officer etc who may have passed away in the past year and wish everybody a Healthy and Happy Christmas and a prosperous New year.
County Board Newsletter December
Check out this months county Board Newsletter by clicking HERE

Juvenile Notes
Santa comes to training
Saturday 15th of December turned out to be a training session with a surprise for our youngest players. The Midleton Community Centre played host to Santa who arrived with selection boxes for all the players and even some brothers and sisters.
This was the last training session for the Fe 8's, Senior Infants and Junior infants so Peter Smith, Martin McSweeney and Kevin McSweeney along with their fellow selectors will get a well earned rest before Christmas.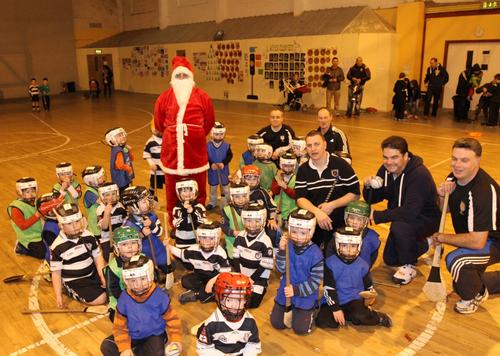 Juvenile Awards Night
Saturday evening was the clubs juvenile awards evening and a great turnout of players and their families were on hand.
The night started out with a good portion of 4Star Pizza and minerals followed by sweets for desert.
We were fortunate to have Monsignor Gould (Club President), Donie Cahill (Rebel Óg East Division Chairman), Liam Ryan (Midleton Adult Chairman) and Cormac Quirke (Midleton juvenile Chairman) on hand to speak to the audience.
This was followed by the presentation of prizes starting with the players player of the year awards. The winners were as follows: Fe 10 Daragh Crowley, Fe 11 Samuel Quirke, Fe 12 Alan Power, Fe 13 Eoin Mitchell, Fe 14 Ryan McConville, Fe 15 Luke Finnerty and Fe 16 Josh Deady.
Next up was the wonderful Fe 15 team who collected medals for the County A hurling Championship and Eastern Hurling league wins.
Our Cork representatives then collected their medals having done our club proud and were followed by Johnny Mulcahy who represented our club as a selector for the Cork Fe 14's.
Following their dedication over many years the Fe 16 management team were presented with plaques to mark their retirement. They were: Diarmuid Moloney (Manager) and selectors Cian McCarthy, John Morrissey and Jerome Curtin.
The last presentation of the night went to Jim O'Sullivan who for many years has supported the juvenile club through his coaching of hurling in the CBS, managing the Summer GAA Camps, managing the annual Christmas Raffle and representing the club at East Cork and Eastern board meetings. We wish Jim Well and hope he will keep in touch with the club in the coming years.
Well done to all who received prizes and also those who contributed to their teams.
For photos from the Awards night click HERE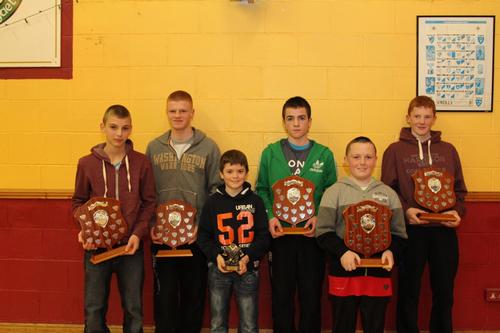 Christmas Raffle
There was a great turnout at the club pavilion on Saturday night last for the Christmas raffle draw.
There were over 30 prize winners in the draw itself and everyone who attended also received a ticket for spot prizes. The raffle was very well supported and our thanks go to all those who bought tickets for the raffle. A huge thanks also goes to those in the town who sponsored the raffle and we would encourage all our members to support our sponsors.
The draw was followed by music from Round 2, a local band which includes Club player Neil O'Regan.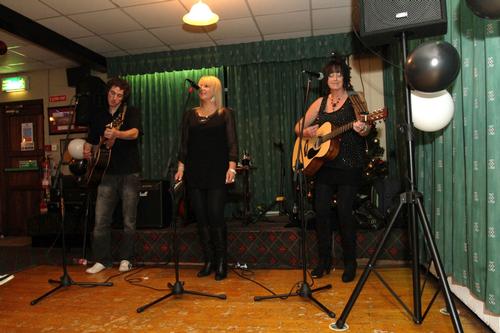 Training
With the nights closing in and the main pitch closing for the winter team training venues and times will be changing. Keep an eye on the club website on the juvenile team page for your child's team training times. Team managers will update teams by text when changes are due. We would ask parents to encourage their children to practice during the week even if the weather is bad, parents can practice catching the ball indoors. For players from junior infants to Fe 9 please remember to bring your €2 to training sessions. This money is vital to keep the juvenile section of the club funded.
Club Gear
With Christmas fast approaching, club playing and leisure wear or vouchers can be purchased for presents. Just contact any of the team selectors or you can enquire through the club website www.midletongaa.com . The Club shop will be open from 7.30 to 8.30 on Thursday evenings and from 11am to 12pm on Saturday mornings. Anyone looking for Christmas presents can also buy gift vouchers from the club shop. Full price lists are available on the club website.