Midleton GAA News 19th November 2012
19 November, 2012
Juvenile Notes
Fe 15
Congratulations to our Fe 15 hurlers who followed up their County win with the league title last Saturday. This was the second win against Erins Own in a matter of weeks and was down to hard work and team spirit from both players and selectors.
Training
With the nights closing in and the main pitch closing for the winter team training venues and times will be changing. Keep an eye on the club website www.midletongaa.com on the juvenile team page for your child's team training times. Team managers will update teams by text when changes are due. We would ask parents to encourage their children to practice during the week even if the weather is bad, parents can practice catching the ball indoors. For players from junior infants to Fe 9 please remember to bring your €2 to training sessions. This money is vital to keep the juvenile section of the club funded.
Christmas Raffle Tickets
Tickets for this year's Christmas Raffle are now on sale. Some will be given to boys at training sessions and we would encourage them to sell these in their local area.
Anyone looking for tickets can get them from the club bar or from juvenile team managers.
Many thanks to our prize sponsors again this year who have again come up trumps for the club.
Juvenile AGM
This years AGM will take place on the 29th of November. Anyone wishing to act on the committee should let any current committee member know in advance of the meeting. We would welcome new members to attend.
Club Gear
With Christmas fast approaching, club playing and leisure wear or vouchers can be purchased for presents. Just contact any of the team selectors or you can enquire through the club website www.midletongaa.com . The Club shop will be open from 7.30 to 8.30 on Thursday evenings and from 11am to 12pm on Saturday mornings. Anyone looking for Christmas presents can also buy gift vouchers from the club shop. Full price list below.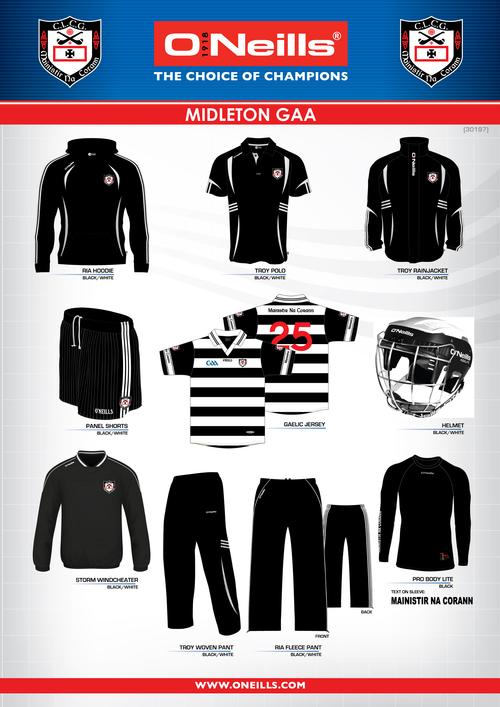 MIDLETON GAA GEAR PRICE LIST
| | | |
| --- | --- | --- |
| Replica jerseys up to | 10/11 | €30 |
| Replica jerseys | 13/14 | €35 |
| Shorts | 24 & 26 | €15 |
| Shorts | 26+ | €20 |
| Socks up to | 2-4 | €6 |
| Socks Adult | | €7.50 |
| Hoodies up to | 10/11 | €35 |
| Hoodies Adult | | €45 |
| Troy Rain Jackets up to | 10/11 | €30 |
| Troy Rain Jackets Adult | | €45 |
| Troy Polo Tops Black | | €35 |
| Troy Polo Tops White | | €40 |
| Fleece Pants up to | 10/11 | €30 |
| Fleece Pants Adults | | €35 |
| Track Pants up to | 10/11 | €30 |
| Track Pants Adult | | €35 |
| Skins Body Warmers Kids | | €25 |
| Skins Body Warmers Adult | | €30 |
| Club Jumpers (Glenmuir) | | €55 |
| Club Ties | | €10 |
| Club Beanies | | €10 |
| Club Baseball Hats | | €7.50 |