Midleton GAA News 15th October 2012
15 October, 2012
Junior B hurling Championship
Midleton 3-12 St Catherines 1-08
Midleton Junior B were in quarter final action on Tuesday evening last when we faced St. Catherines under lights in Killeagh. St Catherines started the stronger and an early goal saw them 1-2 to 0-02 in front Midleton gradually got into the game and a superb goal finished by Ian Fitzpatrick saw us go in at half time leading by 1-06 to 1-05. Approaching half time we lost a player to two yellow cards so our one point lead looked precarious. On the resumption we lost a second player to a straight red. With twenty minutes to go the teams were level and 1-06 each and we had only thirteen players. Howeveran excellent goal from Gavin Hurley settled our nerves and we proceeded to play some really good hurling from number 1 to 13 for the remainder of the game. All of a sudden our first touch and striking improved greatly and our forwards were deadly from all angles. Gavin Hurley added a third goal, sub Aengus Cotter contributed two points, Darren Quirke, Niall Madden and Ian Fitzpatrick all added quality points. In the end we had a comfortable win. Gavin Power and his selectors got a great response from the players when it was needed and all involved are to be commended for their performance in the last twenty minutes. They know however that a tougher challenge lies ahead when they face Carrignavar in the semi final. That semi final is due to go ahead this coming Saturday 20th at 4.30pm, venue to be confirmed..
Team: Christy Dunlea, Billy O'Shea, Pat Fox, Podge Dunlea, Neil O'Regan, Alwyn Kearney, Jerome Curtin, Eoin Ferriter, Darren Quirke, Sean O'Farrell, Keith Ryan, Gavin Hurley, Brian O'Sullivan, Niall Madden and Ian Fitzpatrick. Sub used Aengus Cotter.
Junior Football League Division 2 Final
Midleton 3-11 Fr.O'Neill's 2-04
On Wednesday 10th October Midleton's Junior Gaelic Football team played Fr O'Neill's in the final of the East Cork Junior League. The match was played in Ballynoe. The night had awful weather with a strong breeze and driving rain. But the field conditions and the quality of the football on the night more than made up for what the weather was throwing at the players. Midleton started well and some of their football was excellent. The goalkeeper was confident on every ball that came his direction, the backs closed down any major threat from the opposition while midfield and the forwards converted a lot of their possession. Midleton took a four point lead into the second half. It turned out to be the best half of football any Midleton team has delivered in many a long day. High fielding, numerous points from out-the-field and well taken goals gave the Magpies a comfortable winning margin by the time the final whistle was blown: After the match the Pat O'Mahoney cup was presented to Barry Fitzgerald the Midleton captain.
The Midleton team on the night was: DaraO'Keeffe, Brian O'Sullivan, Barry Fitzgerald, Joe Collins, Curtin, Seamus O'Farrell, Eoin Ferriter, Declam Ryan, Patrice Tschumangai, Pa White, Paul Barry, Ciaran Mulcahy, Willie O'Brien, Oisin Cotter, Kelvin Krushell.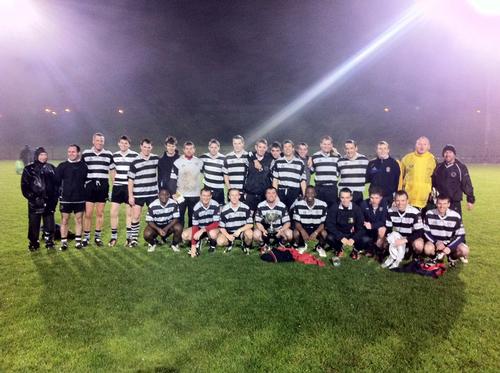 Junior C Hurling Championship
Midleton 2-15 Bride Rovers 1-05
Midleton Junior C hurlers qualified for the East Cork final when they overcame the challenge of Bride Rovers at Dungourney on Saturday afternoon last. Midleton had the better of the first half exchanges and led by 1-08 to 1-03 at half time. Midleton had a lot of wides in that first half as well. The second saw Midleton well in control with Andy Rea accurate from frees and play. Philip O'neill also added a couple of points as did Muiris Quirke, Brian Fitzgerald and Stephen O'Brien. Colm Leahy, Barry Fitzgerald and were prominent in defence. Substitute Coleman Quirke added a late goal to cap a fine team display. The East Cork final against Dungourney is provisionally fixed for Friday 26th October.
Team:Coran Swayne, Colm Leahy, Joe Collins, John Shanahan, Brendan Ferriter, Barry Fitzgerald, , Liam Walsh, Keelin Kennedy, Alan Stanton, Gearoid Fitzgerald (captain), Stephen O'Brien , Philip O'Neill, Andy Rea, Dara O'Keefe , Muiris Quirke.
Subs Used Brian Fitzgerald, Coleman Quirke , Paul O'Brien and Shane Goulding. Brian Rossiter.
Legends Walk
Vice Chairman Kevin Hennessy has organised a fundraising walk which will take place on Monday October 29th October from Kent Station in Cork to Midleton train station. A donation from the proceeds will be made to Midleton Hospital. He will be joined by fellow Midleton GAA legends John Fenton, Pat Hartnett, Denis Mulcahy and Ger Fitzgerald. Sponsorship cards are widely available. Any sponsorship would be much appreciated.
County Board Draw
The County Board Draw was a good fundraiser for the Club in the past year. It has been decided to put a focus on it again for the coming year in an effort to further boost the numbers participating. A ticket for the 12 monthly draws costs €100 and this enters you into a draw every month with excellent prizes on offer every month such as a car or larger cash amounts. From the Clubs perspective €45 out of every €100 goes directly to the Club. You can buy a ticket directly online or through Midleton GAA Club. If you wish to buy please contact either John Fenton, Vin Reddy, Pearse McCarthy or Steve Sheehan. Further details are available on the Midleton GAA or Cork County Board websites.
Midleton GAA Gym Membership
Our Gym is now open for Membership. Priority will be given to applications from existing Club Members and their immediate families, former players with Midleton GAA and Members of Midleton Ladies Football Club. Further details are available on our Club Website and from any Club Officer. Gym Membership for an existing Member of Club is €70, Non GAA Club Member is €100 and for spouse or sibling of Gym Member is €50. Contact Ian O'Brien or John Fenton for further details.
Lotto
Draw took place on Friday 12th October.
Jackpot was €10,200. Numbers drawn 5, 10, 14, 23.
No winner. Lucky dip winners of €40.
Karen O'Brien, c/o the Bingo.
Trisha Howard, The Paddocks, Castleredmond.
Chloe Walsh, c/o Mick Walsh.
Mary Shanahan, c/o Patrick McCarthy, Cloyne.
Pa & Mairead Beausang, Elsinore Heights.

Juvenile Notes
Fe 11
24 kids made up of Fe 11's and helped out by some Fe 10's headed to Douglas last Saturday for the Michael Quirke tournament.
We split into two teams, The Cup team and the Plate team and each team played against Douglas, Blackrock and Cobh.
The tournament turned into a real black and white event for Midleton with The cup team although playing very well and putting in a great effort came out narrowly on the wrong end of each result.
In comparison the other Midleton team won all of their games and came out victorious taking Michael Quirke plate back to Midleton. Their team mentor for the day was Ciaran Goldspring who normally looks after the Fe 10's brought his Junior A coaching experience to get the lads going on the day.
Tournament over we headed back to the Douglas clubhouse where tables were laid out with drinks for the kids and refreshments were on hand for all.
Many thanks to the teams we played on the day. And of course a big thank you to Douglas for inviting us to this very well organised Blitz.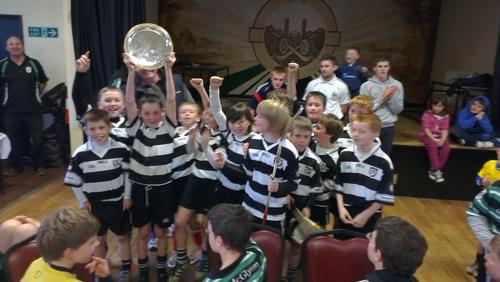 Fe 9
Last Saturday morning 21 of Midleton's U9 hurlers had a very busy morning first box to be ticked was registration. This they had completed in the club pavilion before 10:30am. Then it was off to Togher for a very eagerly anticipated series of games against St Finbarr's. The panel of players was broken into a team of 11 and a team of 10. This was matched by the same number of players from "The Barrs". All teams then played two matches. It is now getting near to end of season and after putting in a lot of hard work over the last 6 months both clubs had panels of players that you would be proud-of. Striking, hooking, blocking, tackling etc… were all excellent and if this rate of improvement is to be continued hurling is going to be well served in the clubs into the future. As a novelty a tug-of-war rope was produced at ½ time and it gave the players great fun. Next stop for Midleton U9s is an under-the-lights game next Friday evening - 19th of October - in Abbeyside just outside of Dungarvan.
Juvenile Registration Day
We had a great turn out last Saturday for the 2012/13 Juvenile registration day. We made some changes to the fee structure for Fe 10's up and this was applauded by the parents who came on the day.
For anybody who couldn't attend last Saturday it is important that you register as soon as possible. Unregistered players will not be insured and therefore won't be able to train or play with their team.
Used Gear Sale
Many thanks to Cormac Quirke who organised the used Gear sale on registration day. Thanks also to all the parents who contributed gear to the sale. There were some great deals on the day and all funds generated will go towards the running of the juvenile section of the club.
Training
With the nights closing in and the main pitch closing for the winter team training venues and times will be changing. Keep an eye on the club website www.midletongaa.com on the juvenile team page for your child's team training times. Team managers will update teams by text when changes are due. We would ask parents to encourage their children to practice during the week even if the weather is bad, parents can practice catching the ball indoors. For players from junior infants to Fe 9 please remember to bring your €2 to training sessions. This money is vital to keep the juvenile section of the club funded.
Club Gear
Midleton GAA juvenile club will have a shop with club playing and leisure wear open each Saturday morning in the clubhouse. With Christmas coming up you can also buy Midleton GAA gift vouchers from the club.
Ladies Football
U8 Girls Gaelic Football Blitz - Fermoy Oct 13th
10 of Midleton's Girls U8 Gaelic Football team traveled last Saturday - 13th October - to a cold but sunny Fermoy to participate in a blitz organized by the East Cork board. There was a great turnout for the Fermoy blitz. First up for the girls was a gallant Fermoy team. All Midleton players excelled with some great performances throughout the field. The standard of football displayed was exceptionally high. The second match was against Watergrasshill. In this game the girls even managed to exceed the high standard they had set themselves in the first match. They finished on a high when the team managed to get the last score of the game. The third game was against another Fermoy team. The girls showed great determination in this game, in fact Midleton managed to step up a gear and dominated for most of this final game. Thanks to all the Midleton players, mentors and parents for a super morning's entertainment in the Blackwater town.
Panel: Jill Connaughton, Elise Halligon, Solene Halligon, Leah Horgan, Nathalie Horgan, Alanna Magan, Ellen O'Neill, Kelly Quirke, Rachel Quirke and Mia Tarrant.
Marcella, Norma are looking for any other girls - 6, 7 & 8 year olds - that would be interested in taking up Gaelic Football to please turn up on a Monday night for training. Training will be moving to the Community Centre – indoors - 6pm-7pm every Monday night throughout the winter from October ??