Midleton GAA news April 9th
09 April, 2012
Clonmult Memorial Park 50th Anniversary & Official Opening of Redevelopment
This Saturday the 14th April will signal an auspicious day in the history of Midleton GAA club with the official opening of two new changing rooms, a modern fully equipped gymnasium and a spacious meeting room. This much needed facility was spear headed by the Club's Development Committee under the leadership of Ian O Brien. The club will also use the occasion to mark the official re-opening of the club's grounds on the 8th April 1962. On that occasion Cork played Limerick in a senior hurling challenge with luminaries such as Christy Ring, Midleton's own Paddy Fitzgerald, Jimmy Brohan, Sean Kenefick John Bennett, Mick Cashman, Michael O Brien and Liam O Driscoll from Cloyne all togging out. The surviving members of that Cork team have been invited to the ceremony next Saturday and old memories of the occasion 50 years ago will no doubt be revived. The official opening at 2pm will be performed by Sean Hennessy, former Midleton player and club officer who also gave many years service to the East Cork Board of which he is now the President. The Cork and Waterford under 21 hurlers will play a challenge game at 4pm as part of their preparations for the forthcoming Munster under 21 hurling championship. With so many of these young players figuring on the Cork senior team at the moment a most enjoyable and worthwhile game should ensue for both teams. Midleton's Conor Lehane who has made such an impression on the hurling scene this year and who will captain the Cork under 21's this year should make an appearance in this game.
Senior Hurling League
Midleton 1-15 Ballymartle 0-23
Ballymartle were the visitors to Clonmult Memorial Park on Saturday last for the latest game in our Red FM sponsored Senior Hurling League campaign. Our visitors were quickly into their stride and were most impressive throughout the first half. The scores flowed freely as we we struggled to come to terms with their mobility and long range point taking. At half time they had built up a nine point lead 0-15 to 0-06. Midleton had use of the elements for the second half but we struggled to bridge the gap. Despite a Conor Lehane goal we did not manage to get our noses in front and in the end Ballymartle had five points to spare. We could have no arguments on the day as we were second best to a side that seem to be going well at the moment. We have just over six weeks left to our championship opener and this defeat will help focus everyone efforts between now and then.
Junior Hurling League
Midleton 2-17 Clyda Rovers 0-06
Our Junior A hurlers had their second win from three ganes in the Cavanaghs of Fermoy sponsored Avondhu Imokilly Hurling League when they easily overcame the challenge of Clyda Rovers in Mourneabbey on Wednesday last.
Fixtures
Saturday April 14th Fe 21 Inter County Hurling Challenge
Cork v Waterford at Midleton 4pm
Juvenile Notes
Fe-11
We travelled to Bishopstown for our last match in the Rebel Óg football league. 22 players turned up which meant we needed to use substitutes as Bishopstown were only able to field 19. This said we split into two teams and lined out in a strong breeze. There were some obvious improvements since our last game and the lads put in a good effort in both games. Well done all those who played on the day.
Roll on the Hurling now and our first game will be in a week or so.
Our best wishes go out to Christian Murphy who is out with a broken wrist. We hope to see you back training soon even if it's to watch the lads and shout them on.
Fe-10
On Thursday the 5th our Fe10 hurlers welcomed Na Piarsaigh and Lisgoold to play in the Fe10 Rebel Óg league at Midleton CBS. Na Piarsaigh had one team and so that every player would get game time we invited Lisgoold to come as well. Midleton Black played Lisgoold in what turned to be a good even game with some great scores from both sides, Midleton White played Na Piarsaigh and got off to a great start with some well taken goals but back came Na Piarsaigh with some fine scores of their own. Hurling was the winner on the night with every player getting plenty of game time. Many thanks to Na Piarsaigh and especially to Lisgoold who came at such short notice for a great evenings hurling.
Easter GAA Camp
Midleton juvenile GAA hosted an Easter GAA Camp for the first time in their history and what a success it turned out to be. The camp took place on Wednesday April 4th and Thursday April 5th at Midleton GAA Club pitch. We were fortunate to have Market Green shopping centre sponsor the event and they were on hand to celebrate the success as it ended.
Boys from junior infants upwards attended the camp and well over 80 children turned up each day. It was great to see the large numbers and it can only bode well for the club into the future.
Well done to Cormac Quirke and the team made up of club members who arranged and trained the kids over the two days.
Training
Training is back in full swing for Juvenile teams. Check the club website www.midletongaa.com on the juvenile team page for your child's team training times. We would ask parents to encourage their children to practice during the week even if the weather is bad, parents can practice catching the ball indoors. Please remember to bring your €2 to training sessions. This money is vital to keep the juvenile section of the club funded.
Club Gear
Midleton GAA juvenile club will have a shop with club playing and leisure wear open on the first Saturday of each month. This will commence with the indoor training sessions in the Community Centre and then in the Club Pavilion once outdoor training re-commences.
Kellogs 2012 Cúl Camp
The dates are out for this year's Cúl Camp. The camp will take place from the 2nd to the 6th of July. Boys from Junior Infants up are welcome to attend. Further details will be available nearer the time for registration.
Juvenile Golf Classic
The Midleton Juvenile GAA Golf Classic will take place once again this year. Following on from the great success of last year we hope we will receive strong support again in 2012. The dates have been confirmed as Wednesday 18th and Thursday 19th of July. The competition will once again take place in East Cork Golf Club.
Once again the main sponsor will be Blackwater Motors Cork, Fermoy and Skibereen.
More details of the Classic will follow in the coming weeks.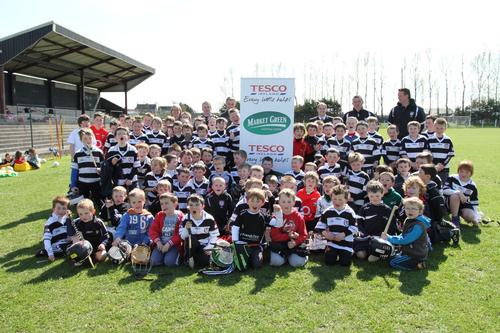 2012 Midleton GAA Easter Camp