Midleton Gaa, Camogie & Ladies Football Club News
18 December, 2016
Colleges Hurling
On Thursday evening last in what can only be described as dreadful conditions Midleton CBS defeated St Colman's in the Dr O' Callaghan Cup Hurling final in Pairc Ui Rinn by 0-11 to 0-10. Congrats to all of our players Adam Daly, Sean O'Leary Hayes, Ryan Mc Conville, Sean O'Meara (capt.), Padraig O'Brien, Liam Franklin, Sean O'Sullivan, Ciaran Evans and selector Alywin Kearney on this fine win.
The Harty Cup quarter final draw took place also last Thursday and in early January Midleton CBS will play Ard Scoil Ris of Limerick while CBC will play St Colman's Fermoy.

On Monday next the parents of the CBS Harty team will host a Table Quiz at Wallis's Bar @ 8pm, a team of 4 costs €30, there will be a raffle and spot prizes on the night.
Strictly Midleton
Strictly Midleton is now available on DVD. Relive the amazing night in the Radisson Hotel. You can pick up a copy for €10 in O' Farrells Butchers or Split Ends Hair Salon.
Don't leave it too late as there is a limited supply of DVDs.
Happy Xmas and Healthy New Year
The Executive committee of the Club would like to wish all our members, players, officers and supporters a Happy Xmas and a Healthy New Year.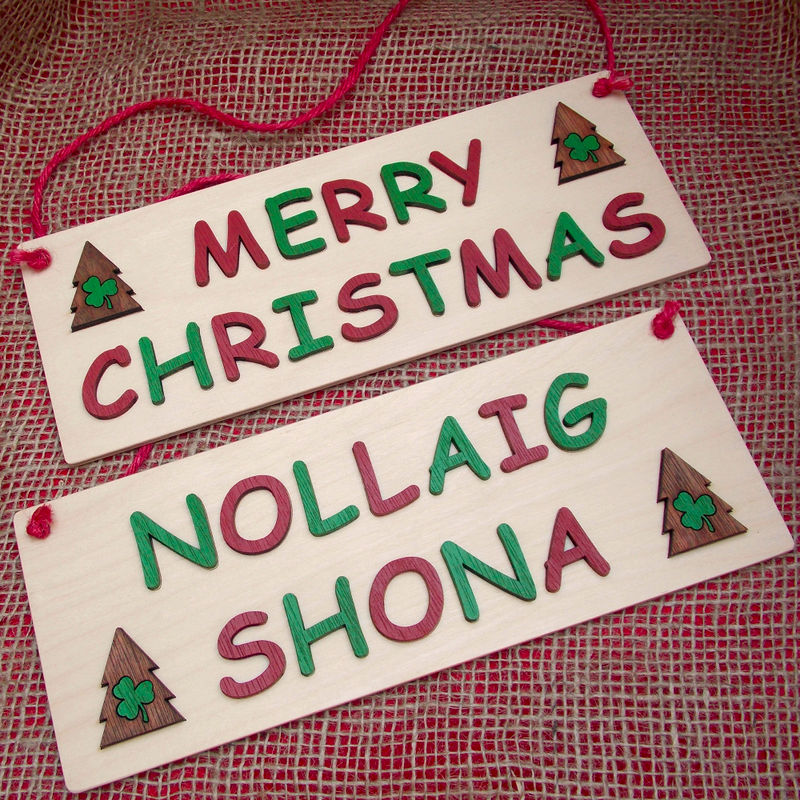 Ladies Football
We are now on our Christmas break from training and will return in January 2017.
You will be notified by text the return date and venues. The Committee would like to thank all the Coaches, Parents and especially our girls for all your hard work and dedication throughout the year. Here's to a great 2017. Many thanks to Gaa Club for the use of Club facilities and their support to our club this year. Also thanks to Midleton Rugby Club for allowing us use of their pitches for our summer training.
Finally we would like to wish everyone a Happy Christmas and best wishes for the New Year.
Camogie
There was a great turn out of players and their families for the end of year social on Sunday evening last in the GAA Club. It was a great way to finish the season with our first piece of silverware 'the Clonmult Shield' on display. Thanks to the parents who helped on the night. Midleton Camogie Club committee, coaches and players would like to thank all who supported us in 2016, we wish all a very happy Christmas.
We look forward to the beginning of a new season in a few weeks and Registration for 2017 on January the 14th.
Lotto
Our Lotto Jackpot was €7,600, there was no winner, the numbers were 8,10,12 & 17, the Lucky Dip winners were Noreen Deady Knowles, Maura Desmond, Catherine Desmond, AM Dineen & Dan Twomey, the Xmas Meat vouchers winners were Phil Shanahan, Michael Franklin, Kathleen Cocking & Dave O'Brien Jnr., next week's Jackpot will be €7,800.
Tickets are on sale at the Club Bar, O'Neills Bar, Linehan's Bar, Maple Leaf Bar, O' Farrell's Butchers, Frank Murphy Butchers, Pat Walsh Paints, Chadwicks, Teach Beag & Niall Mac's Bars.
BINGO takes place next Friday evening and Friday 30th @ 8pm in the GAA Pavilion with a weekly guaranteed Jackpot of €1,000, Green Sheet €340 and Blue Sheet €860.
Juvenile
Scór na nÓg
Recently the Bishopstown GAA Club hosted the final of the Cork County Scor na nOg Table Quiz. Our Midleton team had qualified having come through a preliminary competition that was held in Lisgoold GAA club. It was a great experience for all the players on the team. the team was Ben O'Neill, Dara Scanlon, Cian Murray & Odhran Mahony.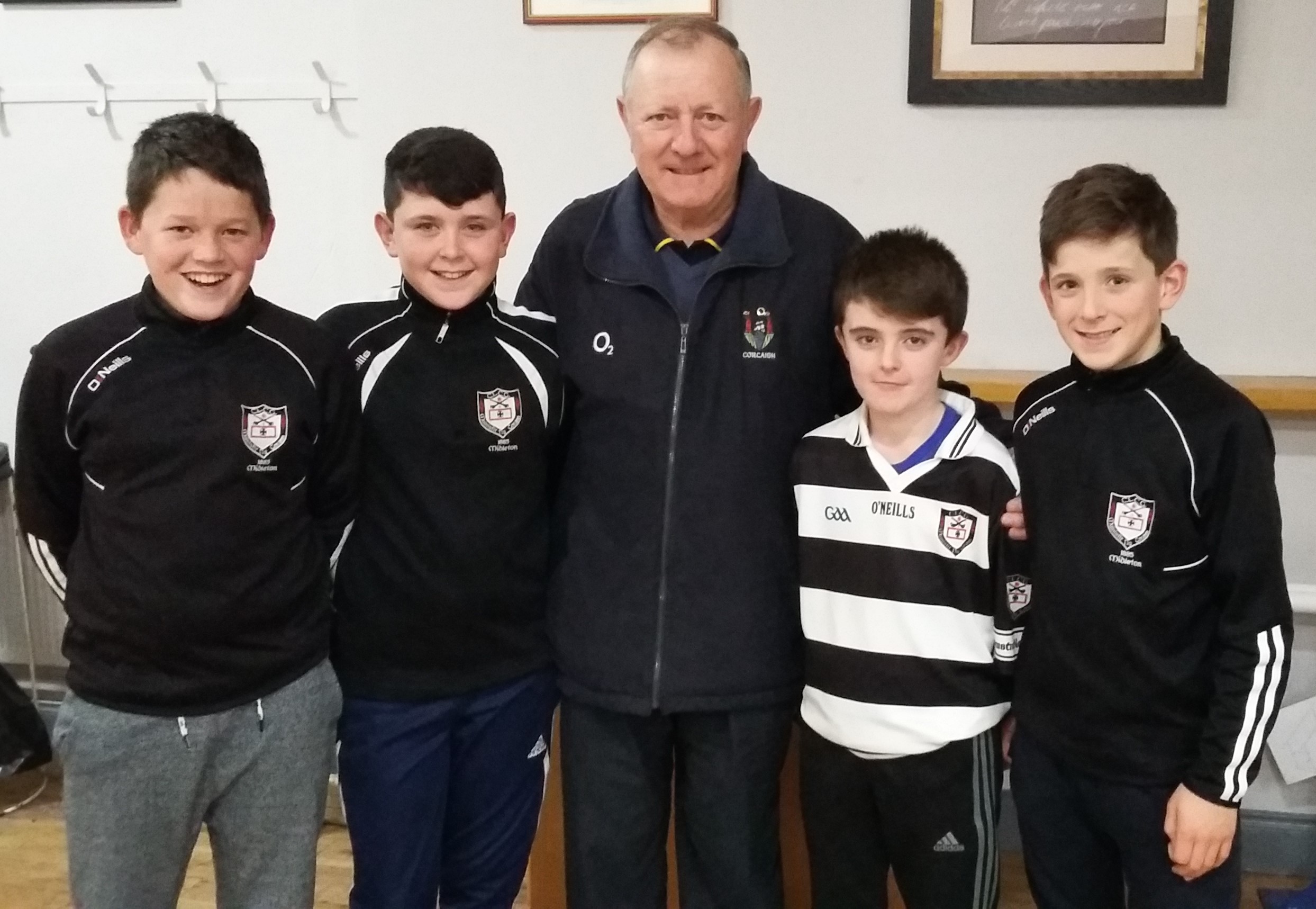 Xmas Draw Winners
1st Prize – Patricia Barry – 500 Litres of Oil – East Cork Oil
2nd Prize – Marie Wallace - €200 Shopping Voucher – Hurleys Super Valu
3rd Prize – Breda Mac - €100 Meat Voucher – Maloneys/East Cork Golf Club
4th Prize – Robbie Barry – Watch – Club Sponsor
5th Prize – Conor Fletcher – Shopping Voucher – Wallis Bar
6th Prize – Adrian Baker – 4 Bags of Coal – Amac Farm Supplies T/A Tattans
7th Prize – Dylan Roche – Bottle of Whiskey – Dave & Angela's Shop
8th Prize – Stephanie Scanlon – Meat Voucher – O'Briens Garge
9th Prize – Darragh Bohan – Meal Voucher – O'Neills Bar
10th Prize – Siobhan Ní Leamhna – Meat Voucher – O'Farrells Butchers
11th Prize – Frank Dunlea – Voucher - Aesseal
12th Prize – Jim Cagney – Mystery Prize – Pat Walsh Paints
13th Prize – Thea Howard – Lunch Voucher – Finin's Restaurant
14th Prize – Joe Ryan – Voucher – Ted Murphy Garden Centre
15th Prize – Jamie Dennehy – Hurley – Club Shop
16th Prize – Liam Cronin – Sports Top – Redwood Power Tools
17th Clodagh Mc Grath – Meat Voucher – Niall Macs Bar
18th Prize – Fionn Dalton – Sports Voucher – Liam O'Keeffe Car Accessories
19th Prize – KK – Mystery Prize – Pat Irwin Electrical
20TH Prize – Conor Sheehan – Sports Voucher – An Teach Beag Bar
21st Prize – Tiernan Carroll – Hamper – Murphys Pharmacy
22nd Prize – Elaine Hennessy – Turkey & Ham – Crowley Craft Butchers
23rd Prize – King Power – Sports Voucher – Maple Leaf Bar
24th Prize – Darragh Cronin – Sports Bag – Welch Sports
25th Prize – Elaine Howley – Lunch Voucher – Farmgate Restaurant
26th Prize – Rosie Tynan – Voucher – Headquarters Hair Salon
27th Prize – David Scanlon – Sports Prize – Dwane Sliotars
28th Prize – M Hayes – Bottle of Brandy – Gaa Club
29th Prize – Joan Rooney – Sports Voucher – Linehans Bar
30th Prize – Celine Morley – Voucher – Mr Price Market Green
31st Prize – Sharon Mc Grath - Voucher – Club Supporter
Annual Long Puck
The annual Sean Keohane Memorial Puc Fada will take place on St Stephens's morning December 26th over the usual course. The Juvenile section will have a Fun puck whilst the Adults will compete in teams of 3 @ €10each, the buses will depart the Club at 9.30am sharp for Lisgoold.
Please note that Vis vests are essential, everybody is welcome and refreshments will be served in the Club immediately afterwards.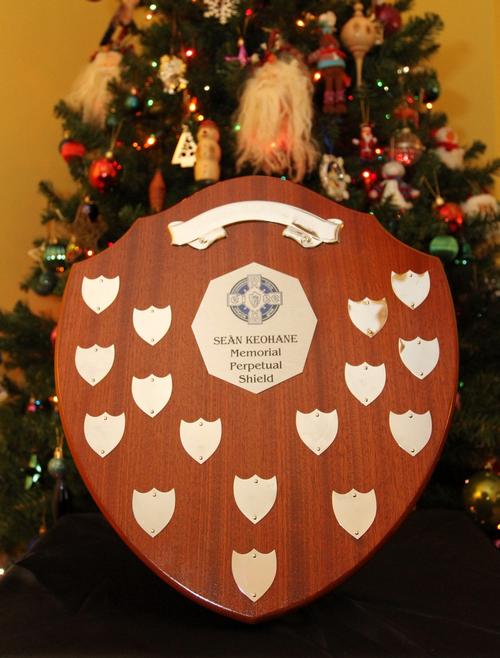 Club Shop
The Club Shop is now CLOSED and will re open on Saturday the 14th of January from 10 to 12, thanks to Mary & Sheila and to all those who supported it throughout the year, enjoy the Xmas and see you all in the New Year.