Midleton GAA , Camogie & Ladies Football Club News
23 October, 2016
Junior C Hurling
Our hurlers lost out to Bride Rovers in the East Cork Championship final last Saturday afternoon in Castlelyons. Two goals in the first half proved to be the difference on the day, at the half hour mark they led by 2-07 to 0-05. We played much better in the second but could not get that vital goal, in the end they finished deserving winners by 2-16 to 0-14.
Well done to all the players and management on their great efforts throughout the year.
Team: Liam Franklin, James O'Brien, Pat Fox, Ian Cooney, Aidan O'Donovan, Barry Fitzgerald, Kevin Mulcahy, Darren Quirke (0-02), Robbie Barry (0-01), Niall Madden (0-04, 3 frees) , Eoin Walsh (0-01 free), Eoin Collins, Padraig Fitzgerald, Paul Barry (0-02) & Ian Kennefick (0-01). Subs used Kevin Mc Sweeney, Kieran Mulcahy (0-03), Declan Mc Inerney, Mark Crotty & Oisin Cotter.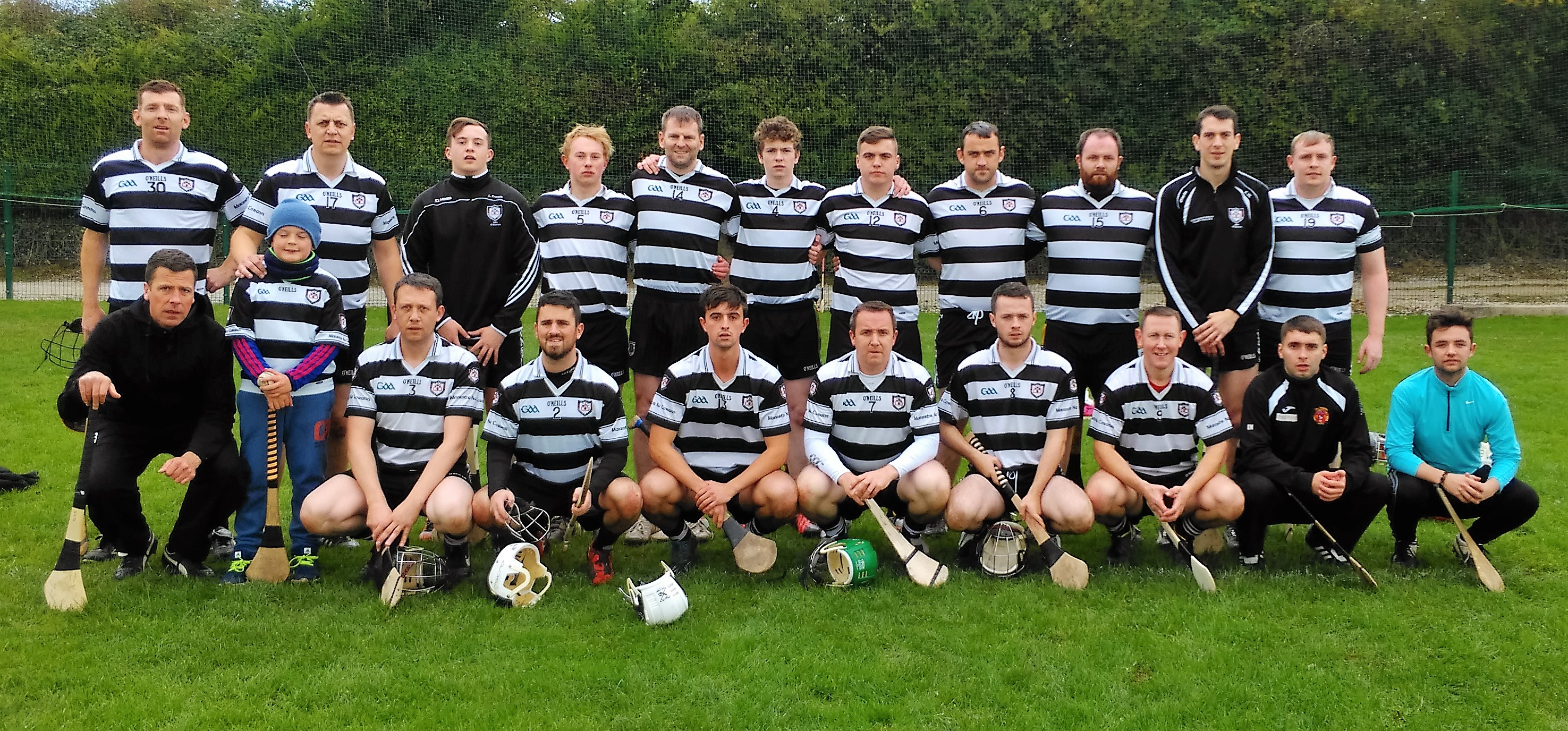 Junior Football
Our footballers took on Erins Own last Thursday evening in the East Cork Division 1 League relegation play off in Caherlag and after a tough hour we lost out by 1-15 to 0-08.
Team: Patrick Dunlea, Brian O' Sullivan, Eoin Ferriter, Jerome Curtin, Shane Ryan, Peter Dowling, Brendan Ferriter, Seamus O'Farrell, Leslie Coughlan, Andrew Rea, Declan Ryan, Conor Evans, Kieran Mulcahy, Micheal Keohane and Kevin Daly.
Subs James O'Brien & Michael Kitching.
Senior Hurling
Our hurlers will play Newtownshandrum in the semi final of the Red FM League on Monday next 24th in Mallow at 7.30pm.
We wish all the players and management the best of luck in this game.
Camogie
Inaugural Clonmult Camogie Tournament 2016
We hosted our first ever Camogie Tournament on Saturday last in which 4 teams took part - Nemo Rangers, Sarsfield, Castlemartyr & ourselves. The tournament was 12 a side matches, mixed age 12/13/14/15, run over a league format with each team playing each other in the group stages. The top two teams played for the Clonmult Cup while the other two teams competed for the Clonmult Shield.
We played Sars in our first game, the girls gave an excellent performance running out comprehensive winners. The next game up was to be the game of the day for us when we took on Castlemartyr. They got off to a great start in the first half but with some great play from our girls they were not going to get it all their own way. We started the second half of the game trailing, but with a spring in our step, it was to be one of our best performances of the season. We picked off some great individual scores putting Castlemartyr under pressure. It was level scoring with two minutes of the game time left but a free in the last minute resulted in a goal for Caslemartyr sending them to the Cup Final. It is a true reflection of how far the girls have come this season to only lose out to such a strong Castlemartyr team in the last minute of a pulsating game.
We met Nemo Rangers in our last group game, we went in to this match a couple of injuries and a lot of tired legs. Nemo opened up an early lead which the girls were never to claw back. Even though we created a lot of chances we just couldn't convert them on this occasion. Nemo finished ahead by a single goal to advance to the Cup final v Castlemartyr.
The Clonmult Shield Final: Midleton v Sarsfield
The Shield Final featured ourselves and Sars a repeat of the opening game of the tournament in what proved to be an excellent contest. We started the final nervously taking five mins to register our first score but finished the first half leading by four points. Sars started the second half really well putting us under a lot of pressure with only one point separating the sides with five mins to go, our girls stepped up their performance to run out winners by six pts in what was a very competitive and sporting encounter.
This is our first trophy since the club was formed in May 2014. The girls deserve great praise for a great squad performance in which they once again showed how far they have come in such a short space of time.
A very happy Rayanna Power lifted the shield on behalf of the Midleton team.
Congratulations to Castlemartyr the winners of the Clonmult Cup final.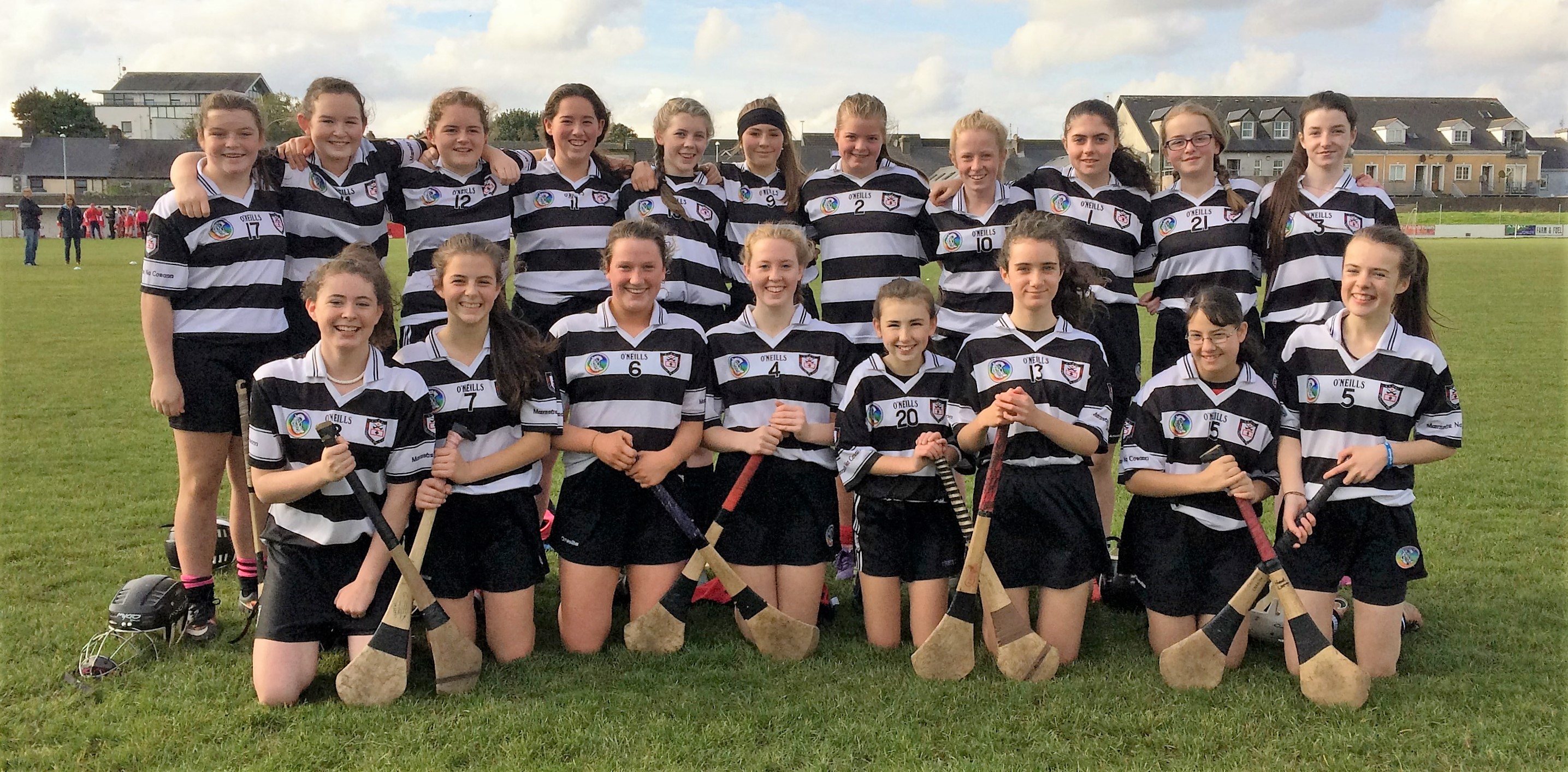 A huge thank you to Eoin Kennedy & Midleton Camogie Club Committee for organising the tournament and to the parents for providing much needed refreshments and to Midleton GAA for providing their facilities. We would also like to thank Castlemartyr, Nemo Rangers & Sarsfield for all taking part in what was a great day of Camogie.
Here's looking forward to next year when we will come together to do it all again.
Midleton Squad: Rayanna Power, Chloe Garde, Hannah Wall, Orla Evans, Leah Hogan, Ellen Ryan, Caoimhe Murray, Jodi Keegan O'Connell, Katie Horgan, Caoimhe Cronin, Lucy Wallace, Aine O'Neill, Grace Maloney, Abbey Purcell, Abbie Foley, Rachel McSweeney, Theresa Geary, Kim Moran & Megan Kelly.
Training this week any change will be text to parents.
U 6 & U 8 : no training this weekend, U10 & U12 Friday 7pm – 8pm Ballinacurra GAA Club, U14 6.15pm -7.15pm Tuesday and Friday Midleton GAA Club.
Ladies Football
Our U8 girls will return to indoor training at the Community Centre from 6-7pm. All other groups will recommence training at the Hockey Pitch. A text message will be sent out to confirm a date and time. Best wishes from Midleton Ladies Football to all the dancers taking part in "Strictly Midleton" on Sunday next and to the Committee who have worked tirelessly to bring this event to fruition. Well done to all involved!
Keep upto date with all the news from Midleton Ladies Football on Facebook and Twiitter. Please keep an eye on your text messages as any changes or details on matches will always be confirmed through text message.
Strictly Midleton
STRICTLY MIDLETON GAA – 1 Week to Go
We are delighted to announce our Lead Sponsor for this Event is Oaklodge Nursing Home. Also coming on board to sponsor is Tecomet and John Cleary Development.
We are into our final week of preparations before the biggest Fundraiser that the Gaa Club has ever undertaken commences. It is sure to be a very busy week as last minute details are looked after and the dancers get in the last of their practices. The night promises to be very exciting and all those who are lucky enough to have secured their tickets are in for a fantastic evening of entertainment. It is worth pointing out that the Event is OVER 18'S ONLY so please do not bring anyone under 18 as unfortunately entry will be refused. Doors will open at 6.30pm.
For those who were lucky enough to get tickets there will be a Shuttle Bus service from Midleton Gaa Club to the Radisson Blu Hotel and back to the Club when the Event is over. This is a first come, first served service, the first bus will leave at 6pm. To book a seat please Text Only your name and the amount of seats needed to 087-6400027. Please note if you choose to avail of this service please organise yourself to be at the bus to go to and from Midleton.
We are also offering a Live Streaming Event in the Gaa Club which is subject to demand. If you are interested in buying a ticket please text only to 087-6625544 you name and the amount of tickets needed. Tickets are €10. If the demand is there to run this Event we will publicise where and when tickets can be purchased. This will be a ticket only entry so please only come if you have a ticket. Please note that this event will also be Over 18's.
Sponsor one of our dancers, just click on www.ifundraise.ie/strictlymidleton and select who you would like to support. Thanks.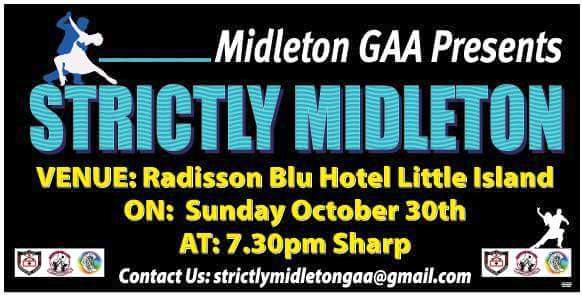 Health & Wellbeing
The GAA Annual Health & Wellbeing Conference took place last weekend in Croke Park. Paul O'Meara & Mairéad Beausang represented Midleton GAA Healthy Club Project at this event. The conference was attended by GAA Clubs from all over the county and it was the first time that the GAA has representatives from the 32 counties a first for this event.
The Conference reinforced the GAA's support for its membership throughout the country both playing and non-playing members. Professor Niall Moyna Head of the School of Health and Human Performance in DCU, he spoke about the importance of participation in sport and how exercise can prevent the onset of some diseases Type 2 Diabetes being just one. He spoke of the importance of sport in forming friendship and also how children can learn many coping skills for life from participation in sport.
There were 4 workshops on the day Healthy Eating – Sharon Courtney (Monaghan Ladies Footballer) spoke of the importance of a good diet to enhance sports performance. Gambling Awareness – Niall McNamee (Offaly Footballer) spoke very honestly about his own gambling addiction, he also outlined the supports available to clubs and individuals regarding problem gambling. Activate – Michael Fennelly (Kilkenny Hurler) spoke of how important physical activity is in everyday and how as little as 30 minutes a day can help reduce some medical conditions, he spoke as to how as a nation obesity is going to be a challenge for the future and stressed that we need to get moving!! Social Initiative (Prof Eamon O'Shea Former Tipperary Manager) told the workshop GAA clubs should cater for all there members be they playing or non-playing and that every member has something to offer their Club. Mental Fitness Lauralee Walsh (Westmeath Ladies Footballer) this was an extremely moving workshop as Lauralee bravely spoke about her brothers suicide and how it affected her, she told of how the GAA supported her through this awful time in her life.
The conference was very informative, information and supports that we will have available for our members. Midleton GAA Healthy Club can be contacted via email midletongaahealthyclubproject@gmail.com – the current Health & Wellbeing Officer is Mairéad Beausang.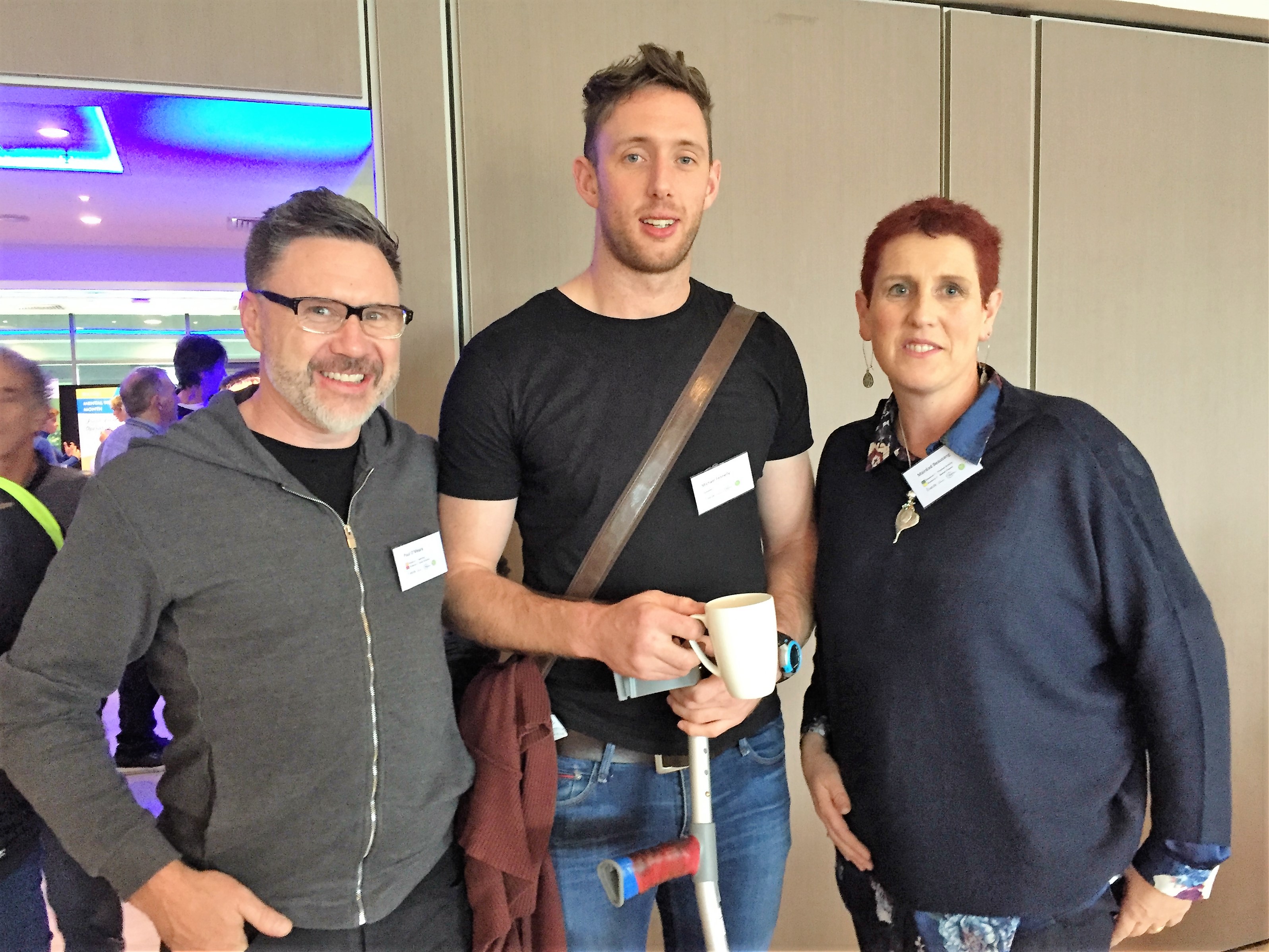 Cork Clubs Draw
The first Cork GAA clubs draw for 2016/17 takes place next weekend.
If anybody would like to participate or have money/tickets to return please contact Steve Sheehan, Pearse Mc Carthy or John Fenton as soon as possible.
Trad Session
'There will be a Great Trad session on the third Friday of every month in the Club at 9.30p.m. and a special fáilte for those with ceoil or cúpla focal. Bíonn Oíche Ghaelach i gClub CLG Mhainistir na Corann gach tríu Aoine den Mhí ag 9.30.i.n.. Fáilte roimh chách.'
Condolences
The Club Executive would like to offer their sincere condolences to Doris and family of the late Michael O'Regan , Castleredmond and also to the family of Michael Hogan , Dwyer Road, both passed away in the last week.
Lotto
Our Lotto Jackpot was €6,000, there was no winner, the numbers were 6,7,16 &25 , the Lucky Dip winners were Chris Sheedy, Evan&Oran Sheedy, Catherine Desmond, Diarmuid O'Dalaigh & Kevin Hennessy, next week's Jackpot will be €6,200.
Tickets are on sale at the Club Bar, O'Neills Bar, Linehan's Bar, Maple Leaf Bar, O' Farrell's Butchers, Frank Murphy Butchers, Pat Walsh Paints, Chadwicks, Teach Beag & Niall Mac's Bars.
BINGO takes place each Friday evening at 8pm in the GAA Pavilion with a weekly guaranteed Jackpot of €1,000.
Juvenile
Fe 15
It was home venue for the Fe15 Premier 1 League semi final last Saturday.
We had played Blarney several times before and the games had generally been competitive affairs. We had a couple of players with niggling injury concerns and a late withdrawal of another player. That said when they came out in the first half they looked strong and focused. Scores were slow to come but when they did it was ourselves that struck. And once in front they kept the pressure on the lads from Blarney. The first half ended with us in control and leading on a scoreline of 1-04 to 0-02. We were slow to get into the second half and gave away a few soft scores to Blarney. When we did get started though it was clear we were going to take the game with some ease.
Final score Midleton 5-10 Blarney 0-10.
Team: Alex Quirke, Patrick Kane, David Scanlon, Ethan Daly, Jack Fitzgerald, Christian Murphy, Frank O'Brien, Samuel Quirke, Dan O'Sullivan, Charlie Walsh, Aaron Mulcahy, Paul Connaughton, Tim O'Sullivan, Cian Crowley, Adam Meade, Rory Donegan, Ryan Cahill, Leo Hennessy, Gavin Reddy & Garry Carroll.
Fe 16
Played under lights at Riverstown last Friday evening we had a comfortable win against Sars in the Semi Final of the Premier 1 Hurling League on a score of Sars 1-05 v Midleton 1-19. The weather conditions for hurling could not have been better for this time of year. We dominated from the start and powered into the game. After 12 minutes we had scored six unanswered points. On fifteen minutes, after sustained pressure we scored a great goal and from there on added points. At half time we had scored 1-12 while Sars had yet to register a score. In the second half Sars came more into the game and worked manfully to their credit. The outcome was never in doubt at any stage and while we eased up somewhat, Sars did get a few late scores.
We now meet Blarney in the Final, who beat Iniscarra in the other Semi Final.
Team: Ryan O Riordan, Alan Power, Christian Murphy, Mark Daly, Cormac O Brien, Ciaran Evans, Gary Carroll , Tommy O Connell, Kevin Finn, Kian Farmer, Evan Rowlands, Ross O Regan, Sam Quirke, Arthur Nganou, Jake Shanahan, Fergus Wade, Ronan Lynch, Adam O Connell, Cian Crowley, Coleman Quinn, Loic Nguefang & Aaron Mulcahy.
Juvenile Registrations
If there are any players who missed the Fe6 Juvenile Registrations they can still register at the club shop on Saturday mornings. Indoor training for this group of players will commence in the Community Centre (Former GaelScoil) on November 12th at 12noon. Indoor hurleys will be provided. Players will require a helmet for training. These can be purchased at the Club shop which is open from 10am to 12noon every Saturday morning.
6 Week - Youth Physical Development Progamme in conjunction with Orlagh Farmer
A reminder to all coaches that week 4 of the Clubs Youth Development Programme continues in the Ball Alley on Monday 24th of October. This weeks session will run from 7.30pm to 8.30 pm. All coaches across the club are invited to attend this.
Due to the bank holiday weekend, week 5 of the Clubs Youth Development Programme will not take place on Bank Holiday Monday. Week 5 will take place in the Ball Alley on Monday November 7h at 7.30pm to 8.30 pm. Details of the programme and all the exercise videos have been uploaded to the coaching corner on the club website. All coaches across the club are invited to attend this.
Foundation Training Course
Training course details have been released for Foundation courses taking place at the following Clubs in November. Mitchelstown GAA Club Course Code 16115MB
5th Nov Brian Dillons GAA Club Course Code 161179BD 7th & 9th Nov St Catherines GAA Club Course Code 161111STC 11th & 12th Nov
Please follow the link below to book your place.
http://rebelogcoaching.com/coaching-courses/foundation-courses/foundation-course-payment/
Award 1 Course Training Course
An Award 1 Course is arranged to take place in Midleton CBS Secondary School on December 3rd, 10th & 17th from 10am to 5pm. Only coaches who have received their Foundation certificates are eligible to progress to Award 1 training.
http://rebelogcoaching.com/coaching-courses/award-1-courses/award-1-course-payment/
Child Protection & Welfare Training
There is a Child Protection & Welfare Training course taking place at St. Finbarr's GAA Club, Togher on Thursday the 17th of November @ 7pm. Should you wish to book a place on this course kindly contact Ingrid O' Riordan, Midleton GAA's Child Welfare Officer to book your place.
Up and Coming Events
Indoor Training Schedule
ndoor Training will commence on Saturday November 12th at the Community Centre Midleton. Fe 8's from 10-11, Fe 7's from 11-12 and Fe 6's from 12-1.
Juvenile Christmas Underage Social Dates
Fe6 – Fe9 Players December 3rd in Midleton GAA Club at 4pm & Fe10 – Fe16 Players December 10th in Midleton GAA Club at 7pm
Club Shop
The Club Shop is closed next Saturday and will re open on Saturday week from 10 to 12 selling flags and Club gear.