Midleton GAA , Camogie & Ladies Football Club News
07 April, 2016
Minor
Last Sunday afternoon our second hurling team had a fine victory over Na Piarsaigh in the Premier 3 League by 4-19 to 2-09.
Team: Liam Franklin, Andrew Nestor, Jordan Roche, Timatyo Abdullah, Conor Evans, Eoin Mitchell, Ryan Mc Conville, Luke Smith (0-01), John O'Dwyer, Cathal Gunning (0-01), Conor O'Neill (0-07), Harry Wall (1-02), Christian Daly (1-02), Christopher Power (2-04), Evan O'Meara and Kevin Daly.

Fixtures
4th April Intermediate Hurling League v Na Piarsaigh at home @ 6.30pm
6th April Junior Hurling League v Cloyne away @ 6.45pm
6th April Munster Minor Hurling Cork v Waterford in Walsh Park @ 6.30pm
7th April Senior Hurling League v Bride Rovers at home @ 7pm
9th April Junior B Football Championship v Lisgoold @ 5pm venue TBC
9th April Premier 1 Minor Hurling League v Na Piarsaigh at home 3pm
13TH Premier 1 Minor Hurling League v Killeagh/Ita's away @ 7pm
16th April Premier 1 Minor Hurling League v Bishopstown TBC
16th April Senior Hurling League v Blackrock away @ 7pm
17th April Intermediate Hurling League v St Finbarrs away @ 12

Inter County Hurling
Cork had a great victory over Galway in the League relegation play off last Sunday afternoon in Pearse Stadium Galway by 2-22 to 0-25. Conor Lehane scored six points from play and Killian Burke came on as a late substitute, well done lads and also to selector Pat Hartnett. Both Luke O'Farrell and Paul Haughney were not considered due to injury.


Irish & Cultural Events
There will be a Bilingual storytelling about 1916 on Saturday 9th of April in the Midleton Library @ 10.30am and an Irish night in the Club on Friday the 22nd of April, further details to follow soon.
Membership
Membership is due and can now be also paid by Credit card. There will be a Monster Hamper raffle for fully paid up members who have paid by the deadline of the 31st of March with 3 prizes on offer. This draw will take place after a game or traing this week. Contact our membership Officer Terence McCarthy to arrange payment.
Camogie
Well done to Midleton's Ali Smith who captained Cork Under 14's Camogie team and Leah Hogan who played with Cork Under 13's last week. The rest of the girls are looking forward to getting out onto the field as outdoor training resumes this week, we look forward to the season ahead. Training as follows, any changes to training schedule parents will receive a text. U6, U8, U10: Friday evenings 7.15pm -8.15pm, Midleton GAA Club
U12, U14: Tuesday 7pm -8pm, St Coleman's & Friday 7.15pm -8.15pm, GAA Club.
New members welcome in all age groups for information contact 0876822916, email midletoncamogiepro@gmail.com. Follow us on facebook: Midleton Camogie Club.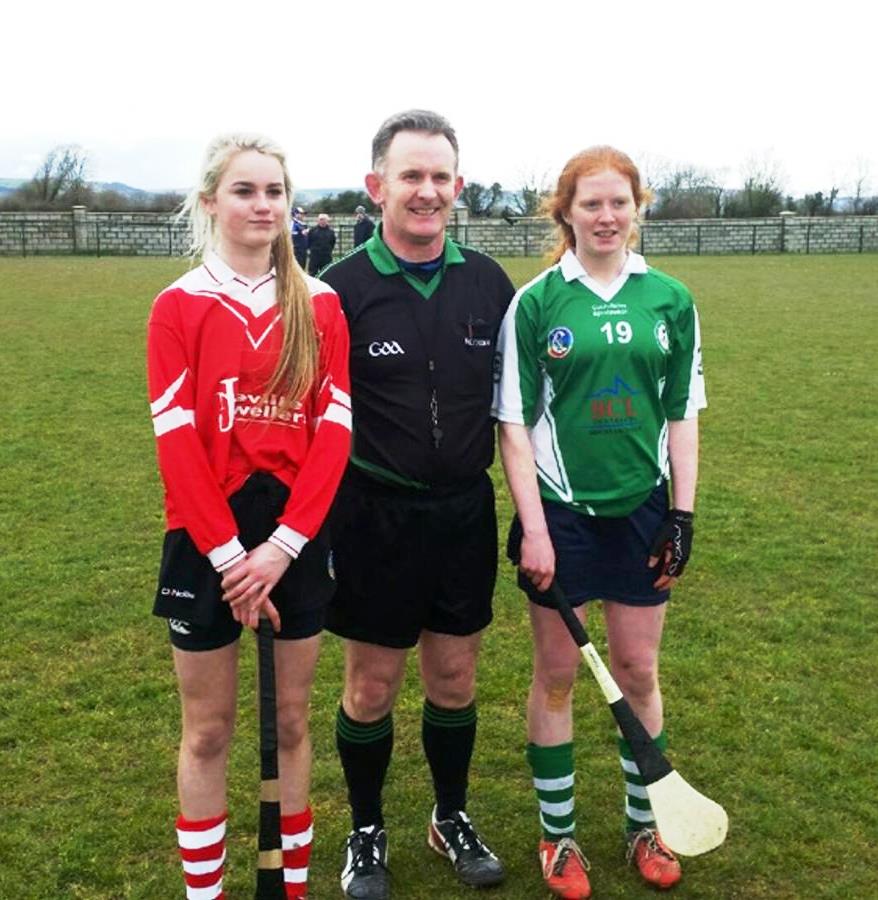 Ladies Football
Training for all age groups return on Monday night. We are now training in Midleton Rugby Club. U8's and U10's will train from 6.30 to 7.30pm while the U12's to Junior Ladies will train from 7-8pm.
Junior Ladies Football League Midleton v Glanworth
On Thursday evening our Junior Girls travelled to Castletownroche to take on Glanworth in Round 3 of Division 2A of the Cork County Football League. We had 16 girls at our disposal and all were needed. On a lovely afternoon for football we started spritely and from the throw in attacked the Glanworth goal. Before they could settle we had the ball in their net. For the first ten minutes we piled on the pressure and added a further two points. Mid way through the half we lost our shape and Glanworth tore into the game, and in that period they scored 1:7 to our breakaway single point.
Half time Midleton 1:03 Glanworth 1:07
After a bit of reflection and advice from James we took to the field again. 'Fantastic' is the word that sums up the performance in the second half. The backs were brilliant from Kate Mary in goal through the full backs out to the half backs. We attacked the Glanworth for-wards in packs and defended as if their lives depended on it. We didn't allow the Glanworth girls the same time and freedom on the ball and we started to turn them over. Our centre field also started to get on top of proceedings in the middle of the pitch and as we started to supply our forwards with good ball we found ourselves back in the game. With 10 mins left we drew level and gaining momentum. Against the run of play the Glanworth girls broke and after a scramble in the goal mouth, a penalty was awarded. The resulting penalty goal was all that separated us with time almost up. The girls ploughed forward looking for that equalizing goal. As we worked the ball up the field, it was looking like we were on for it, until Ciara was hauled to the ground in 14 yards from their goal.
The resulting free, just blasted over the crossbar.
Final Score Midleton 3:08 Glanworth 3:10
Team: Lisa Ahern, Dionne Carroll (1:0), Olivia Walsh, Kate-Mary Cullinane, Lucy Lawton, Zoe McEvoy (2:0), Ciara McGrath (Captain) (0:3), Charley Moore (0:1), Caoimhe Morrison, Claire O'Brien, Ciara O'Doherty, Laura O'Leary, Clare O'Mahony, Laura O'Keeffe (0:1), Ruth Goulding (0:3) & Megan O'Regan.
(Disclaimer: with the excitement may have the scorers mixed up)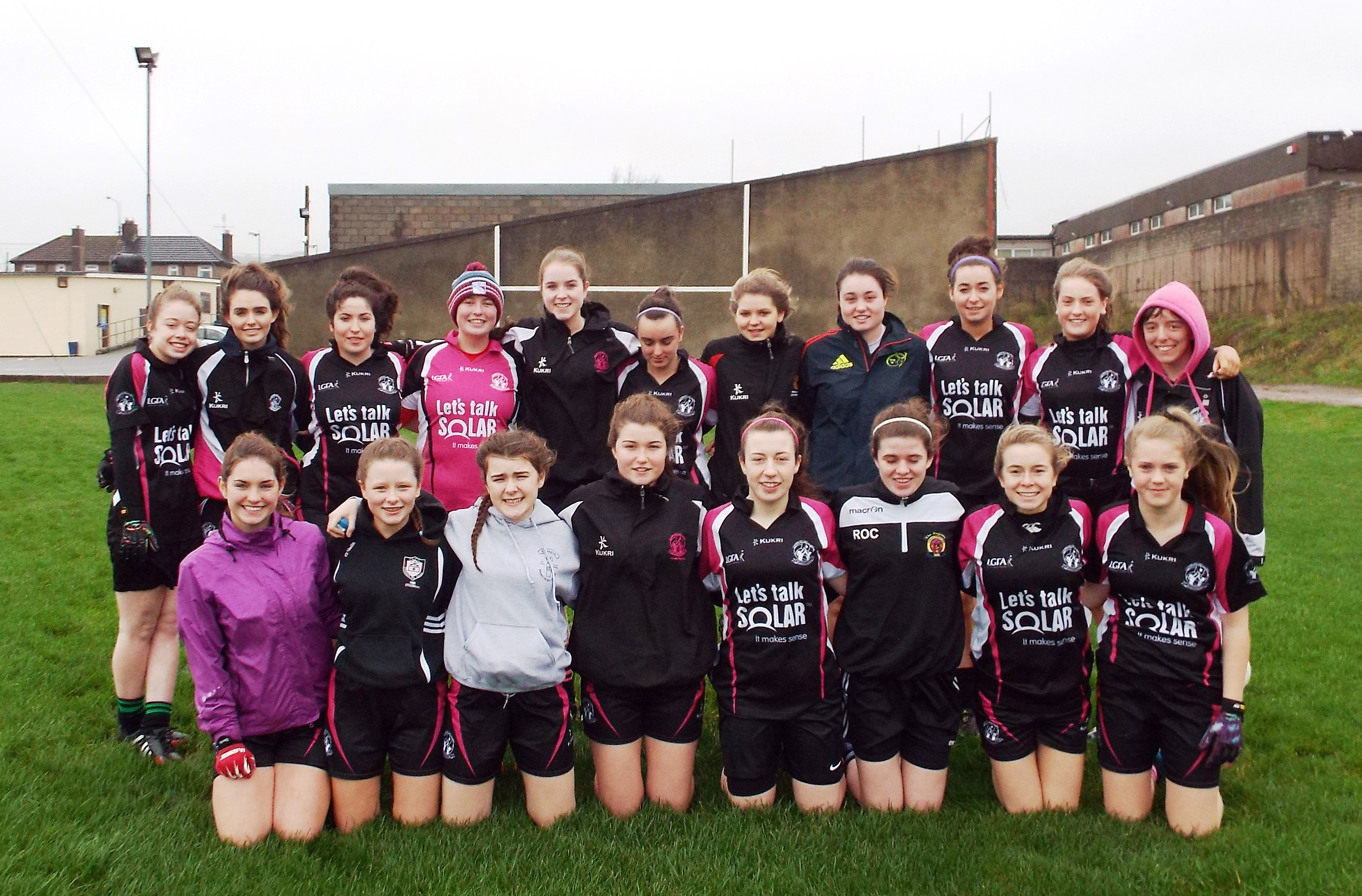 Lotto
Our Lotto Jackpot was €5,200, there was no winner, the numbers were 2,3,11 & 24, the lucky dip winners were Margaret Murphy, Pauline Power, Cyril Condon, Marion Ryan & Maura Milton, next week's Jackpot will be €5,400. Tickets are on sale at the Club Bar, O 'Neills Bar, Linehan's Bar, Maple Leaf Bar, O' Farrell's Butchers, Frank Murphy Butchers, Pat Walsh Paints, Chadwicks, Teach Beag & Niall Mac's Bars.
BINGO takes place each Friday evening at 8pm in the GAA Pavilion with a weekly guaranteed Jackpot of €1,000 on 52 calls.

Club Shop
The shop will be open each Saturday morning from 10 to 12 at the Club.
Juvenile
Fe 12
Premier 2 Football League 2nd April Bishopstown 2-07 v Midleton 1-08
Our lads travelled to Bishopstown on Saturday afternoon to take on a fancied side in this league but came away defeated by the narrowest of margins. While the loss isn't easy, we put in a very good performance, played some good football, showed great heart and kept battling to the end. This game could have gone either way.
In the first half our forwards started very brightly, with scores from David Cremin, Dara Scanlon, Mikey Finn, and a peach of a goal from Cian Lamb. Our full back line was being tested throughout but Riain de Barra, Conor Newcombe and Fionn Dalton were first to every ball and coping well. Further out the field Sean Fraser and Niall Lang were getting onto a lot of ball and using their possession well, with Conor O'Shea, and Caolan Dennigan linking smartly with the other forwards.
At half time, we deservedly finished ahead on a score line of 1-04 to 1-03.
Some of the Bishopstown players came into it more in the second half, particularly up the centre, where their big No.14 became a handful. Our half back line of Ben Kenneally, Odhran Prenter, and Tiarnan Roche defended well and also brought the ball up the field to launch a number of attacks, where Alex Moloney, Cathal Beausang, Eoin McGrath and Dara Fitzgerald worked hard to keep the pressure on the opposition. Throughout the game and in particular the second half, the kick outs from our goalkeeper Brian O'Connell were long and found their target each time. Tadhg Bohan was switched to midfield for the second half and kept pushing forward for the win. The final 10 minutes of the second half saw the most excitement of the game with a tense finish – each side exchanging scores, until Bishopstown got a much needed goal to put them ahead. Midleton could feel hard done by, but the performance put us in a position of winning and on another day the game could have swung in our favour. A lot to look forward to for the year, and our lads will have benefitted most from this game.
Panel: Brian O'Connell, Riain de Barra, Fionn Dalton, Tiarnan Roche, Odhran Prenter, David Cremin, Ben Kenneally, Alex Moloney, Eoin McGrath, Niall Lang, Diarmuid Murphy, Cian Lamb, Cathal Beausang, Conor O'Shea, Mikey Finn, Dara Scanlon, Conor Newcombe, Sean Fraser, Caolan Dennigan and Tadhg Bohan.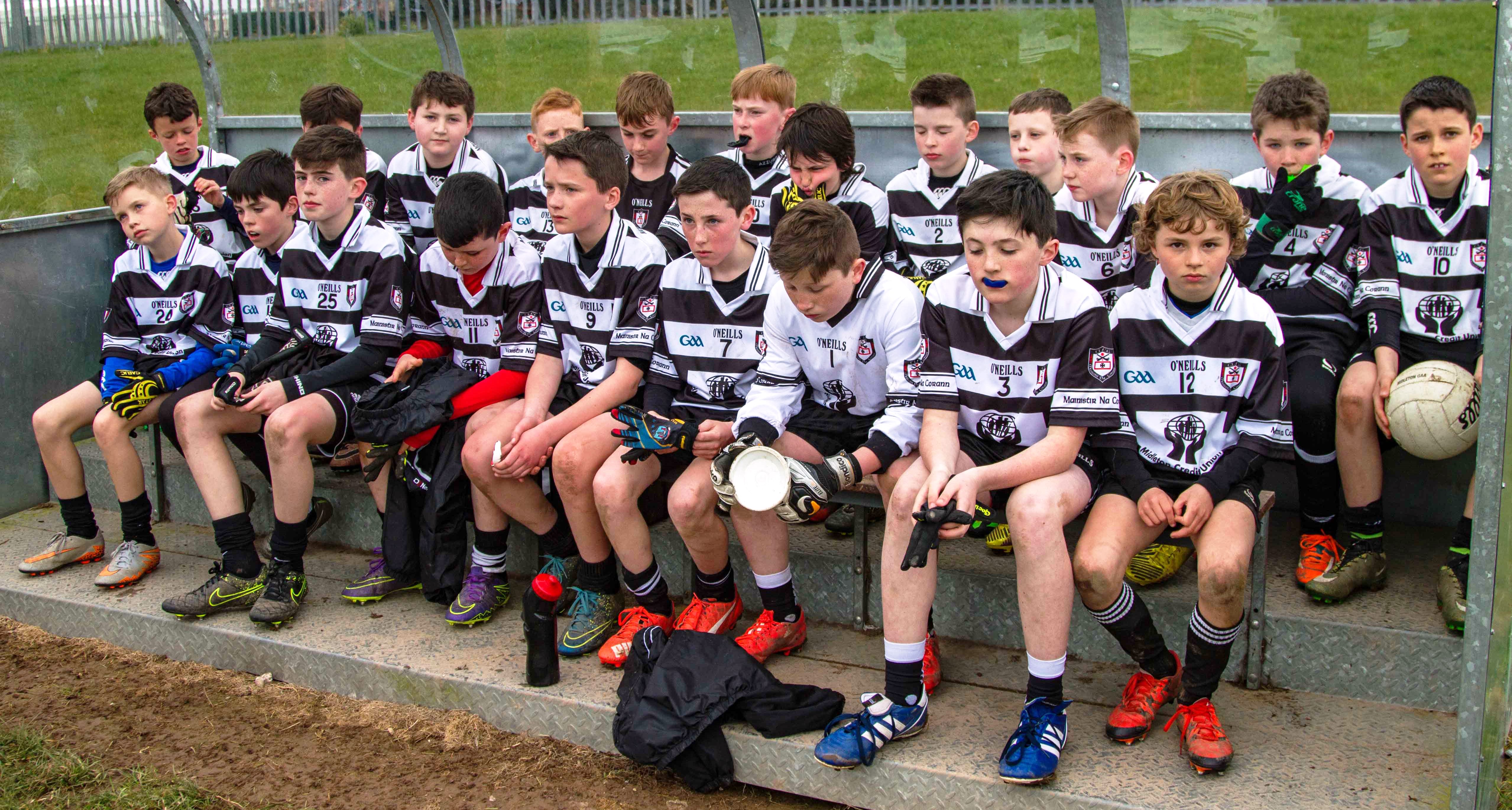 Fe 13
Premier 1 Football League result Midleton 7-07 v Na Piarsaigh 1-02
Our Footballers played their third match of the League campaign last Wednesday evening March 30th at home in Pairc Ui Clonmult. Having come off a good win against Carrigaline on Easter Monday we were looking forward to another competitive game against a good Na Piarsaigh side. Conditions were perfect for the game.
Na Piarsaigh were first to score and had two points on the scoreboard before Evan Kelly slotted the Magpies first point from a free. Na Piarsaigh then got their only goal of the game and it was quickly followed by what was to turn out to unbelievably be their last score of the game. We then took over. Points by Kelvin Barry and Cian Murray and a goal from Kane Rowlands had us leading at the break on a score of 1-03 to 1-02. A major turning point took place just prior to the break when a Na Piarsaigh's player received a straight red for kicking out. The second half was to be ours from start to finish. Ben O'Neill netted a goal to put four points between the teams. Darragh McCarthy, Shay Bohan and Alex Quirke added on points. Then came a Midleton goal fest Craig Collins, Darragh McCarthy and two from Neil Fitzgerald. The final score of the game was a mighty point from Shay Bohan.
Final score Midleton 7-07 v Na Piarsaigh's 1-02.
Some great performances were on display from the Midleton team. The full back line of James O'Sullivan, Fenton Greenwood and Evan McCarthy were, for the second game in a row, excellent. Dara Codd, Niall Corcoran, Ciarmhac Smyth & Cian Murray covered a lot of ground around the middle of the field. Alex Quirke, Brion Saunderson & Rory Hartnett contributed handsomely to the win. Neil Fitzgerald, Ben O'Neill, Kane Rowlands, Evan Kelly Darragh McCarthy and Craig Collins picked off some great scores.
Panel: B Saunderson, J O'Sullivan, F Greenwood, E McCarthy, L. McGrath, A Quirke (0-01), D Codd, N Corcoran, C Smyth, C Murray (0-01), K Barry (0-01), K Rowlands (2-00), B. O'Neill (1-00), R Hartnett, E Kelly (0-01), S. Bohan (0-02), N Fitzgerald (2-00), D McCarthy (1-01), C Collins (1-00) & R Gees.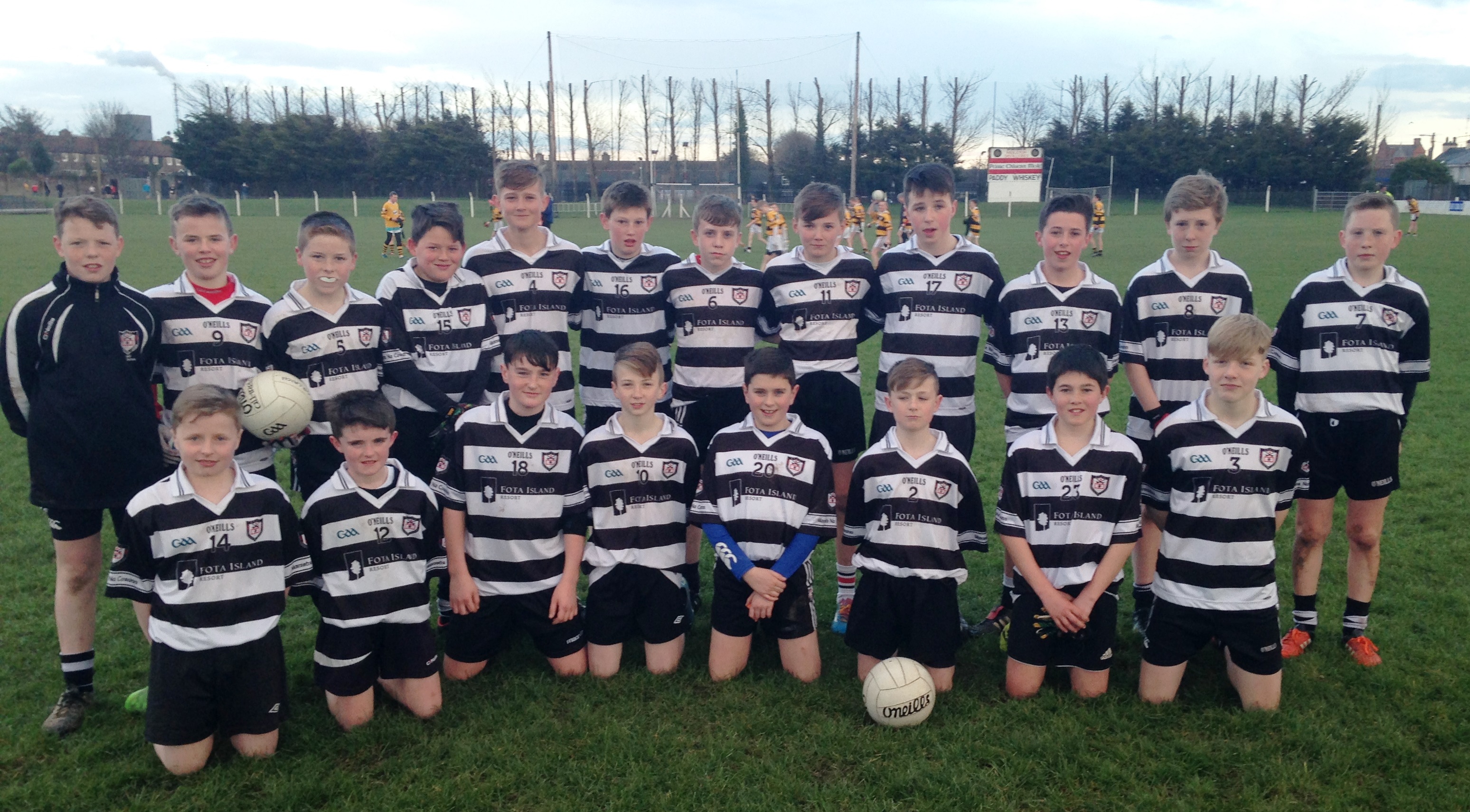 Fe 15
Our hurlers had a good workout against Ballygarvan at home last Thursday. This was a good game for our lads before our first P1 league game away to Glen Rovers on Thursday the 7th.

Fe 16
Football Compromise Rules Midleton 6-8 v St Patrick's Melbourne Australia 4-12
Our footballers had a two point win against touring Australian side, St Patrick's Melbourne in a Compromise Rules challenge organised by Rebel Og at Mallow on Easter Monday.
This game provided great entertainment and the introduction of the Australian tackle meant that our lads learned very early on that it paid to move the ball as early as possible.
The game was played over 4 x 15 minute quarters. The "Mark" was a feature of the game and the Australians scored a number of "overs" or points from Marks gained near the our goals.
We began well and playing a running game lead 1-3 to 0-3 after fifteen minutes. For the second quarter we played with the Aussie Ball and we were fairly overwhelmed in this period where we only scored one point, leaving the HT score Midleton 1-4 Australia 2-7. In the third quarter, the Australian's again dominated leaving the score at 3-10 to 2-7 in their favour. In the final quarter we went for goals and having rattled the net three times it seemed as if luck was against us until a last minute move yielded the goal that won the game for us by two points. It was a novel game for our lads to be involved in. The Australian team are on a seventeen day tour of Ireland and UK. We enjoyed a light lunch at Mallow in the company of St Patrick's after the game and it was great to see our lads mixing so well with the Aussies.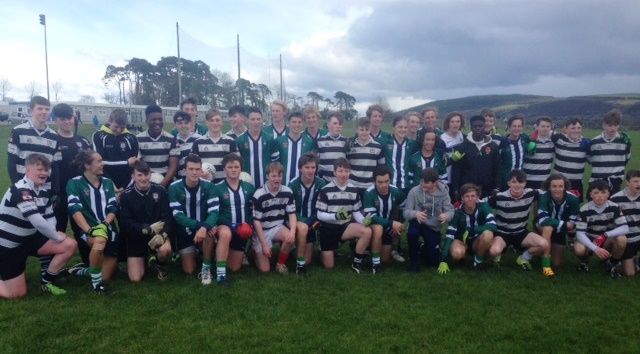 Juvenile Easter Camp
Thanks to those who attended our Easter camp. We had over 70 boys in attendance on both days. We were fortunate with the weather. The first day was very cold but stayed dry for most of the 3 hours. Wednesday was a perfect day for hurling and it was great to see the pitch full of young magpies working on their skills. Thanks to coaches Patrick White, Conor Lehane and Leslie Coughlan and to the helpers Gary Carroll, Christian Murphy, Coleman Quinn, Samuel Quirke, Adam Meade, David Scanlon and Tim and Dan O Sullivan. Thanks also to everyone who helped out over the two days.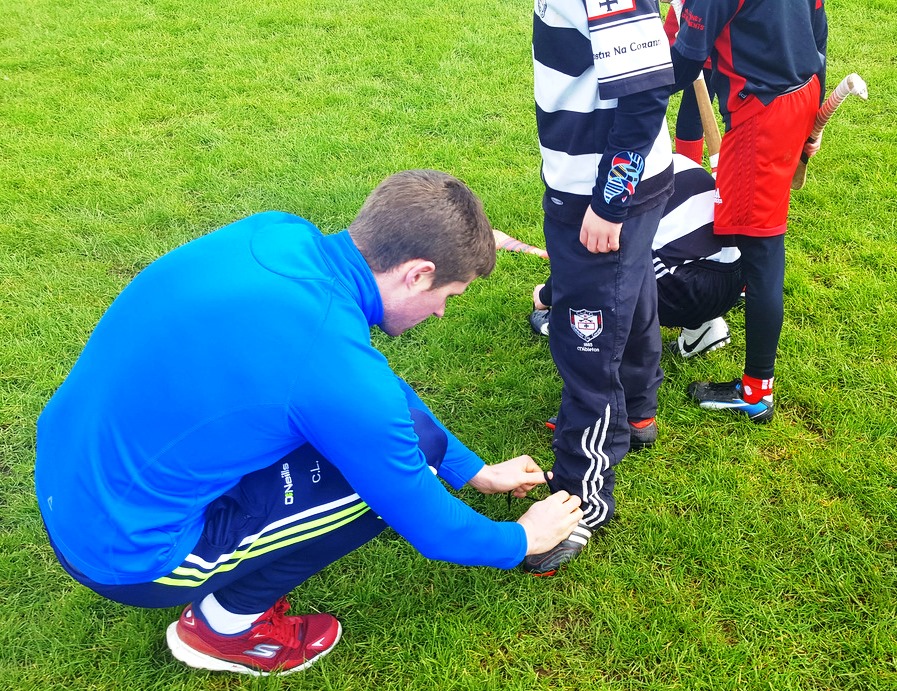 Conor carrying out his Coaching duties !!
Pie in the Face Fundraiser in aid of Culann Cashman
At 11am On Saturday the 9th of April we are holding a fundraiser in aid of Culann Cashman. The Midleton Juvenile coaches will take to their seats for a pie in the face. For a small dona-tion Young Magpies can toss a pie in the face of their favourite coaches. We haven't forgot-ten about the adults either, adults and fellow Coaches can pledge donations against the coaches taking part. The 'winning coach', the coach with the most money pledged against them will win the 'super pie' in the face, which will be tossed by Culann himself. All wel-come, please come out and support this very worthy cause. www.culannwantstowalk.com
Return to Saturday morning Training on main pitch
Saturday morning training sessions resume on the main pitch on Saturday April 9th from 10 to 12. The time slots are as follows:
Fe 9, Fe 10 & Fe11 - 10am to 11am and Fe 6, Fe 7 & Fe 8 - 11am to 12 noon
Summer training times/venues - St Colman's (Tech field)
Tuesday Fe 14, Fe 15 & Fe 9 6 – 7 pm
Wednesday Fe8 & Fe 10 6 – 7 pm
Wednesday Fe 12 & Fe 13 7 – 8 pm
Thursday Fe 14 & Fe 15 6 – 7 pm
Thursday Ladies Football 7 – 8 pm
Saturday Fe 13 10 – 11 am
Saturday Fe 12 11am – 12noon
Please note the Tech Field will be for training ONLY starting from April.
Training on the Main Pitch
Wednesday Fe16
Wednesday Fe11 6 – 7 pm (on the side pitch)
Child Protection Courses
A reminder to those coaches who have yet to complete the Child Protection Awareness Course to book a place with Ingrid Connaughton on either Monday the 11th of April or Monday the 25th of April. Kindly email Ingrid Connaughton, Email: ingridoriordan@gmail.com or text Ingrid on 087 6374748 to book your place on one of these courses.