Midleton GAA Club News
16 July, 2014
Midleton Juvenile GAA Golf Classic
Last Wednesday & Thursday we held our annual Golf Classic at East Cork Golf Club.
Over the course of the two days we had 100 teams particpating with 40 prizes up for grabs, categories included Mixed, Senior, Ladies, Nearest the pin and Longest drives.
We would like to sincerely thank the Golf Classic committee for once again running this very successful event and maintaining great value for money.
Of course all of this would not be possible without the on going support from our supporters and sponsors, to all those who either entered teams or sponsored tee boxes we are very grateful for your contributions.
Many thanks to our main sponsor Blackwater Motors and to Laois Hire for their continued support, to Maurice Maloney and the staff at East Cork Golf Club for their wonderful hospitality, to Timmy Herlihy and Pa Farrell for the burgers, to Gavin Power for operating the "booky" and alll those who assisted over the two days.
Midleton Gaa Golf Classic 2014 Results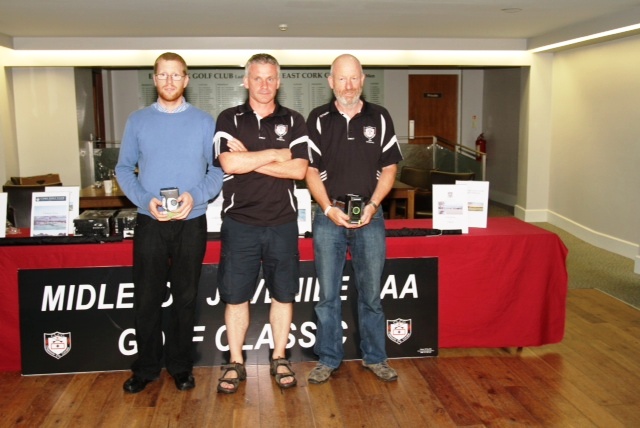 1 Cian McCarthy's Team Cian McCarthy (11) Lochlainn McCarthy(12)Dave McCarthy (16) 55.1 Garmin Watch
2 Pat Kelly Car Servicing Michael Collins(6) Eoghan Collins(9) Patrick Collins(12) 55.3 TaylorMade Drivers
3 East Cork Golf Club Paul Cashman(12) John Morrisson(16) Ross Keohane (12) 56 Wilson Golf Bags
4 East Cork Golf Club Kevin Butler (9) John Morrisson (16) Pat Walsh (17) 56.8 Midleton Park Hotel
5 Maple Leaf Bar James Curtin(8) Gary Johnson(12)Michael Daly (11) 56.9 Fota Green Fee's
6 Justin Dunlea Justin Dunlea (11) Cormac Cahill (7) Henry O'Brien (11) 57.1 All Ireland Tickets
7 An Teach Beag Derek Coll (11) Ross Keohane (12) Liam Murphy (5) 57.2 Cork Golf Green Fee's
8 C&W Insulation Pat Ferriter (13) Coleman Kelleher(5) Ger O'Brien (9) 57.3 Golf Shoe's
9 Millipore Tony Goulding 13 James McCARTHY 15 Alan Keohane 18 57.4 Triangle Green Fee's
10 Boston Access Cillian Broderick (13) Jack Enright (24) Derek Enright (18) 57.5 Lee Valley Green Fee's
11 Ger Manley Ger Manley(7)Garan Manley (7) Paddy O'Brien (19) 57.7 Long Sleeve Polo's
12 Fermoy Print StephenD O'Brien (4) Liam Murphy (5) Pat O'Brien (12) 57.9 L9 Tramore Green Fee's
13 Mark Carroll Mark Carroll (5) Seamus Moore 10 Damien O'Neill 16 57.9 Sprayway Jackets
14 AIB John Moloney (9) Michael Hayes (12) Brian Barnes(17) 58.2 Tramore Green Fee's
15 Cormac Walsh Cormac Walsh (18) Andy Rea (11) Ian Kennefick (18) 58.3 Waterock Green Fee's
16 Midleton GAA Golf Society 1 Anthony Wall (10) Jim O'Sullivan (22) Hans Baumann (14) 58.4 Lee Cooper Jackets
17 Absolute Chiropractic Cillian Hurley (15) Kieran Hallihan (11) Ian O'Connor (8) 58.6 O Neills Polo's
18 Maxol Eoghan Collins(9) Kevin Butler (9) Damian Collins (15) 58.7 Cobh Green Fee's
19 Hurley's Supervalu Paul McNamara (6) Tommy Grimes (18) Brian Stanton (18) 58.8 Trabolgan Passes
20 Ulster Bank Wayne Kirby (18) John Gaffney(15) Brian Healy 18) 58.9 Jameson Passes x 2
21 Willie Ring William Ring( 13) Joe McNamara (17) Pat G Horgan (20) 59 Jameson Passes x 1
22 Midleton GAA Golf Society 2 Jim O'Sullivan (22) Andrew Rea (11) John Droog (15) 59.2 Golf Ball Pack
23 Mill Wheel Bar Andrew McCarthy (13) Eddie J Murphy (6) Eileen McCarthy (27) 59.4 Golf Umbrella's
24 Tim Hennessy Tim Hennessy (18) Donal Corkery (21) Stephen O'Callaghan(5) 59.6 Golf Ball Pack
25 Eamonn Crotty Fin Services Eamonn Crotty (18) Jim Landy (13) Willie Murphy (21) 59.8 Golf Gloves
26 Jannsen Pharma Hugh Collins (9) Niall Carrol (8) Colum Sisk (13) 60 Dove Set
27 Christoir O'Cathosaigh Christoir O Cathosaigh (10) Jack Fitzpatrick (21)Paul Britton(18) 60.1 Golf Caps
28 Paul Coleman Paul Coleman 6 Kevin Byrne 6 Jim O Keeffe 5 60.3 Parker Caps
29 Jackos Bar Paddy Condon 9 Tom O'Halloran 25 Tim Kennedy 21 60.5 Golf Ball Pack
30 Session Bar Anthony O Shea 18 Mark Reilly 18 Ryan Naughnane 18 60.6 Parker Caps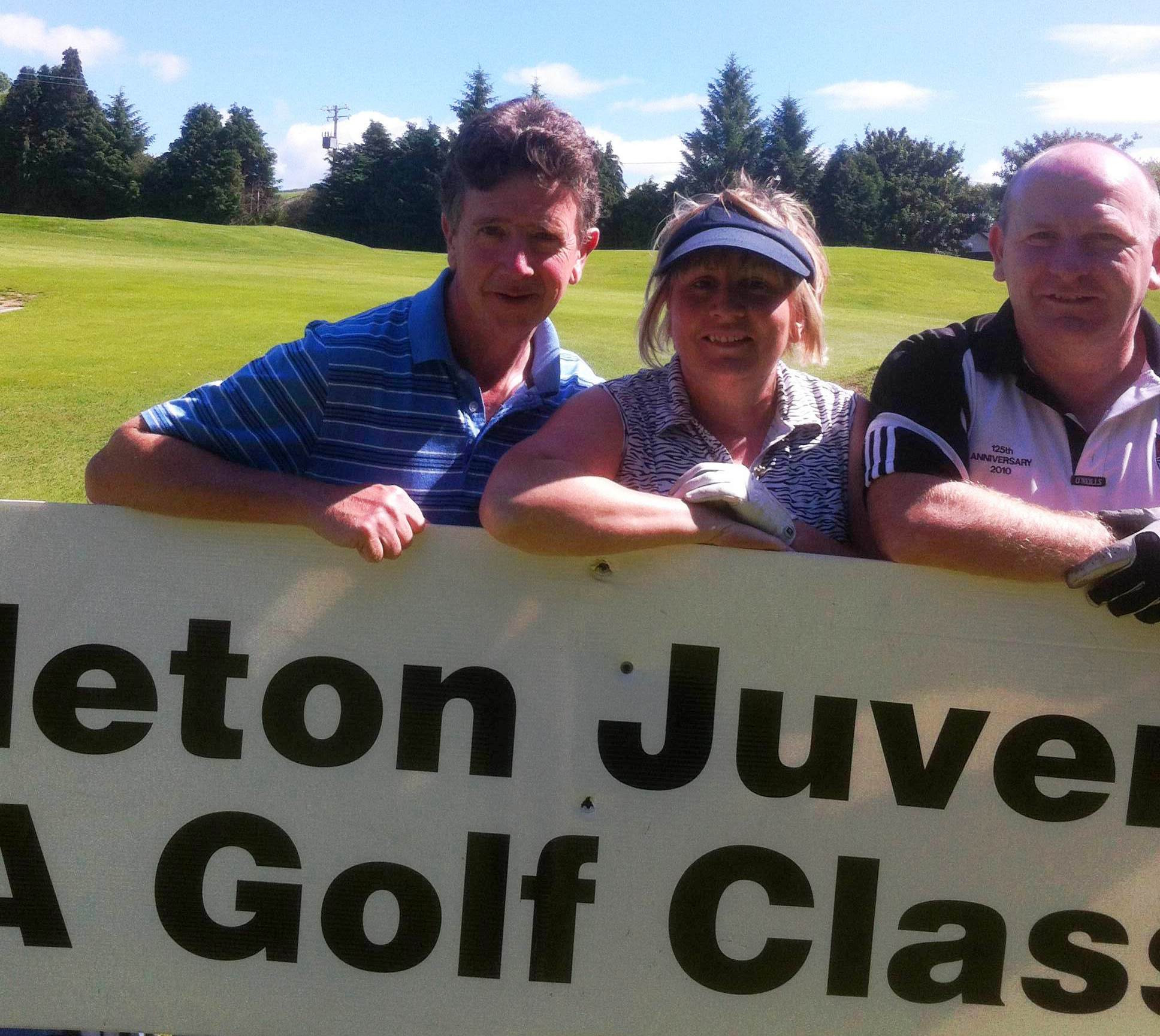 Mixed Team
Ciaran Goldspring Ciaran Goldspring (5) Tricia Murray (25) James Murray (15) 59.5 Kenmare Golf Green Fee's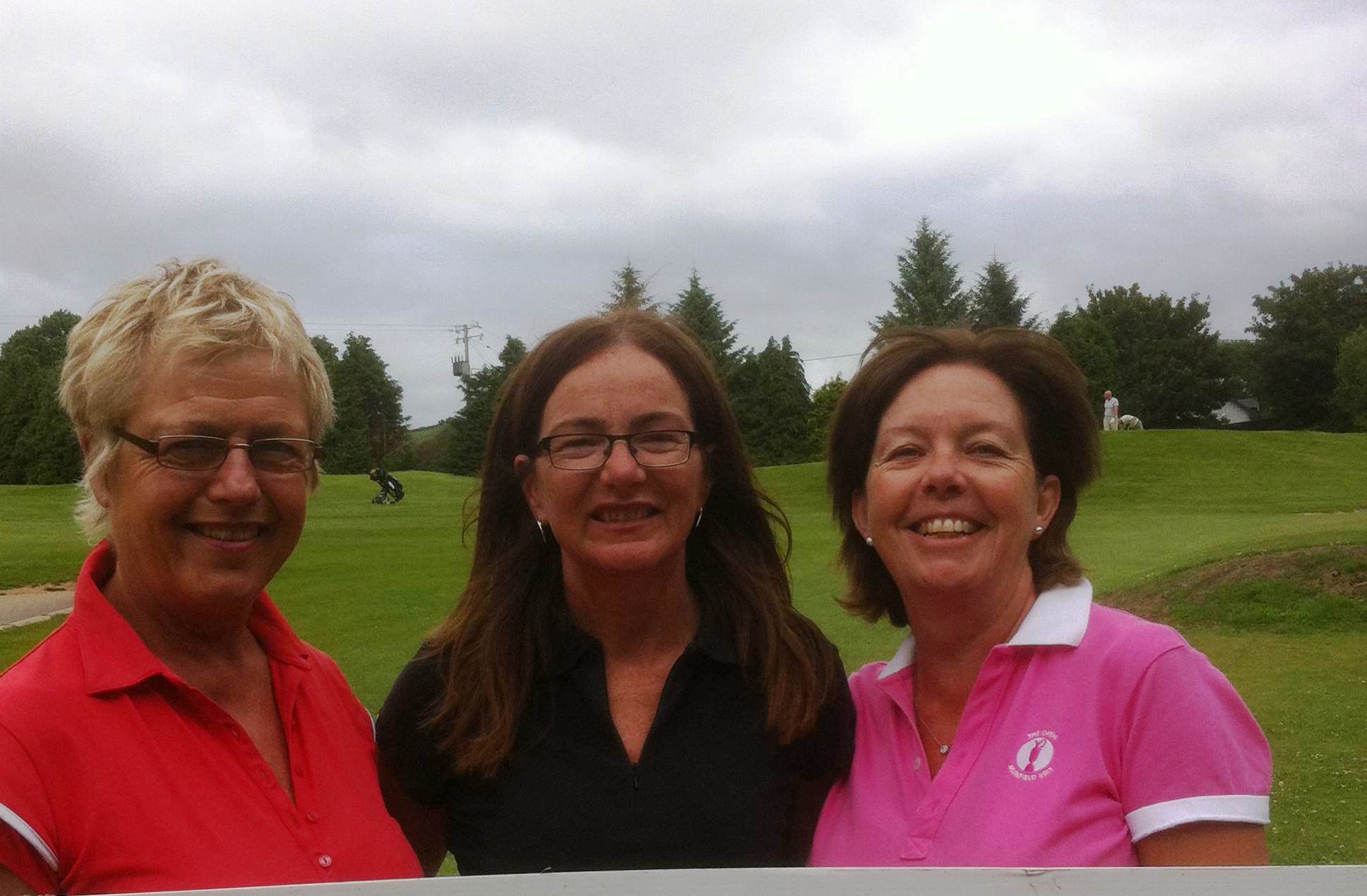 Best Ladies
Mary B Walsh Mary B Walsh (15) Valerie McCarthy (16) Carol O'Riordan (23) 61.3 Cornstore Vouchers

Seniors
John Fenton S Murphy (19) Eamonn McSweeney (14) Christy O'Sullivan (17) 59 L9 Castlemartyr Green Fee's

Longest DrIve
Gents John Hogan 397 yards Voucher & Wine
Ladies Valerie McCarthy 297 yards Johnson & Johnson Hamper

Nearest Pin
Gents John Moloney 18" Finin's Voucher
Ladies Margaret Rea 39" Hamper & Voucher