Midleton GAA Club News
06 April, 2014
Midleton Hurling & Football Notes

Senior Hurling
On Saturday evening our senior hurlers continued their unbeaten run when they defeated Bishopstown in the RedFm League at Midleton. Both teams deserve great credit for their efforts in extremely tough conditions, there was very little between both sides throughout the game with the vital goal coming from Patrick White.
Final score: Midleton 1.09 v Bishopstown 1.06
Team: Joe Loftus, Killian Burke, Patrick O Mahony, Leslie Coughlan, Seamus O Farrell, Finbar O Mahony, James Nagle, Paul Haughney, Eoin Walsh, Padraig O Keeffe, Padraig O Shea, Conor Lehane, Patrick White, Cormac Walsh & Brian Hartnett. Subs Sean O Farrell for Hartnett (inj), Darren Quirke for O Keeffe & Cillian Hurley for Leslie Coughlan (inj).
Junior A Hurling
In Carrigtwohill last Wedneday evening our Junior hurlers played the host team in the Avondhu/Imokilly Junior Hurling League and came away with the two points. It was a proverbial game of two halves, the first half dominated by ourselves using the wind to good advantage to lead by 0.03 v 0.09. In the second half any early goal for us stretched out the lead but in fairness they fought back and in the end we held on for a vicory on a score line of 1.11 v 1.13.
Team: Christopher Dunlea, Eoin Ferriter, Oisin Cotter, Liam Clohessy, Leslie Coughlan, Padraig O Farrell, Darren Quirke, Elliot Mulcahy, Shane Ryan, Padraig O Keeffe, Niall Walsh, Eoin Walsh, Padraig Nagle, Padraig O Shea & Cillian Hurley. Subs used Billy O Shea, Keith Ryan, Brian O Sullivan & Mark O Keeffe.
Junior B Hurling
In our second outing in the East Cork Junior 2 hurling league we played St Ita's in Pilmore last Sunday afternoon. Despite being short a few regulars we were very competitive, in the first half against the wind we battled bravely but for a virtuoso Seamus Harnedy performance. In the second half we came more into the game and scored goals from Robert Williams & Billy O Shea, we eventually lost out on a score of St Ita's 1.12 v Midleton 2.03.
Team: Bryan Rossiter, Jerome Curtin, Sean Corcoran, Colm Leahy, Billy O Shea, Alan Cahill, Brendan Ferriter, Liam Clohessy, Mark O Keeffe, Keith Ryan, Niall Walsh, Robert Williams, Coran Swayne, Aonghus Cotter & Davy O Brien. Subs used Paul Ahearne, Brian O Sullivan, Shane Goulding & Paul O Brien.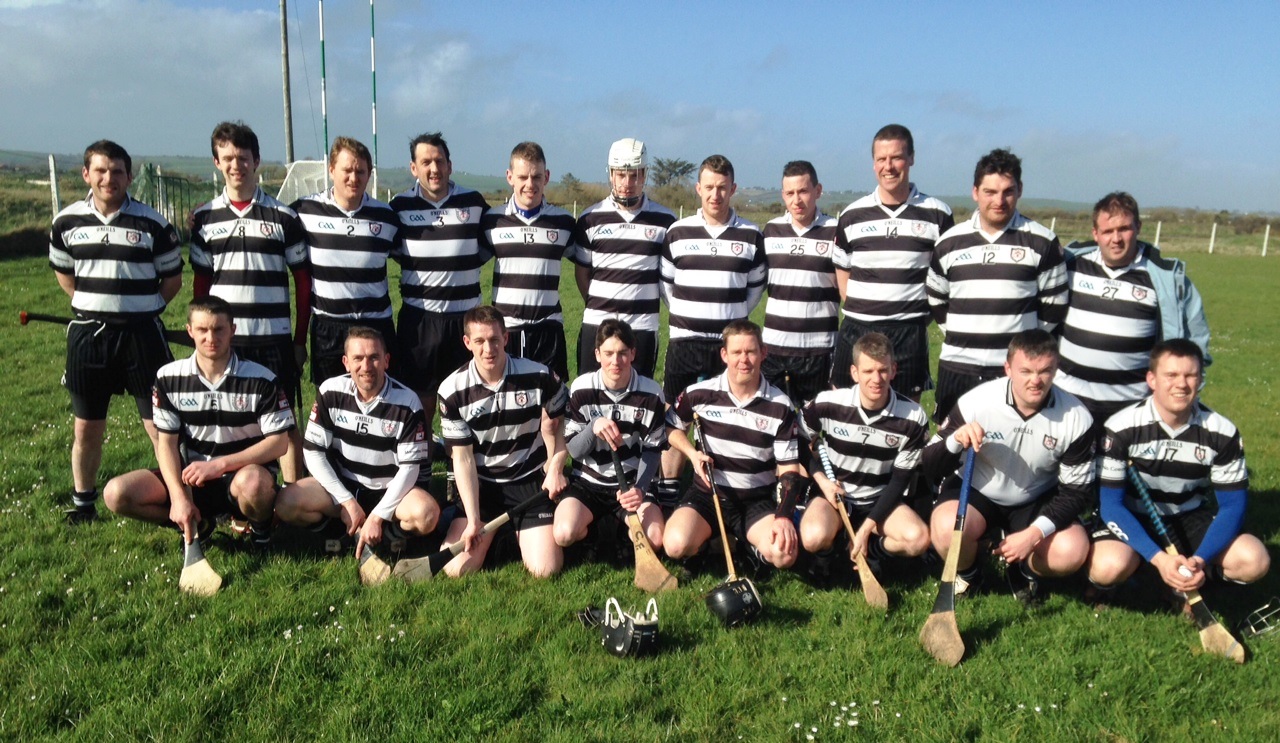 Minor Hurling
Our minor hurlers had a fine victory in their first game in the Rebel Og Premier 2 League against Aghada in Rostellan last Sunday evening 2.09 v 5.11.
Team: Eoin Maloney, Kevin Mulcahy, Gavin Bagnell, Luke Morrissey, Josh Deady, Luke Dineen, Seanaidh Smyth, Killian Deady, Kevin Rohan, Sean O Meara, Kieran Maloney, Luke Finnerty, Padraig O Brien, Lochlinn Mc Carthy & Brian O Mahony. Subs used Calem Deady, Cormac Beausang, James O Brien, Jack Enright, Mark Crotty & Ross Cummins.
Best of luck to Seanaidh Smyth and the Cork Minor Hurlers in the Muinster Hurling Championship this Wednesday night v Kerry in Pairc Ui Rinn.
Fixtures
Thursday April 10th Junior 1 Hurling League v Buttevant home @ 7pm
Saturday April 12th Senior Hurling League v Courcey Rovers away @ 7pm
Saturday April 19th Junior A Football Championship v Fr O Neills in Shanagarry @ 4pm
Healthy Club Project
What about our new walking and running groups!! Why not come along & join either our new walking or running group. It began last week and will continue each Wednesday @ 7.30pm, from the Midleton GAA club. Meet some new people; enjoy some outdoor exercise and best of all its FREE.
Membership
Become a "Magpie" and join your local GAA Club. New Members always welcome. Renewal of Membership due now. Please contact Membership officer Terence McCarthy @ 086-6013228.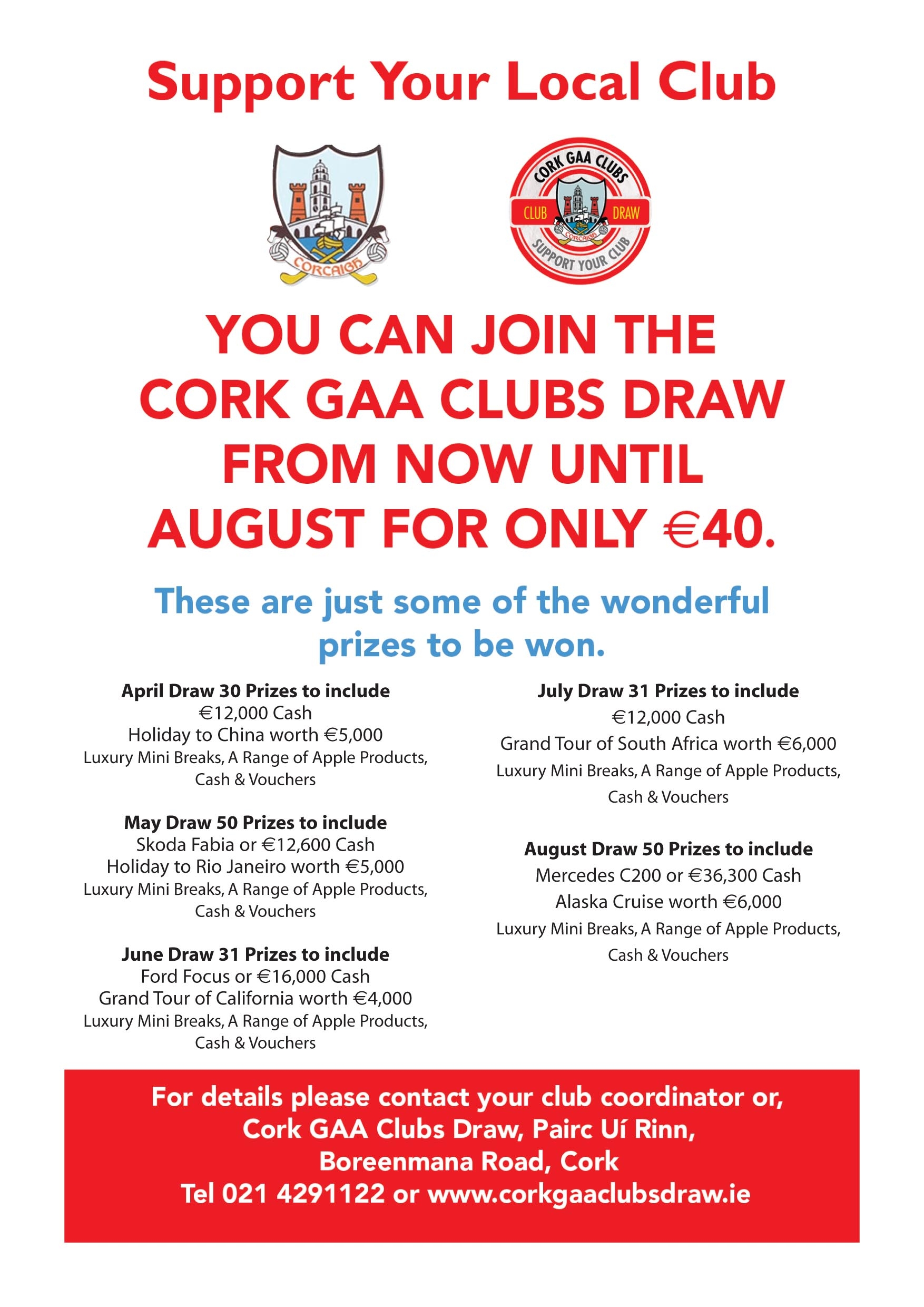 Camogie
A second well attended meeting regarding Camogie in Midleton was held last Wednesday night at which a new club was formalised and a committee was elected. Details to follow later.
Gaa Golf Society Fixtures
Saturday April 19th - Easter Hamper Competition 2-3pm @ East Cork Golf Club kindly sponsored by Bernard Cashman Car Sales
Wednesday May 14th - John Droogs Capt Prize 5pm @ East Cork Golf Club Shotgun Start
Friday 20th June 4:30 - 5:45pm @ Castlemartyr kindly sponsored by Fitzgerald Commercials
Saturday 16th August 11:30 to 12:30 @ Waterford Golf Club €35 Food incl. kindly sponsored by Gary Johnson (Maple Leaf Bar)
Saturday 20th September 1;40 to 2:40pm @ Waterrock Golf Club kindly sponsored by Don MacFarlane PGA Professional
Saturday 1st November Xmas Hamper 11:30 to 12:30 @ East Cork Golf Club kindly sponsored by O Farrell Butchers
Hurleys Super Valu Award
Congrats to John Hurley, Tommy Grimes & staff at Hurley's Super Valu on their National Q Mark award which was announced recently.
Lotto
Lotto Jackpot was €1,800 no's were 1,3,6 & 26 there was no winner, the Lucky dip winners were Vincent O Neill, Ian O Brien, Sinead & Laura, Maura O Keeffe & Norma Ferriter. Next week's Jackpot is €2,000, thanks for your continued support.

BINGO for all every Friday night in the GAA Pavilion from 8pm, guaranteed Jackpot of 1,000 euro!!
Juvenile Notes

Fe11
Unfortunately because of the rain on Saturday morning the football game against St Nick's had to be cancelled. It has been rescheduled for Thursday next, 10th of April and this time it's to be played on the GAA pitch at Midleton Community College. Throw in time is 7PM, be at the pitch for 6:45PM.
It's the start of a busy couple of days as the U11 hurling league is due to start two days later on Saturday 12th of April. First game is versus Blackrock and it's also a home game. Later in the week web texts will be sent to give further details of these two games. Remember you can keep up to date with fixtures and league tables by going to the Rebel Og web site: http://www.central.rebelog.ie/league/80195/fe11_f_l_central_grp2
Fe12
Premier 1 Hurling League in Ballincollig, Midleton 7-7 v Ballincollig 1-2
Eastern Hurling Challenge Midleton 3-2 v Ballincollig 4-2
Eastern Hurling League Lisgoold 8-4 v Midleton 1-1
Saturdy 12th April Premier 1 Hurling League v Cobh away @ 11am
Juvenile Training
All training in the Hockey pitch and St Colmans have now ceased, Summer training now takes place in the main pitch as follows; 09.45am - 11am Fe11, 12 & 13's, 11am – 12 Fe 7, 8 & 9's and 12 -1pm Fe 6 & 10's. Mid-week training times and venues will be on the Club website very soon when confirmed.

Juvenile Flag Day
Our annual Juvenile Flag Day at Hurley's Super Valu will take place on Saturday 19th of April from 9am to 6pm, help on the day would be greatly appreciated.
Easter Camp
This year's Easter Camp will be on Thursday April 24th and Friday April 25th at the Main Pitch. All Registered players from Junior infants upwards can take part in the camp. Similar to last year we will be looking for people to help out on both days. Camp details will be sent out to parents closer to the date. This year's Camp Coordinator is Cormac Quirke 0860783365.
Kellogs Cul Camp
This years Cul Camp will run from Monday June 30th until Friday July 4th at the Main Pitch. All Registered players from Junior infants upwards can take part. Camp details will be sent out closer to the date. This year's camp Coordinator is Pa Beausang 0862284185.
Annual Juvenile Golf Classic
Our hugely successful Annual Juvenile Golf Classic will be held on Wednesday July 9th and Thursday July 10th at East Cork Golf Club. New teams and Tee box sponsors would be greatly appreciated. Details of the Golf Classic will be out closer to the date.
Club Gear
The Club shop will be open on Saturday from 11am to 12, a full selection of gear is available. Anyone looking for Birthday presents can also buy gift vouchers from the club shop. Full price lists are available on the club website www.midletongaa.com
Facebook & Twitter
Follow up to date information on our Club and Cork GAA on Facebook and twitter, please help us to increase our followers by liking and re tweeting.