Midleton GAA Club News
12 January, 2014
Midleton Hurling & Football Notes
Fe21 & Junior Football
Training began on Monday night 13th January in the Hockey pitch @ 9pm, all players are requested to attend whether training or not.
Please note all players MUST HAVE A GUMSHIELD.
Victory Dinner Dance
Our Dinner dance has been confirmed for Saturday 8th of February in the Midleton Park Hotel, the band has been confirmed as "The Sons of Steve Mc Queen" with a DJ afterwards, a four course meal and spot prizes all for €30. Medals and Player of the Year awards will be presented on the night. Tickets will be available this week from the Club Bar, Vincent Reddy, Alan Donegan & Coleman Quirke.
Stress Control Course Launch
The HSE South and the GAA Join Forces to Help Tackle Stress, a First In Ireland. Fierce rivals Midleton & St Finbarr's GAA clubs were united in launching their Stress Control course in conjunction with the HSE in Pairc Ui Rinn on Wednesday last.
Not knowing what to expect considering this was a very first for Ireland with a sporting organisation and the HSE combining forces it can be said without a shadow of doubt it was a great success with over sixty five invited guests attending. To start the launch Dr Jennifer Hayes explained precisely what stress is and how everyone experiences it at some time or another in their lives. Jennifer gave a very concise account of what the Stress Control course entails. Yvonne Finn Orde, General Manager, spoke on behalf of the HSE. Tracey Kennedy PRO, then spoke on behalf of Cork GAA. Special guest, Conor Cusack, spoke very eloquently and honestly about stress, anxiety and depression. He spoke about the GAA and how it's not just about playing hurling and football, the GAA is all about community and not just about your top players but right down to the person in your club who helps out in any capacity.
Minister Kathleen Lynch was our last speaker and officially launched the Stress Control course, There was an obvious positive vibe in the room afterwards which was very evident in whoever you spoke to. Our sincerest thanks to all the aforementioned. A big thank you to those players who donned the Cork jersey over the years in attendance, these included John Fenton, Diarmuid O'Sullivan, Joe Deane, Gerald McCarthy & Eoin Cadogan, all taking their time out to support this very important initiative and also to former GAA President Christy Cooney for attending. Present on the day from Midleton GAA's Healthy Club Project team were Jerome Curtin, Gavin Power, Michael Walsh, Cllr.Pat Buckley. Also in the audience was club member John Dennigan of Foroige. Special thanks to the HSE staff of Dr.Rosarie Crowley, Yvonne O'Brien, Ger Hannon & Peter Dineen. From Croke Park we thank Colin Regan and especially Stacy Cannon for the fantastic work she did in coordinating things between the clubs and the HSE. It's very important, just to add that this course is not just exclusively for GAA people, this is available to anyone over the age of 18 from all walks of life and areas outside of Midleton. As we have said in the past Midleton GAA's Healthy Club Project is about Promoting Health & Well-being for everyone in the Community. To see what else we have been doing click on our Healthy Club Project tab on the main page of www.midletongaa.com The Stress Control Course will be held on 6 consecutive Wednesday evenings from January 29th – 5th March @ 7.30 – 9pm. People who wish to attend have a choice of venue and can either register to do the course in Midleton Park Hotel, Cork Rd., Midleton or St. Finbarr's GAA Club,Neenan Park, Togher, Cork.
For information or to book a place on this course please email your name, contact phone number & address along with your preferred location to: CorkBeatsStress@hse.ie OR call: 086 7871016. So far we've had a great response to the course. I would like to thank everyone involved for making this a success, Pearse McCarthy, Healthy Club Project Leader IS FEARR AN tSLÁINTE NÁ NA TÁINTE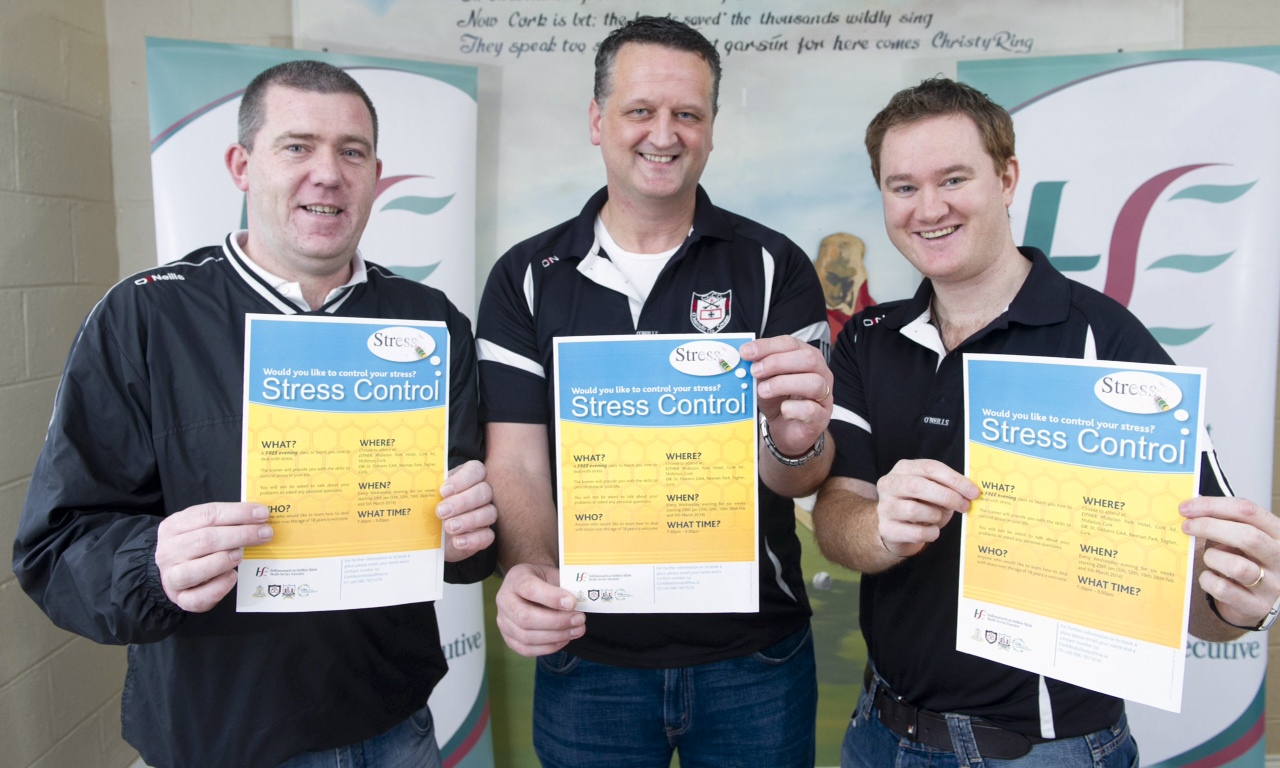 Garda Vetting
For 2014 all Club Coaches need to Garda Vetted. If you have previously submitted a form & have not received a reply, the reason may be that the Youth Officer in Cork may have received the form 3 months after the date it was signed by you, deeming it invalid. All managers of every team at this stage have received forms for their teams coaches/selectors who are not vetted. The deadline to return your form is the 17th of Jan 2014 in the provided envelope (sealed) to Pearse McCarthy. We would ask everyone for their cooperation. Any queries you have please don't hesitate to contact Pearse on (087) 289 0888
Club Calendar
A limited number of Club Calendars based the successful year are still available for sale. It features many pictures of teams and events captured throughout the year. These are available from the Club Bar/Shop, Pat Walsh Paints, O' Farrell Butchers, Mary Quinn and Coleman Quirke.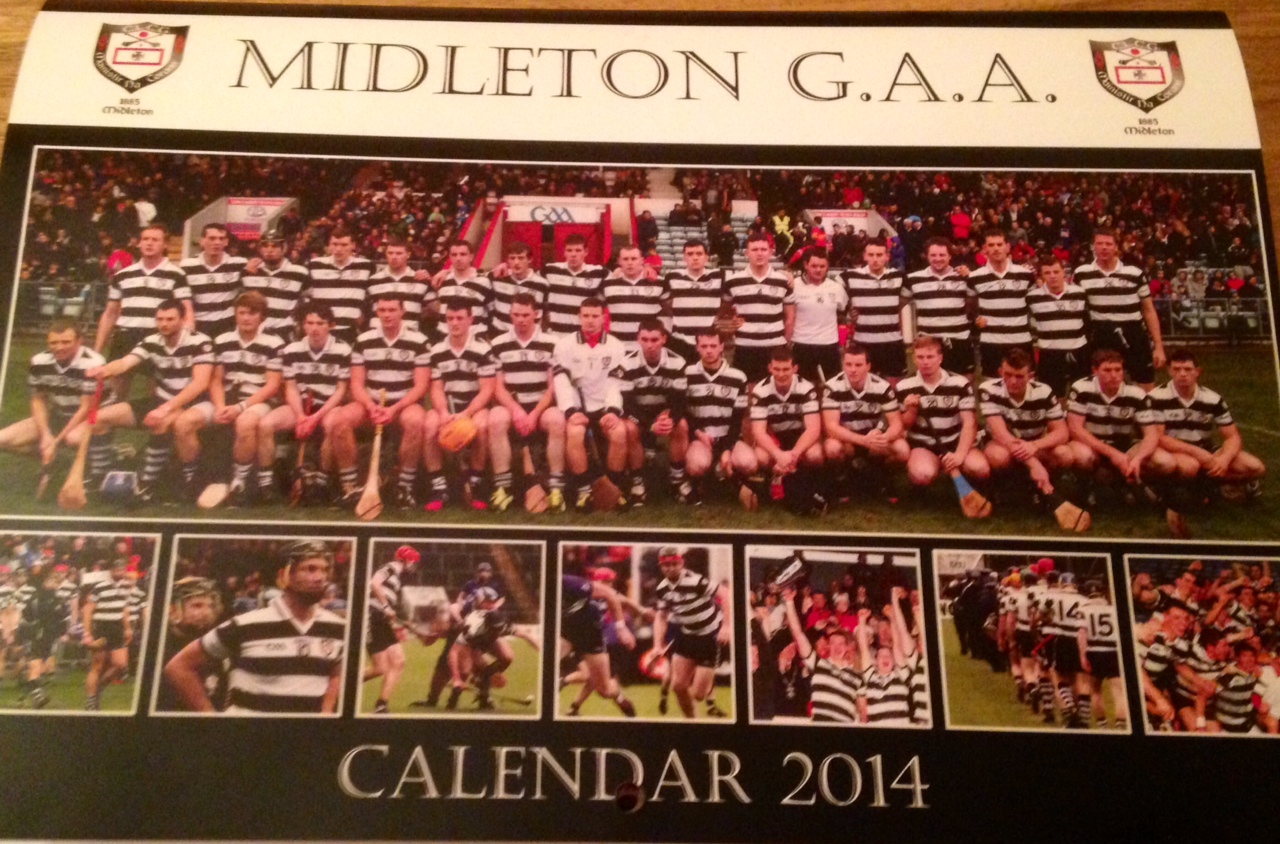 Sponsored Head Shave & Leg Waxing
Cian Mc Carthy club member has organised a sponsored head shave and leg waxing in aid of HEADWAY, a service for people with acquired brain injury. This is an organisation which Cian himself attended regularly following his assault. It takes place on the 7th of February in the Maple Leaf Bar @ 8.30pm. If you would like to sponsor Cian he has an account set up on www.mycharity.ie , simply click on sponsor a friend and input Cian Mc Carthy. Any sponsorship is greatly appreciated; cards are available from Cian and Mary Quinn.
Lotto
Lotto Jackpot was €4,400 no's were 2,12,13 & 27, No winner
Lucky Dips were Rosie Tynan, Joe Lehane, Breda Smyth, Marie Ryan & Thea/JP Quigley , next week's Jackpot €4,600.

BINGO for all every Friday night in the GAA Pavilion from 8pm, guaranteed Jackpot of 1,000 euro!!
Dancing next Saturday night 18TH of January is to the Moynihan Bros.
Juvenile Notes

Street League Indoor Hurling
Each Saturday morning at the Community Centre, coaching for boys continues and new members are always very welcome. The times and dates are as follows:
Junior Infants restarted on Saturday 11th from 12 – 1pm
Senior Infants 11-12 & First Class 10-11am will restart on Saturday 25th.
Team Training
Fe 12 & 13s are back training on Thursday night the 16th in the Hockey pitch @ 6pm
Fe 14s are training each Wednesday night from 6-7pm in the Hockey pitch.
Club Gear
The Club shop is open each Saturday morning from 11am to 12, a full selection of gear is available with umbrellas and school bags added to the range. Anyone looking for Birthday presents can also buy gift vouchers from the club shop. Full price lists are available on the club website www.midletongaa.com
Social Media
Keep up to date with all of the Club's activity's by following us on our Website, Facebook and Twitter