Midleton GAA Club News
07 October, 2013
Midleton Hurling & Football Notes
Junior A Hurling Championship
Our Junior A hurlers progressed to this year's East Cork championship semi final when they defeated St Ita's in Killeagh last Friday night before a very large crowd.
The game was very even throughout with Cormac Walsh's accuracy from free's keeping us in touch. With normal time running out we led by two points when they scored a goal but in the final attack Kieran Mulcahy scored a great point to force extra time. Throughout extra time we were the better team but took sometime to put them away, we finally did late on to win by 1-26 to 4-13.
Well done to all the players and management and we can all look forward now to the semi final v Sars in Cobh next Sunday @ 3.30pm
Team: Christopher Dunlea, Neil O Regan, Oisin Cotter (capt.), Eoin Ferriter, Darren Quirke (0-01), Leslie Coughlan, Gavin Bagnell, Sean O Farrell, Shane Ryan, Padraig O Farrell (0-01), Kieran Mulcahy (0-04), Cormac Walsh (0-12, 9 free's), Cillian Hurley (0-03), Ian O Brien & Michael Abernethy. Subs John Keane (1-05) for O Brien and Davy O Brien for Abernethy.
Senior Hurling Championship
All roads lead to Pairc Ui Chaoimh next Saturday afternoon when we face Bishopstown in the County quarter final @ 4.00pm.
Since our victory in the last round over Bride Rovers the management have been putting the players through quite a number of challenge games and training in preparation for this date. We wish everybody connected with the team the very best of luck and hope that all Magpies young and old will travel in big numbers to support.
Fixtures
Saturday 12th Davy Hogan Juvenile Street League Finals @ 10.30am
Saturday 12th Senior Hurling Championship v Bishopstown in Pairc Ui Chaoimh @ 4.00pm
Sunday 13th East Cork Junior C Hurling Championship v Dungourney in Lisgoold @ 11.00am
Sunday 13th East Cork Junior A Hurling Championship v Sars in Cobh @ 3.30pm
Club Refurbishment/Works
The club has embarked on a recent program of refurbishing and overhauling the various energy systems used throughout the club ie. use of Natural gas, heating and lighting. We apologise for any inconveneince caused to anyone during the course of the works, disruption will be kept to the mininium where possible.
The current systems have been in place with over fourty years and having served us well, they now need to be replaced to fall in line with current standards and in the future will prove to be more cost effective.
This work is being carried out over a number of phases culminating in the future prooofing of our state of the art facilities. Club members, their friends and families have generously supported the Cork GAA clubs draw in the past. The funds generated from this effort will be crucial towards this project. The club pavillion is being moderatley refurbished and is available for hosting a wide range of social events, the new meeting room and hall continues to provide facilities to club and outside groups. A club shop has been set up in the old meeting room where members are able to purchase club merchandise on Saturday mornings. The Executive committee's would like to extend their gratitude to all who contribute to the finances of the club, these facilities will provide a state of the art environment for members and the town community for many years to come.
If you are not already involved, now is your chance to be part of it by subscribing to the Cork GAA clubs draw online identifying Midleton as your club, or by contacting our club co ordinator Steve Sheehan @ 085/1741460 or any Club Officer. See further details below.
Cork County Board Club Draw
The Cork GAA Clubs' Draw plays an important role in the financing of Cork Clubs, the promotion and development of the county Coaching and Games Development structures and the County Board Grounds Development Fund.
A minimum €45 out of every €100 ticket sold is returned to the club of the purchaser. Clubs throughout Cork have benefitted by €18 million since the Draw began in 1992. These funds have been used for building development, all-weather pitch development, floodlight installation etc.
The draw fund also plays a huge role in funding the county's Coaching and Games Development Strategy. Each year €275,000 is spent on projects that are part of our Strategy Plan. These projects include Games Promotions, Developments Squads and grants to Under-Age and Schools and Third Level bodies.
The third strand to benefit from the Draw is the County Board's Grounds Development Funds. Ten per cent of the annual Draw profit is transferred to these funds. It is intended that the draw will play a major role in the raising of finance for the Pairc Uí Chaoímh re-development plan.
This year's draw has a fantastic range of 435 prizes. There are nine cars, 12 luxury holidays, cash prizes, a fantastic ranges of Apple products, dozens of holiday mini-breaks, travel vouchers, hundreds of shopping vouchers, plus the usual range of promoters and paid up members prizes available to be won by subscribers.
Draw Management Committee are grateful to motor dealers and businesses throughout Cork who have come on board to support the GAA Clubs Draw.
The Cork GAA Clubs Draw can be entered by our Club co ordinator Steve Sheehan @ 085/1741460 or any Club officer.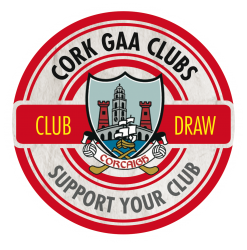 Lotto
The Jackpot was €1,600 on Friday night last, the numbers drawn were 15, 18, 23 & 26. There was no winner of the Jackpot. The lucky dip winners of €40 were The Session Bar c/o Micky Bok, Maurice Maloney, Pat Fitzgerald c/o Dancing, Bernie Kearney c/o Bingo & Damien Garde c/o Garde Engineering.
Next week's jackpot will be €1,800. Thank you for your continued support.

BINGO for all every Friday night in the GAA Pavilion from 8pm, guaranteed Jackpot of 1,000 euro!!
Dancing in the Hall next Saturday night to Dave Rea.

Juvenile Notes
Davy Hogan Street Leagues
Week two of street leagues continued in splendid sunshine again today and credit goes to the Player's for serving up some fantastic hurling for the spectators. As we said here a few weeks ago the standard again was top notch from these lads with no quarter being asked nor given in any match great to see. Again we had six games and sixty six players in action all getting equal game time of one hour. Waterford were the team to benefit this week with a full squad to pick from today what a difference it made confidence oozing in all quarters and after getting off to a great start defeating Tipp on score line of 3-5 to 3-3.The other teams will have to work hard to stop this group with the coaches Pearse Mc Carthy and Vincent O Neill making some decisive moves at critical stages. The order of play next week will be the final league games starting at 10:30 sharp and the Final starting straight away at 11:15. The last week will not be for the faint hearted with five teams still in contention to make the final it will be win at all costs for these lads and we know from watching these games here's one who is really looking forward to it. We would especially ask for Juvenile players of the club to come out and support these lads as in a few short years these guys will be teammates of yours.
For the final week we will be getting the matches Video recorded so hopefully we will get a large attendance out to mark the occasion. Remember memories are made of these occasions and wouldn't it be great to be sitting at home or in the pavilion in a few years time looking back at these lads.
Results week 2
Cork 3-4 Kilkenny 3-4, Limerick 2-4 Clare 5-4, Tipperary 3-2 Waterford 3-5.
Cork 6-4 Limerick 4-2, Kilkenny 2-3 Waterford 7-6, Clare 10-1 Tipperary 5-5.
Players to shine this week Conor Fitzgerald, Thomas Lambe, Aaron Coughlan, Darragh Codd, Bradley Savage, Niall Corcoran, Jack Fitzgerald, James O Sullivan, Patrick Kelly, Ciarbhac Smith, Gavin Reddy and Cian Murray well done lads keep it going.
League Table after week 2
GAMES TEAMS GP GF PF GA PA pts
1 Cork 3-4 v Kilkenny 3-4 Waterford 4 22 19 12 23 6
2 Limerick 2-4 v Clare 5-4 Cork 4 19 20 17 14 5
3 Tipperary 3-2 v Waterford 3-5 KilkKenny 4 13 19 16 14 5
4 Cork 6-4 v Limerick 4-2 Clare 4 19 10 15 18 4
5 Kilkenny 2-3 v Waterford 7-6 Limerick 4 16 21 20 11 4
6 Clare 10-1 v Tipperary 5-5 Tipperary 4 17 9 25 12 0
Remaining League games as follows Cork V Tipp, Kilkenny V Limerick, Clare V Waterford.
Refreshments throughout the morning in the Pavillion teas coffees biscuits etc.
Please Support these young Magpies
Ulster Bank Supports our Senior Infants
We're very grateful to Wayne Kirby of Ulster Bank for their kind sponsorship of Jerseys for our Senior Infants group pictured below with their mentors.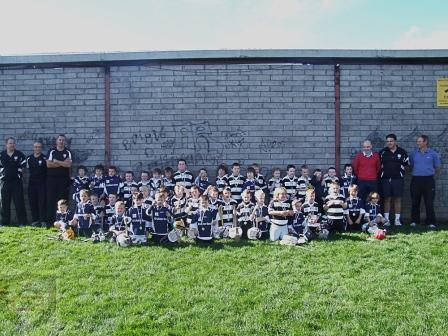 Fe15
Our hurlers defeated Douglas in the Rebel Og Premier 1 Championship last Satuday in Midleton after a tough hour by 0-16 v 0-10 , we now face Aghabullogue.

Club Gear
The Club shop is open each Saturday morning from 11am to 12, a full selection of gear is available including new Midleton club flags. Anyone looking for presents can also buy gift vouchers from the club shop. Full price lists are available on the club website www.midletongaa.com
Social Media
Keep up to date with all of the Club's activity's by following us on our Website, Facebook and Twitter.