Midleton Hurling and Football, Ladies Football and Camogie Club News - March 2
02 March, 2023
WE'RE BACK......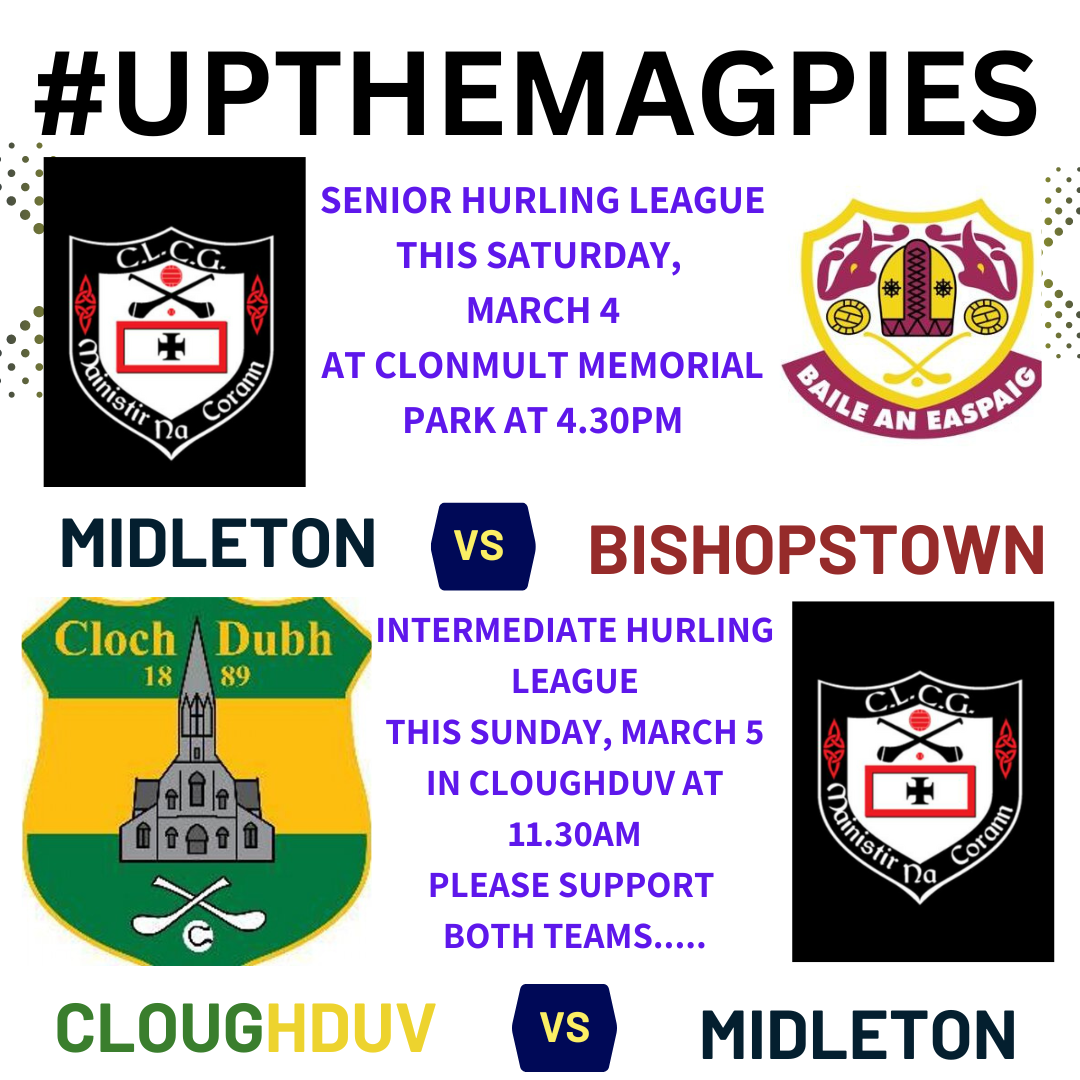 It's a wonderful time of year when our teams are back in league action. Our four adult hurling teams all make their first league starts of 2023 this week and it would be brilliant if you could support any or all of them.
Our senior hurlers are first into action on Saturday when they host Bishopstown in Clonmult Memorial Park from 4.30pm.
Then on Sunday morning our intermediate hurlers travel to Cloughduv for an 11.30am start.
Our Junior C hurlers are also in action on Sunday. They travel to take on Bride Rovers in Rathcormac at 4.30pm and then on Tuesday night our Junior A hurlers make the trip to Killeagh for an 8pm start.
Best of luck to all four sets of players and management as they set out on what will hopefully be a hugely successful year for the Magpies.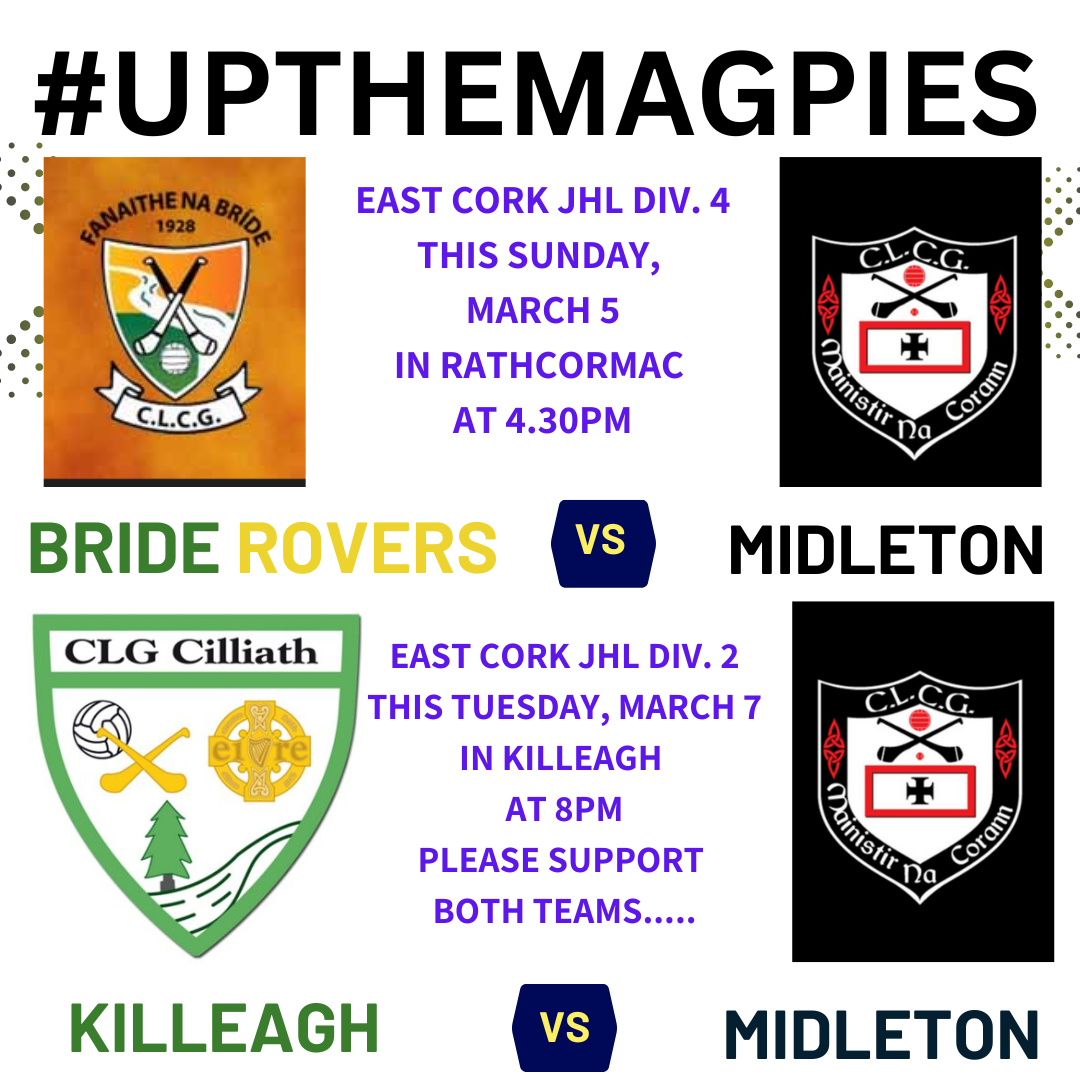 IN THE RED OF CORK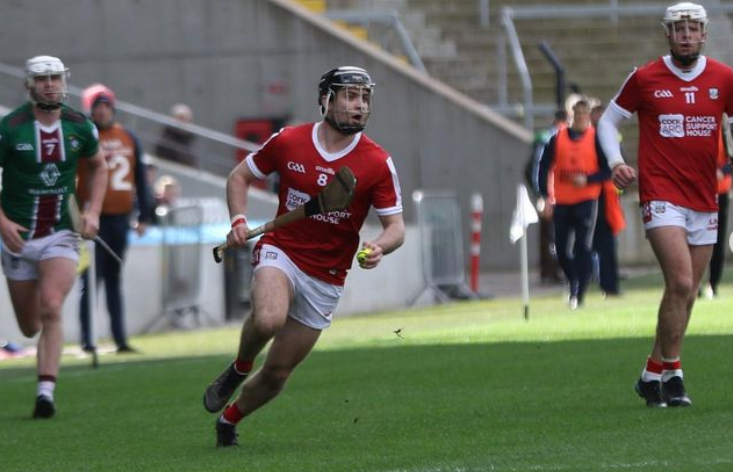 Well done to our own Tommy O'Connell and Sam Quirke who both started in Cork's 2-21 to 0-21 National Hurling League win over Westmeath at Pairc Uí Chaoimh on Sunday last. Cork have a weekend off this week but are back in action at home in Pairc Uí Chaoimh on Sunday week (March 12) against Wexford at 3.45pm.
Pictured above is Sam Quirke and below Tommy O'Connell in action on Sunday. Photos: Steven Lynch.
LADIES FOOTBALL
JUNIOR SCHOOLS ALL-IRELAND SEMI-FINAL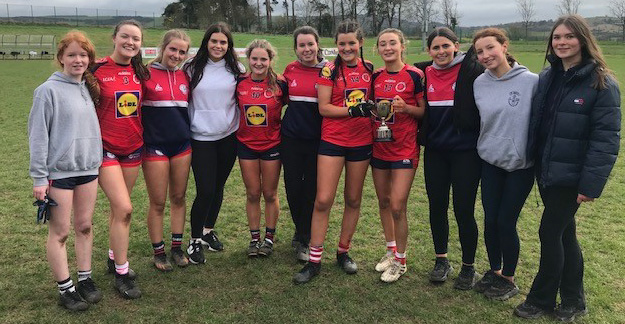 The Midleton players on the St. Mary's panel after their Munster Final win.
Best of luck to St Mary's High school and all our club players who are through to the All-Ireland semi-final next Friday, March 10. The team defeated ISK Killorglin in a thrilling Munster final and they now go onto play Moat Secondary school. The match takes place in Staker Wallace GAA Club at 11.30am.
GM&O - GAELIC MOTHERS AND OTHERS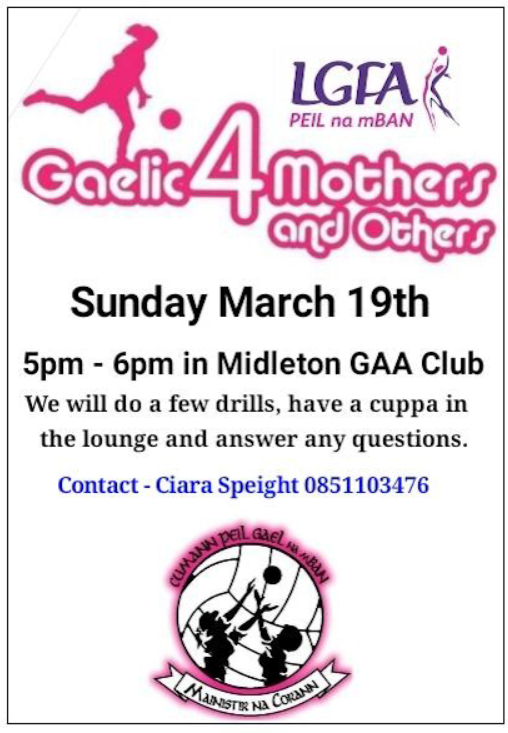 Our GM&O open evening takes place on Sunday 19th March in Midleton GAA Club from 5-6pm. Woman aged 23+ are welcome whether you have played before or not. Come along and try a few drills. There will be a cuppa and a chat in the lounge afterwards. Spread the word!
Any questions contact Ciara 085-1103476
FIXTURES
Saturday 4th U14 v Youghal at 11am in Park South
Saturday 4th U16 v Glanmire at 3pm in Buck Learys Pitch
Sunday 5th U21 v Bantry at 12pm in Bantry GAA Club
TRAINING
U12: Mondays 6.30-7.30pm in Ballinacurra GAA Club
U14: Mondays 6.30-7.30pm in Midleton GAA Club
U16/Minor and Junior: Mondays 7.30-8.30pm in Midleton GAA Club and Thursdays 7-8pm in Ballinacurra GAA Club.
JUVENILES
FIXTURES
Fé18 - P1 Hurling League - Midleton v Ballincollig at home, Saturday, March 4 at 1pm
Fé16 - P1 Hurling League - Midleton v Eire Og at home, Sunday, March 5 at 11am.
Fé18 - P1 Hurling League - Midleton v Sars in Riverstown, Wednesday, March 1 at 6.30pm.
FÉ10S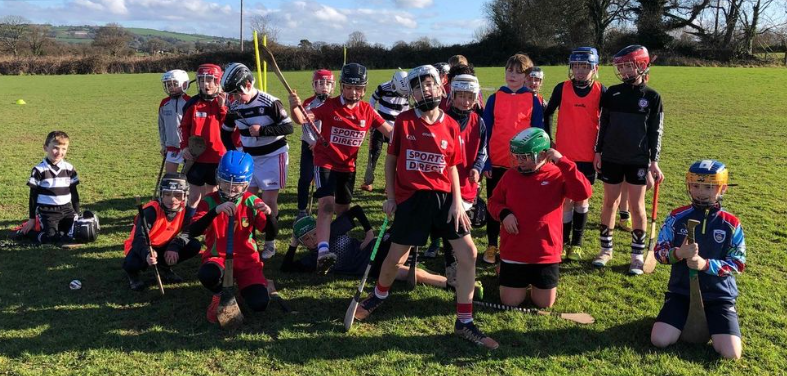 Our Fé10 lads were thrilled to be back in action at Park South on Saturday morning last - remember new members always welcome.
MIDLETON CBS - WHITE CUP CHAMPIONS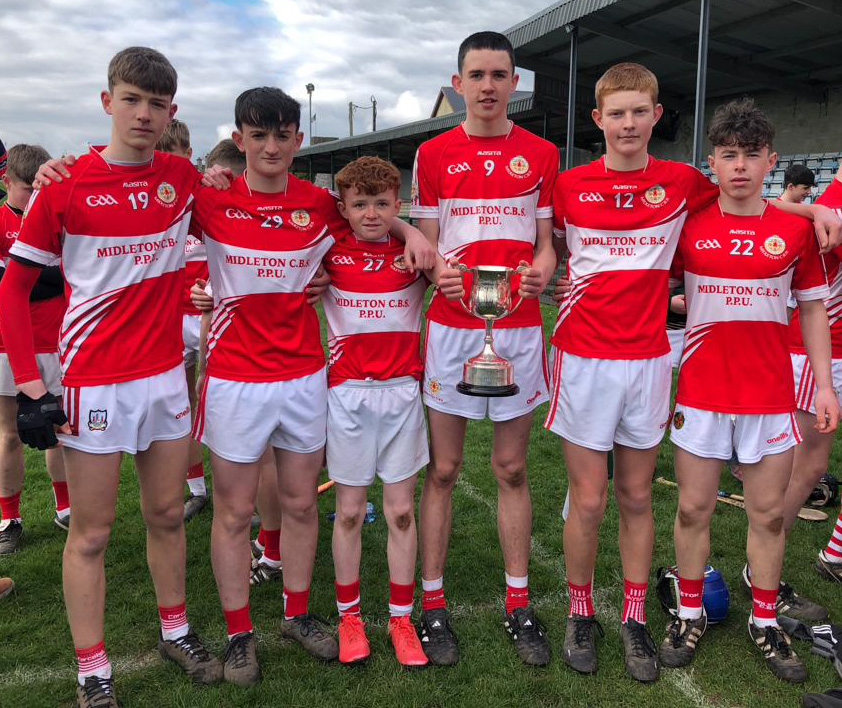 Well done to the Midleton CBS Fé15 team that won the White Cup (Munster Colleges A) hurling final by defeating St Flannans of Ennis on a final score of 5-16 to 1-8 in Kilmallock today (Thursday).
A special congratulations to the Midleton GAA lads on the panel: L to R: Patrick O'Dowd, Cuan Twomey, Jack Walsh, Senan Carroll (Captain), Shane O'Mahony and Liam Walsh. And also to Iain Cooney who was a selector.
GAELTACHT SCHOLARSHIPS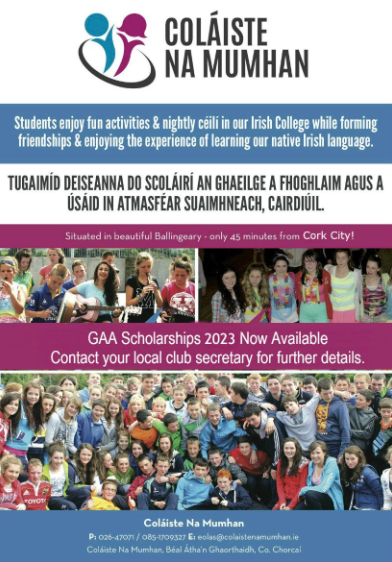 Cork GAA will be providing a certain amount of GAA scholarships to students attending Coláiste na Mumhan this summer! Follow the link to download the application form:
http://docs.google.com/file/d/17gC7uJJw_2OUNXNgYB4EdIf0QioMz8YZ/edit?filetype=msword
GAA LEARNING PORTAL

We have been aksed to remind members and especially our club coaches that the GAA Learning Portal is a great resource which is free to use. Please check it out at http://learning.gaa.ie/about
REBELS' BOUNTY DRAW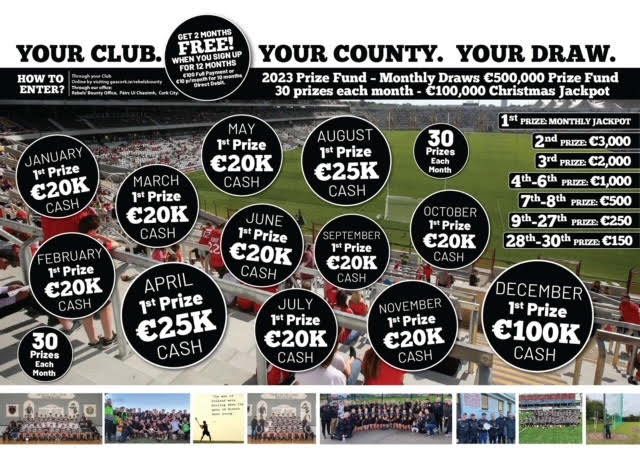 Tickets are now also on sale for the 2023 Rebel's Bounty draw. We are aiming to sell 500 tickets this year which would net us a wonderful €40,000 which would do so much for our club. We think this figure is very attainable but we need everyone's help. The prizes are fantastic so we would appeal to everybody to reach out to family members, neighbours, work-mates to support this vital fundraiser for our club.
You can buy tickets a the link below but make sure that you enter Midleton in the section that asks for your club.You can also sign up online for a direcct debit of €10 a month for ten months.
MIDLETON GAA MONDAY CLUB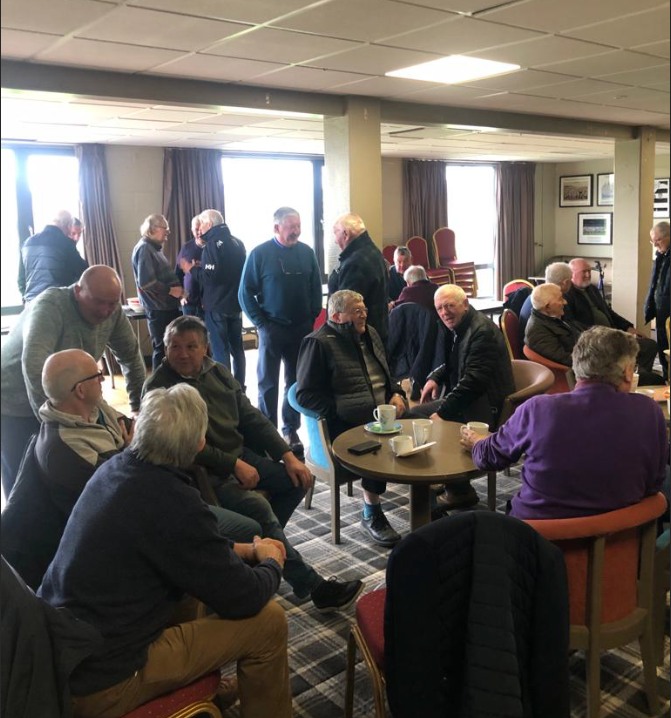 We were thrilled with the great numbers at our second Monday Club Coffee & Chat morning on Monday.
It was lovely to see some new faces. There was a great atmosphere with plenty of chat and laughs. Thanks to everyone who helped out.
We look forward to seeing you all (and any new faces) next month on Monday 27th March 10.30am to 11.30am. All Welcome!
LOTTO DRAW
The Jackpot was €15,000 for last Friday night's jackpot and the numbers drawn this week were 2, 7, 24. The bonus was 10.
The €25 Lucky Dip Prize Winners were: Cairen Keohan, Aofie Quirke Lee, David O'Leary and Rachel Kane.
There was no jackpot winner or Match 3 winner.
Play 24/7 at: http://www.klubfunder.com/Clubs/Midleton%20GAA/lotto
In total Midleton GAA will give out local business vouchers to the value of €3,800 every year as part of our "Shop Local, Buy Local" campaign.
How to play: tickets are on sale at Pat Walsh Paints, Chadwicks, Frank Murphy Butchers, Murphy's Pharmacy, Crowley Butchers, or buy online (see above).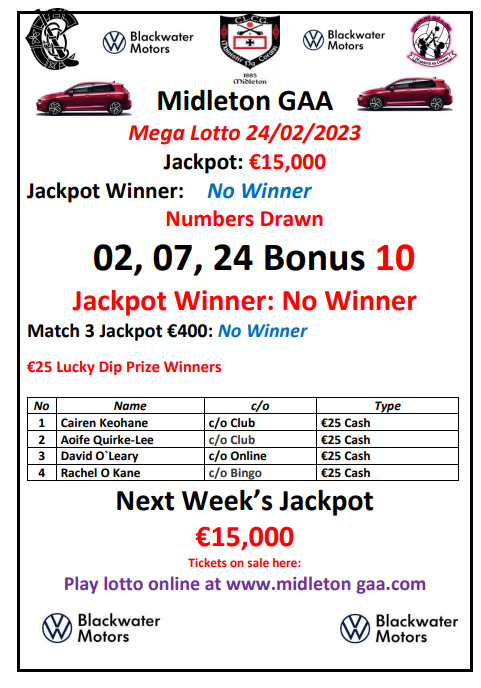 BINGO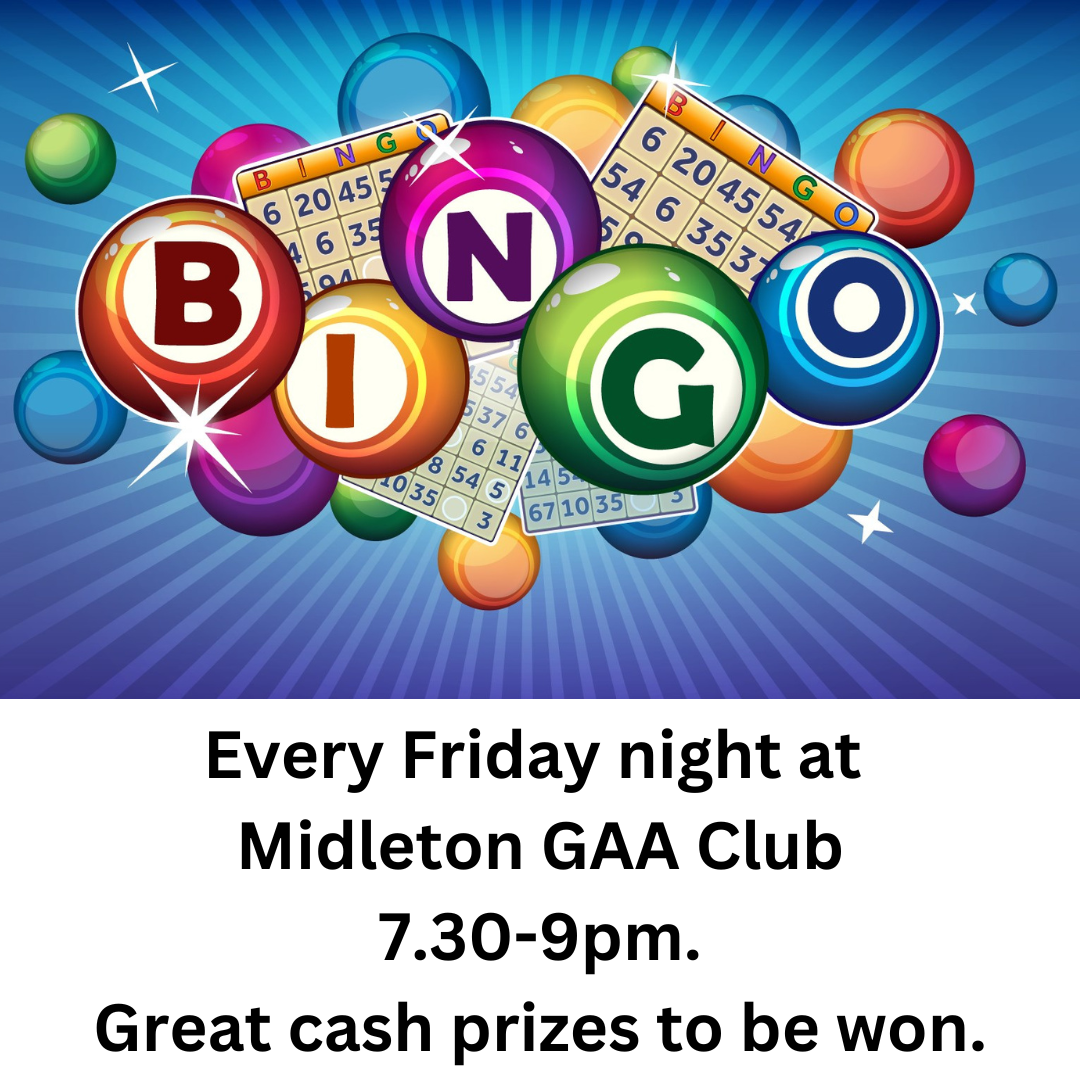 Fancy a good night which also benefits Midleton GAA club...what about bingo on Friday nights?
It kicks off at 7.30pn every Friday night and is over by 9pm. A single book is €6. A double book is €12.
SOCIAL DANCING
There is no social dancing this Saturday night.
MIDLETON GAA GOLF SOCIETY
The Midleton GAA Golf Society held its rearranged Christmas Hamper kindly sponsored by Hans Bauman (Cruinn Diagnostics).at East Cork GC on Saturday and here were the winners:
1st Willie Lawton; 2nd Paudie O'Keeffe; 3rd Michael Crotty; 4th Mick Hayes; Front 7 Eamonn Cleary; Back 7 Bernard Cashman. Visitor: Alan Crotty.
The 2022 Golf Of The Year prize was also awarded to Tim Kennedy. Well done all and happy golfing for 2023.
MIDLETON HEALTHY CLUB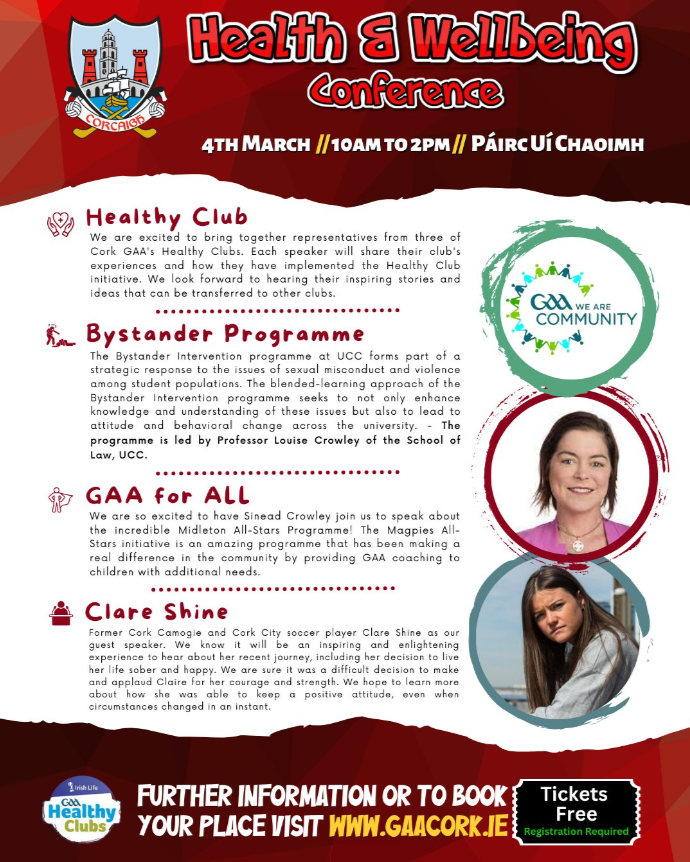 Cork GAA are hosting a Health & Wellbeing Conference on this Saturday 4th March from 10am to 2pm in Pairc Uí Chaoimh. Tickets are free but you must book in advance at: https://gaacork.ie/2023/02/20/health-and-wellbeing-conference-2023/
COACHING CONFERENCE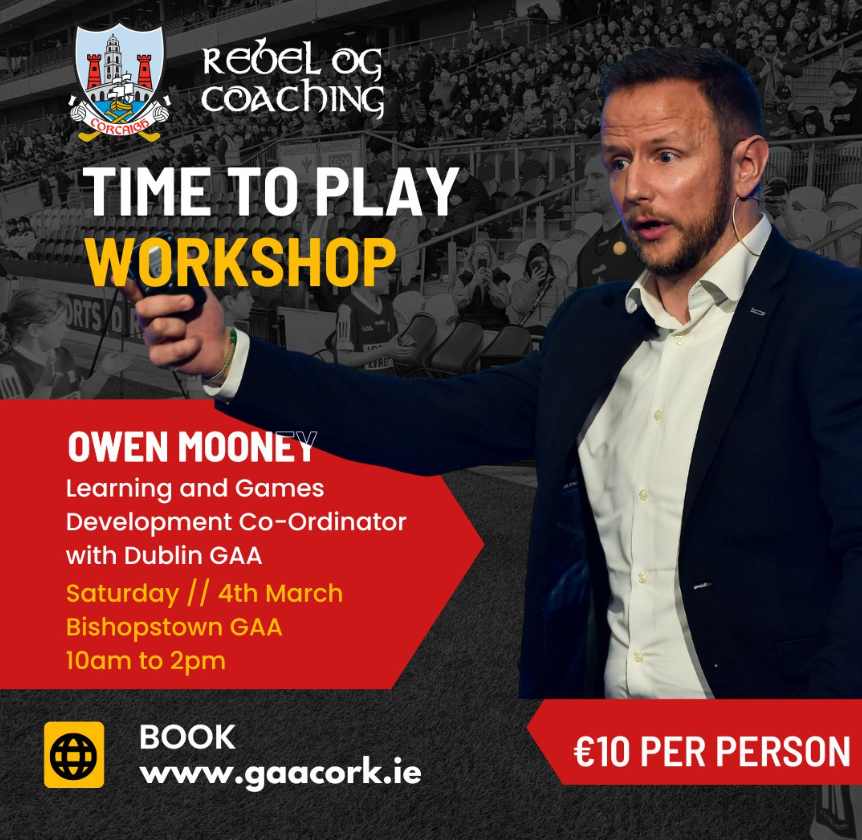 Rebel Og Coaching has organised a 'Time to play' workshop with Owen Mooney. It will take place on this Saturday, March 4th in the Bishopstown GAA complex. Tickets available at: http://gaacork.ie/2023/02/20/time-to-play-workshop/
It's €10 but as always the club will refund this for any of our coaches attending.
SCÓR NA NA NÓG
Ages 12-18. Music, singing, recitations, dance and quiz. Imokilly area final Sunday 12 March Lisgoold at 7pm.
Comórtaisí Ceannais Uí Mac Choille, Dé Domhnaigh, 12ú Márta, Lios gCúl, 7:00 i.n.
CLUB SHOP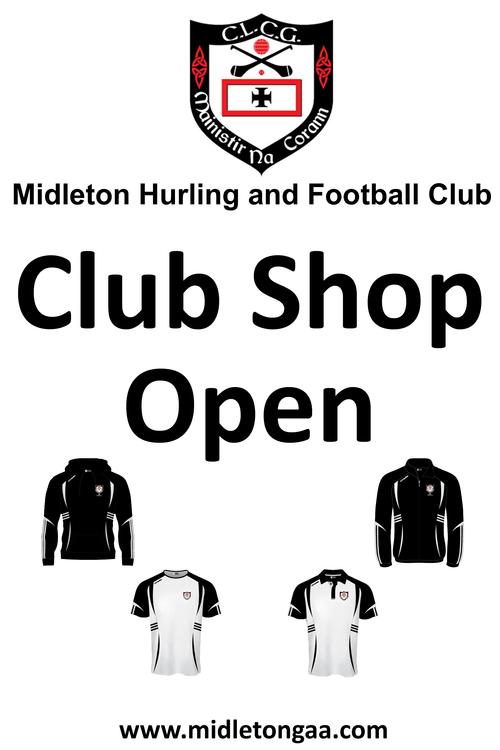 The club shop has now reopened after Christmas and the annual St. Patrick's Day parade is the next big event on the horizon. We have gear for all ages to be decked out for the day, order early to avoid disappointment. ☘️☘️Magpies Abú.
Please note that our shop is still online with collection only at the club on a Saturday morning.
All you have to do is go to the Klubfunder website (www.klubfunder.com/Clubs/Midleton%20GAA/ShopItems) and you will see the full range of what's available to buy. You can shop away to your heart's content, pay for it online and then collect your purchases at the club shop on Saturday morning between 9.30am and 10am. Thank you.
OLDER ADULTS COMMUNITY HEALTH CONFERENCE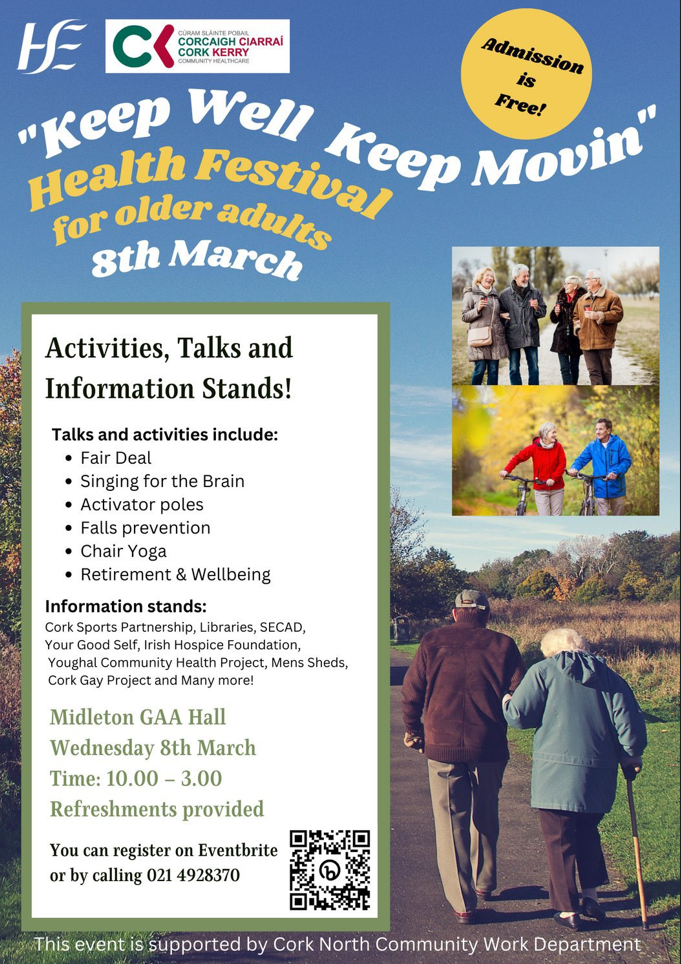 Keep Well, Keep Movin" Older Adults Community Health Conference taking place at Midelton GAA on Wednesday next the 8th of March from 10am to 3pm. The event will be a mixture of guest speakers, taster sessions and information stands with a focus on older adults physical, social, emotional and mental health.
Find information attached detailing the plan for the day and a group booking form.
Information stands 10am-11am
11am to 1pm Opening of Conference followed by input on Fair Deal, Falls and Frailty, Singing for the Brain Demonstration
1pm-1:45pm Light Lunch
1:45pm -2:45pm Taster sessions in Activator Poles, Mindfulness, Retirement and Minding our mental health plus more
2:45pm Conference close
MAGPIES ALL STARS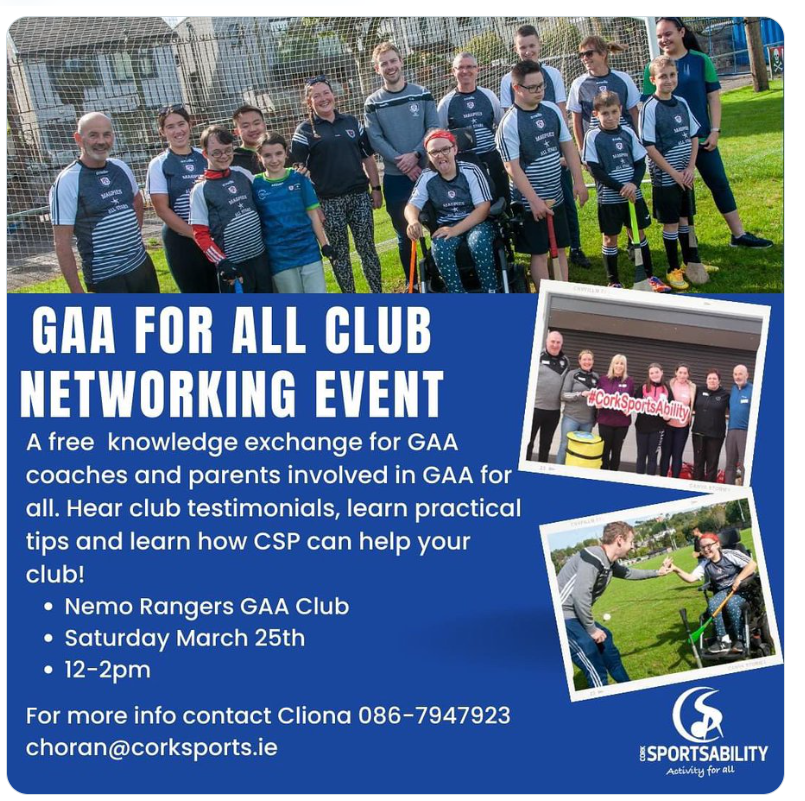 It's fantastic to see our Magpies All Stars as the poster boys/girls for Cork Sports Partnership's GAA For All Networking Event on Saturday, March 25 from 12-2pm at Nemo Rangers. Well done guys.
A BLAST FROM THE PAST
Remember the 'Beast from the East?' This was our beloved Clonmult Memorial Park under snow on this day (March 2) 2018....thankfully it's looking a lot greener today, ahead of Saturday's league match with Bishopstown.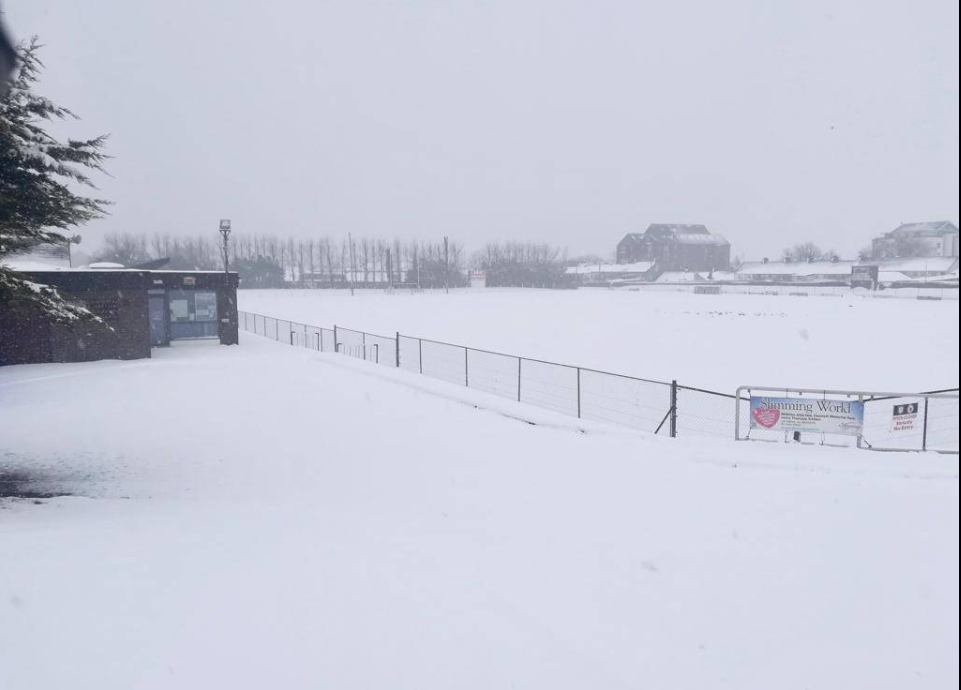 PLEASE PLAY YOUR PART
​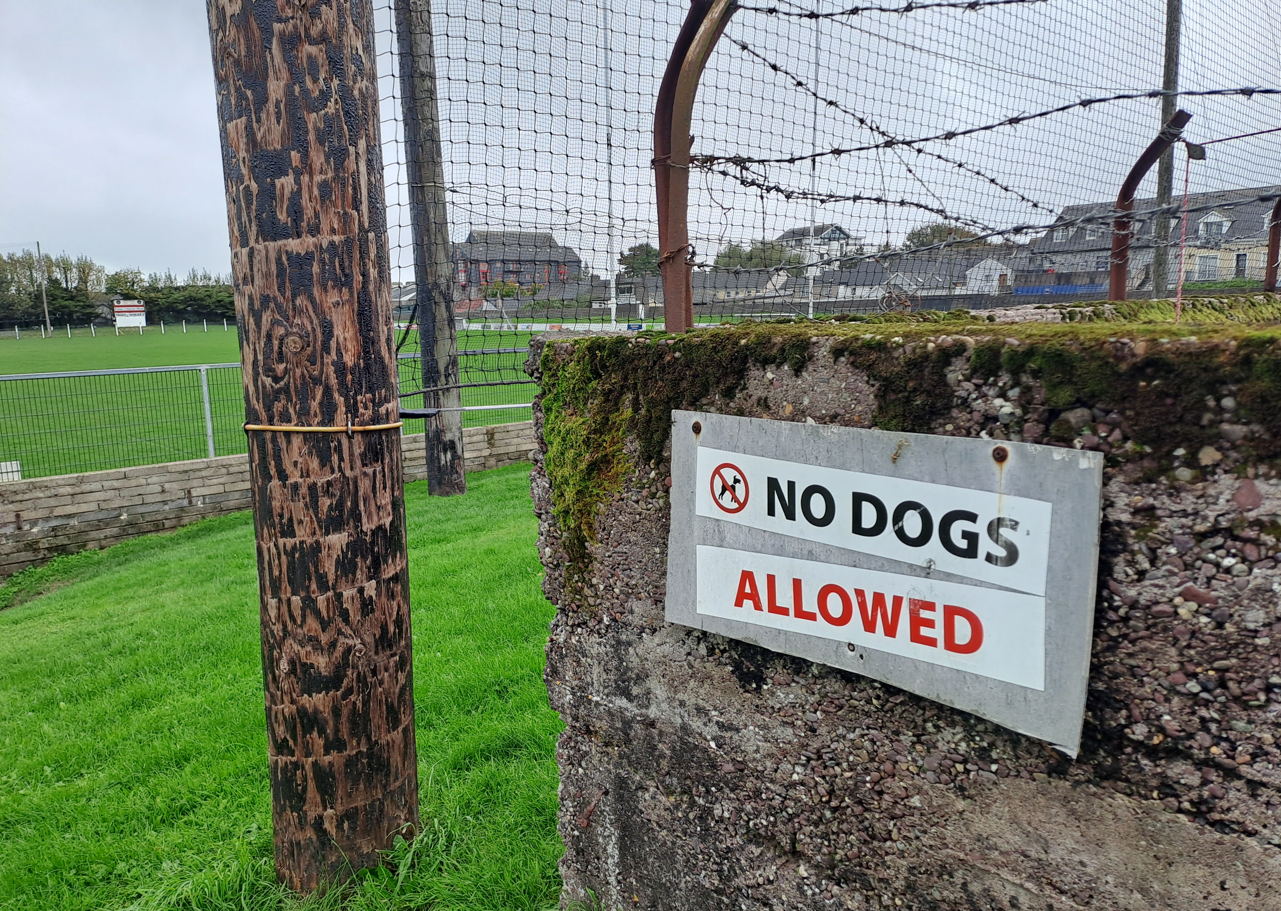 We are asking all players, mentors, parents, supporters and neighbours to please play their part by playing ball on the following.....
Please slow down entering and leaving Park South.
No dogs, except assistance dogs, are allowed at Park South or Clonmult Memorial Park.
Please do not bring single-use plastic bottles to either Park South or Clonmult Memorial Park.
Please put your rubbish in a bin or bag and please bring your gear home with you.
And always be aware of the open water surrounding the pitches in Park South.
If you are a coach, please pass on these simple messages to players and parents.
All members are asked to respect referees and their officials at all times.
Also if you are a coach, last person out locks the gate, toilet and container.