Midleton Hurling and Football, Ladies Football and Camogie Club News
06 April, 2022
SENIOR HURLING
Our senior hurlers played a very entertaining and high scoring challenge against Avondhu on Monday night with the Magpies coming out on top on a scoreline of 6-19 to 1-24.
The senor team are back in league action on Saturday evening when they host Bishopstown at Clonmult Memorial Park at 6pm.
INTERMEDIATE HURLING
Our intermediate hurlers begin their league campaign on Sunday. They take on Douglas away at 12 noon.
JUNIOR A HURLING
Our junior A hurlers play their second game of the league on Sunday when they travel to Cobh for a 5pm throw-in.
JUNIOR B HURLING LEAGUE
In our first Junior B Hurling game of the season we came up short by just one point to Sars. Sars lead 1-8 to 0-6 at HT. We were two points up when Sars were awarded a last minute free from which they goaled. Final Score Midleton 2-13 Sars 2-14
MIDLETON: 1 Coran Swayne; 2 Dan O'Sullivan, 3 Conor Evans; 4 Colin Sutherland; 5 Luke Deane, 6 Peter Dowling, 7 Billy O'Shea; 8 Evan McCarthy, 9 Aaron Coughlan; 10 Brian O Sullivan, 11 Mark O'Keeffe, 12 Conor Fitzgerald; 13 James Condon, 14 Cillian Hurley, 15 Tim O'Sullivan. Subs: Coleman Quinn, Daire Mooney, Brendan Ferriter, Ben O'Neill, Phelim McGann.
We are back in action on this Friday night when we take on Lisgoold at home at 7pm.
JUNIOR A FOOTBALL
Our junior A footballers are back in action on Wednesday night next when they take on Glenbower Rovers in Killeagh at 8pm.
JUNIOR C FOOTBALL LEAGUE ROUND 2
We took on Carrigtwohill in Park South on Monday night and after a very good display we came out on top on a score of 3-11 to 0-6.
Well done to everyone involved on the night and especially James O'Sullivan who made his debut for the adult side of the club and gave a very assured performance.
MIDLETON: Brian O'Sullivan, Coleman Quinn, Conor Evans, Brendan Ferriter, Aaron Coughlan, Barry Fitzgerald, Daniel Wathen, Evan McCarthy, James O'Sullivan, Liam Kelly, Kieran Denihan, Ben O'Neill, Davy O'Brien, Sean Corcoran and Jonnny Comer.
FE19
The Fe19 hurlers were supposed to begin their Hurling League campaign on Wednesday night but Ballincolling couldn't field a team.
The Under 19 players and management would like to thank Pat Walsh of Pat Walsh Paints for sponsoring a set of training tops for the upcoming season. See pic below.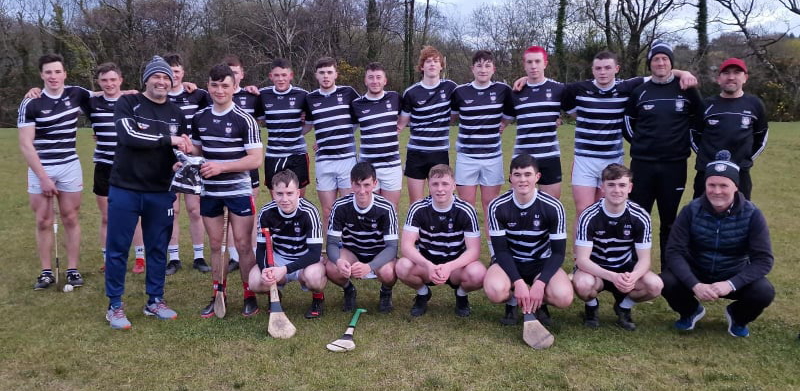 HARD LUCK
Commiserations to Conor, Sam, Sean and Tommy on Cork's National Hurling League Final defeat to Waterford in Semple Stadium on Saturday night last.
The Cork seniors begin their Munster Championship campaign on Sunday week against All-Ireland champions Limerick in Pairc Uí Chaoimh at 4pm. We've been notified by County Board of Midleton GAA getting a limited allocation of tickets for this game. We're advising members to purchase tickets online where they can as we're unsure as to when our allocation of tickets will be made available. Hopefully this will be in the next few days. Stay tuned to social media for more details.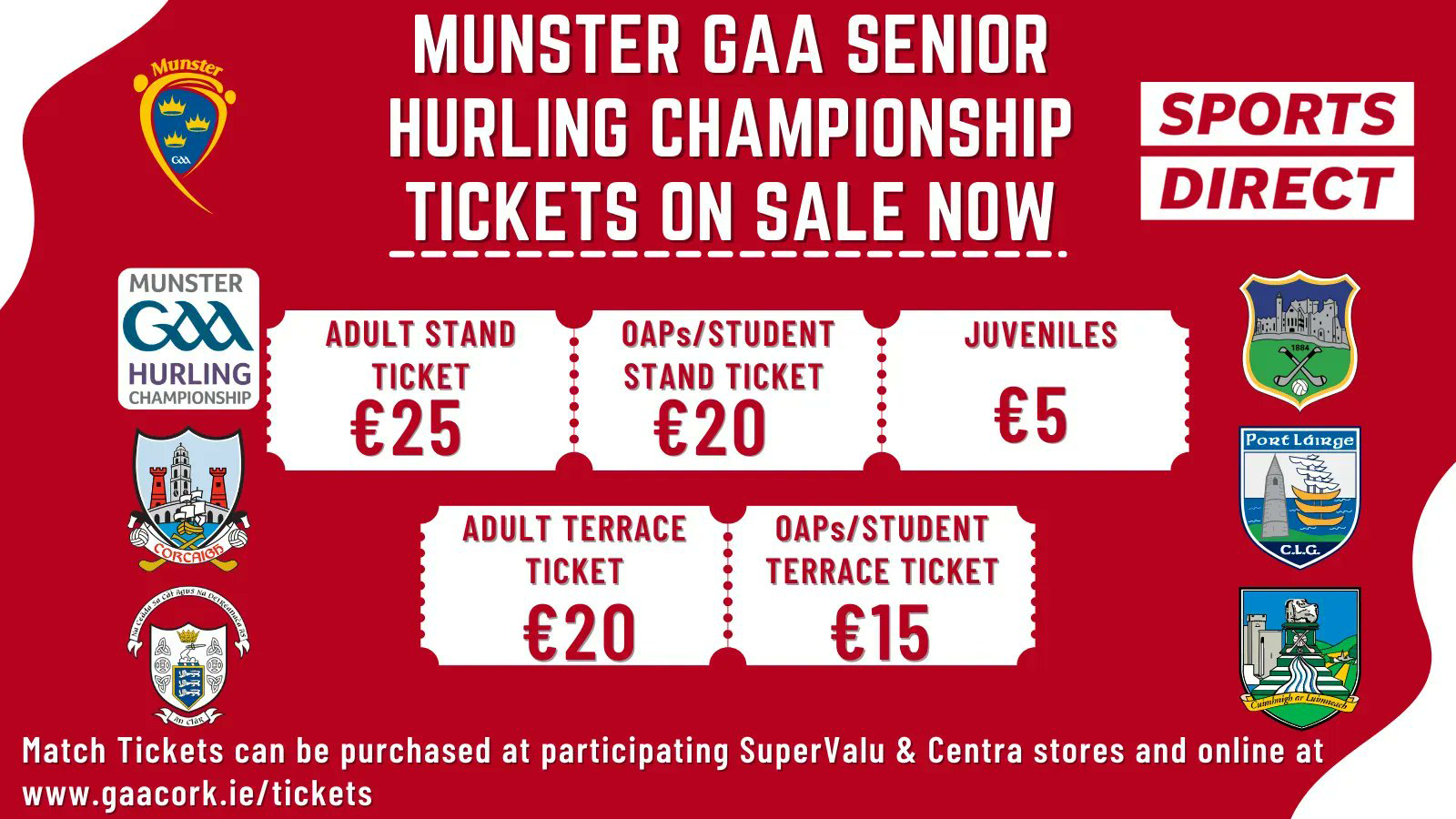 WELL DONE
Congrats to our own Tadhg O'Leary Hayes and the Cork minor hurlers who got their Munster Championship campaign off to a winning start with a 3-25 to 0-11 win over Kerry in Tralee on Tuesday night. Tadhg even chipped in with a great point from corner-back. Cork are back in action next Tuesday night against Limerick in Pairc Uí Chaoimh at 7pm.
LADIES FOOTBALL
ALL-IRELAND CHAMPIONS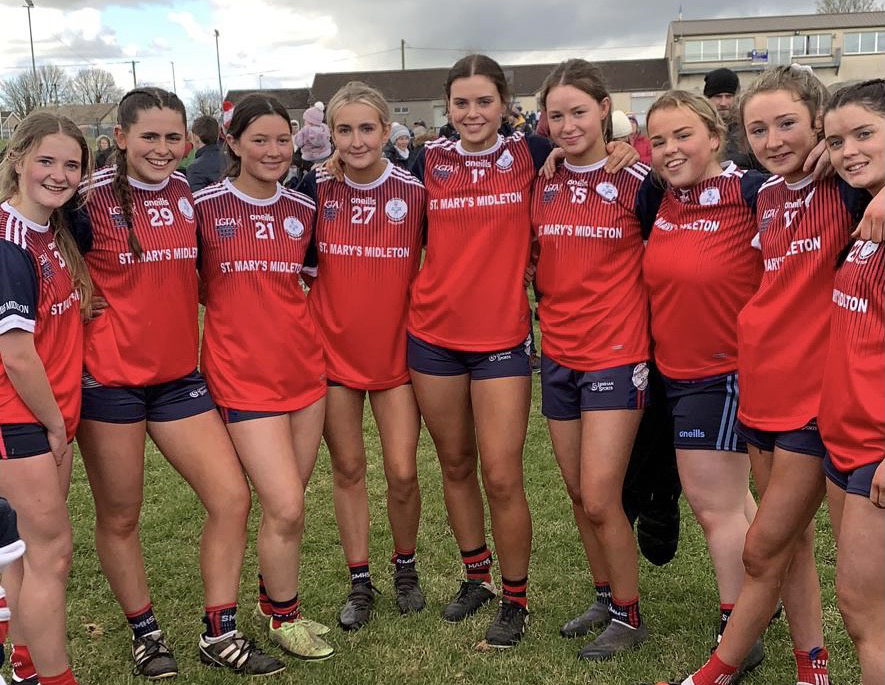 Congratulations to St Mary's Midleton who were crowned Senior A All-Ireland Football Champions last Saturday. They defeated Moate CS 1-12 to 0-7 in Bruff. Midleton Ladies Football Club were very well represented on the panel. We are very proud of you all.
The Midleton players were: Rachel Quirke, Ava McAuliffe, Rachel Ryan, Emma O'Sullivan, Aoife Fitzgerald, Sophie McCarthy Keane, Aisling McCarthy, Saoirse Twomey Tagney and Kate O'Sullivan.
UNDER 16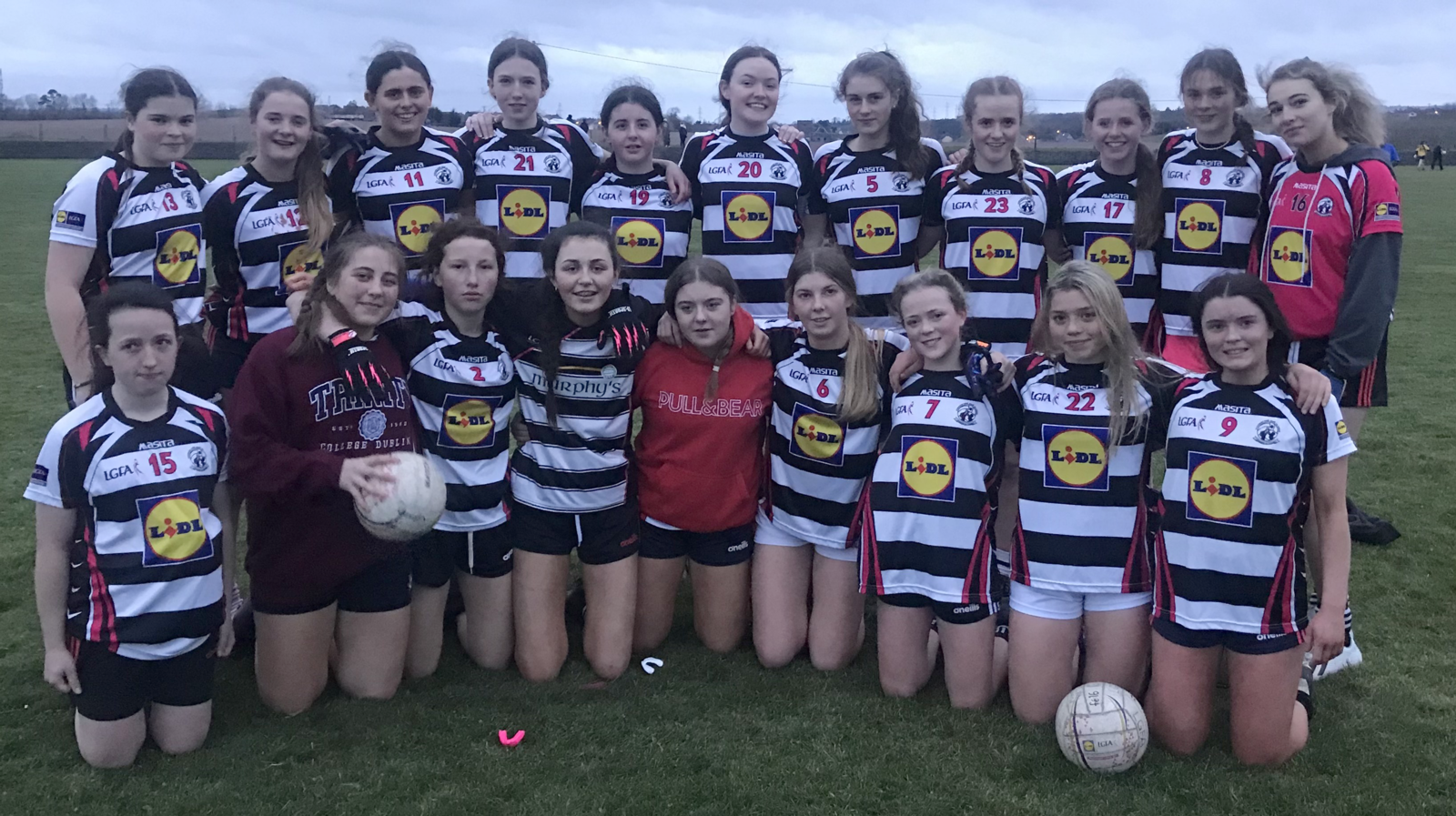 Our U-16 ladies got their league campaign off to a great start with a win over Fermoy. A great team effort on the night and some great individual player performances. Best of luck for the rest of the season.
UNDER 14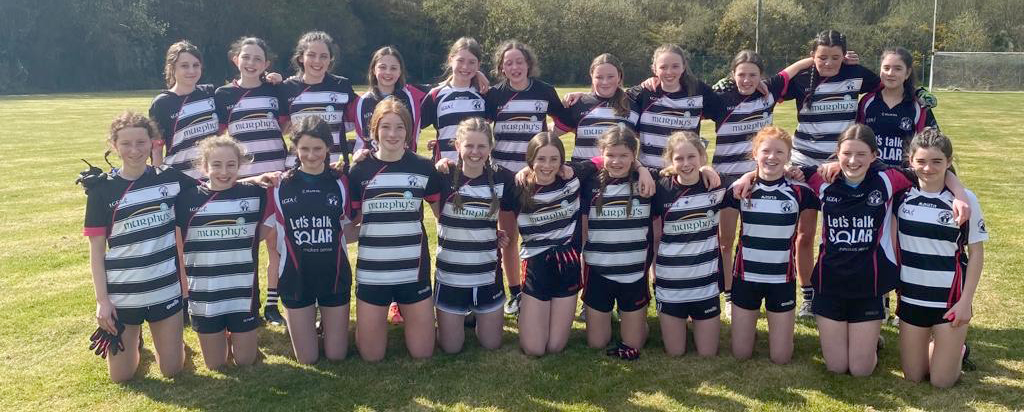 Well done to our U14 girls who had a great win over Na Piarsaigh in their second league outing. Some great football played and some great points scored.
TRAINING
Our U-8-12 groups will continue to train in Ballinacurra on Monday nights.
U8 - 6.30-7.30pm
U10/12 - 6-7pm
U14s will train at Park South from 7-8pm
U16/Minor and Junior are in the GAA Club from 7-8pm.
Please note: with so many groups across all codes playing matches we may have to alter our training venues. Please keep an eye on text messages as changes will always be notified to parents.
CAMOGIE
FE6 TRAINING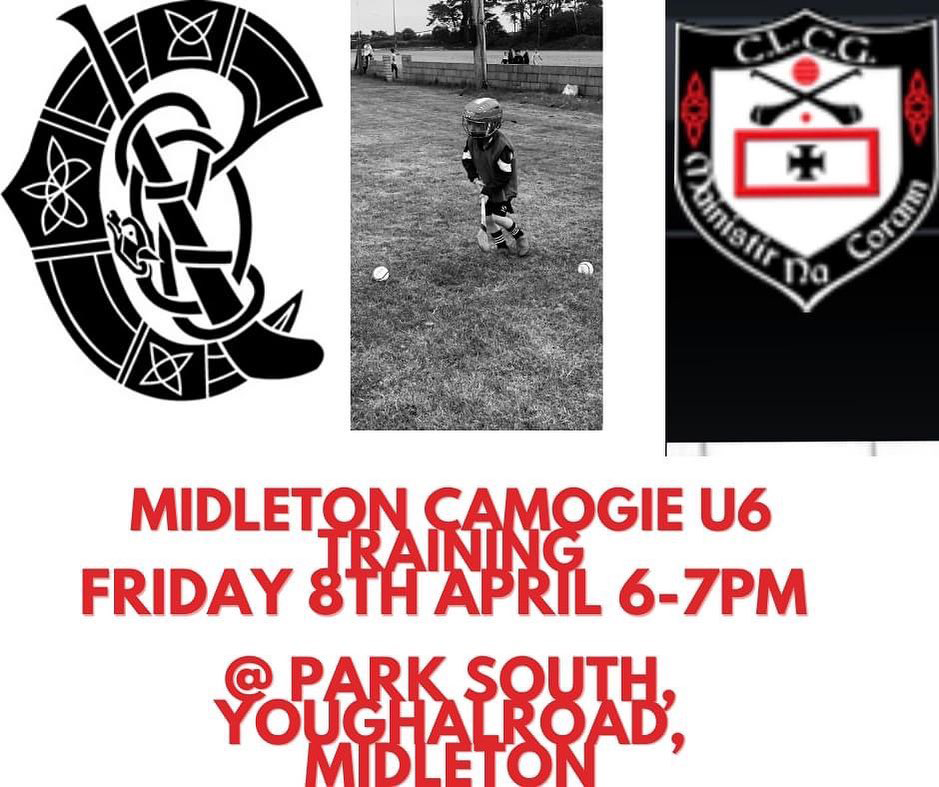 Training will begin for our Fe6 Girls for the first time this year on this Friday, April 8 from 6-7pm at Park South, Youghal Road, Midleton. Please bring a hurley, helmet and own drink please. Ample Parking available onsite. If you would like to volunteer with this group or join our coaching group please contact Sinead or Ingrid. Hurleys and Helmets will be available to buy on the night. Looking forward to seeing all the new faces!
TRAINING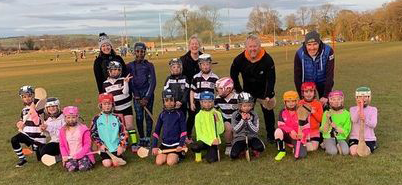 Most groups have resumed Training at this stage and we welcome you all back. We had a great night of training for our girls last Friday night, April 1 at our new training facilities at Park South across all ages. Well done to all, great displays on show and great fun was had. Thank you to our coaching officer Mark O'Sullivan for his time on the evening, we greatly appreciate it. New members are always welcome in our club from Fe6 right up to our Adult Team. Fixtures and training are subject to change from time to time. Team Coaches will revert with details.
FE 11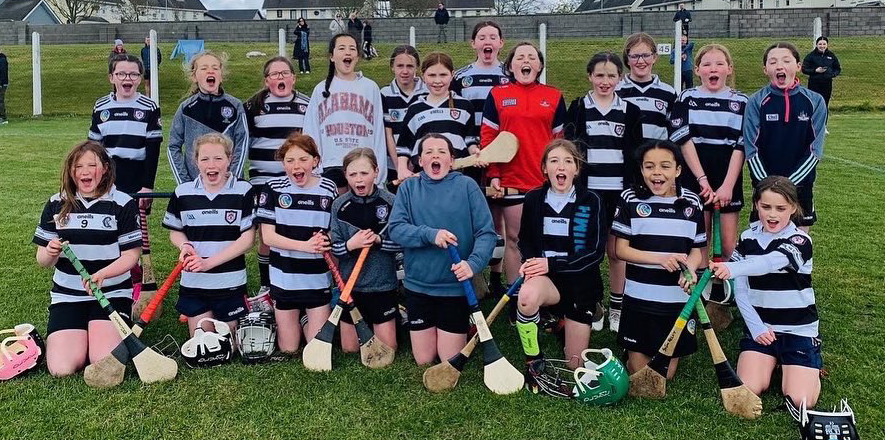 On Saturday morning last , April 2nd, our U-11 Camogie team travelled to Cobh. All the girls were very enthusiastic. Next up on April 16th versus Erin's Own. Well done girls. Thanks to the parents and all who travelled down to cheer us on.
FE13 V DOUGLAS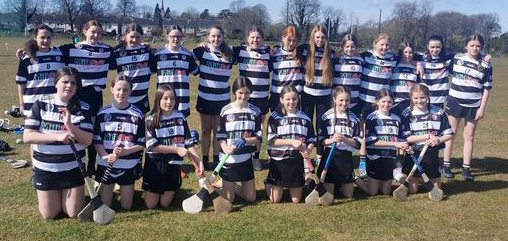 Our U-13 girls were out for their first match of 2022 in Park South on Sunday afternoon last. The girls only narrowly lost out on a scoreline of 6-7 to 5-8 to a strong Douglas side. It was a super team effort from the girls who were playing on a full size pitch for the first time. We're looking forward to another great year of camogie, well done girls and a special mention to Aoife Woods (pictured below) who led her team from the front as captain on the day. Thank you to Douglas Camogie for travelling down and for a great match and to all the parents and siblings who came along on the day to cheer us on!
JUVENILES
EASTER CAMP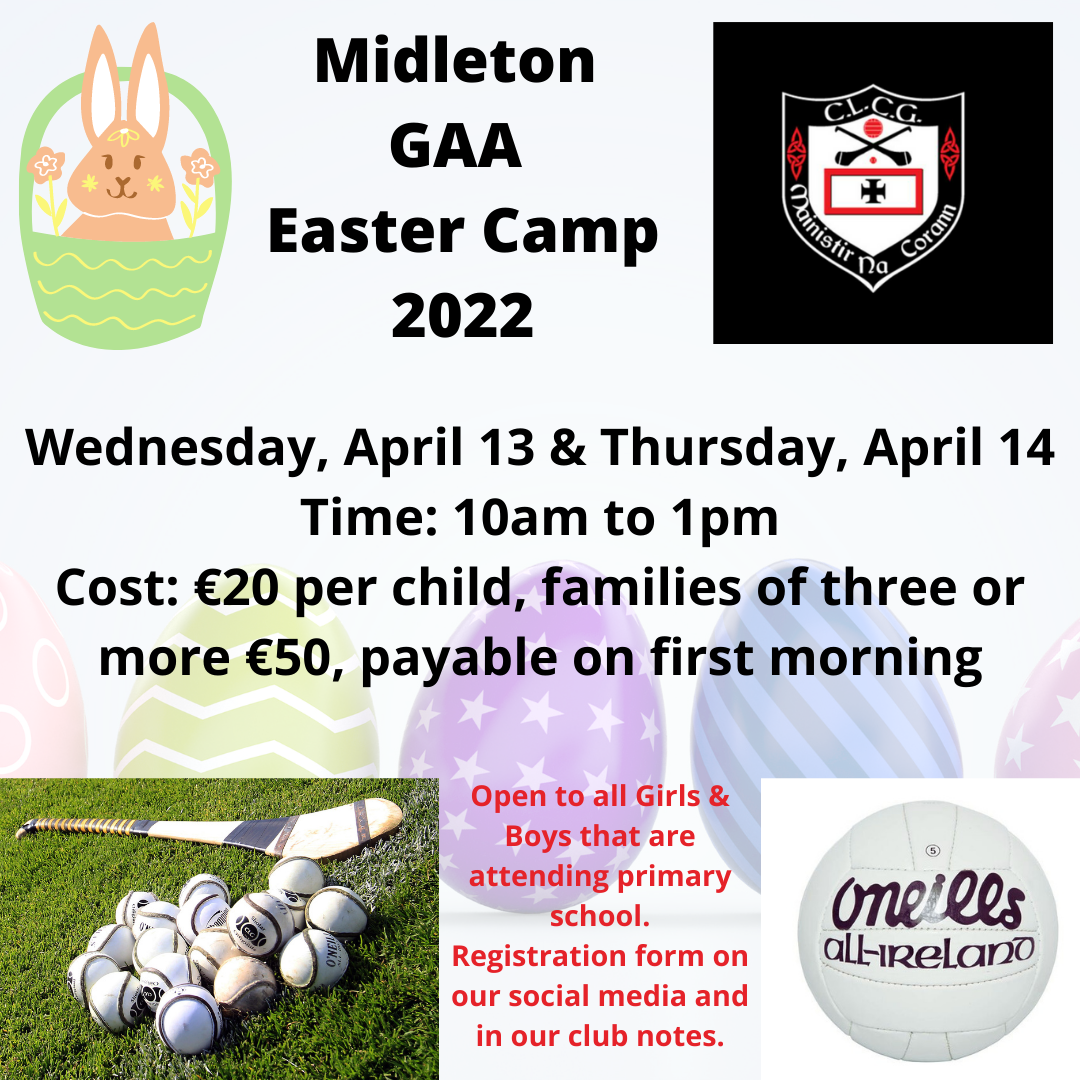 In conjunction with Rebel Og, we are holding a two-day Easter Camp on Wednesday, April 13 & Thursday, April 14....the details are on the poster and you can register on the following link: https://tinyurl.com/t945b6j5
FE10

Our lads made the short journey to Castlemartyr on Saturday to play a Hurling Blitz against Kiltha Og and Cobh Fe10s. We fielded three teams for this and all three groups were excellent against both Cobh and Kiltha Og.
Our young Magpies got some great scores throughout all the games and this group is progressing well and the hard work done in hurling training over the last few weeks is paying off. We would also like to thank Kiltha Og for inviting us to Castlemartyr for this Blitz.
Next up is Nemo away on Saturday in football in the Rebel Og Go Games.
FE13
Our Fe13 hurlers travelled to Douglas on Saturday evening to take on the home side in the P1 hurling league and came away with a great win on a scoreline of 5-15 to 0-6.
MIDLETON: Will Stokes, Patrick Spellman, Peader Egan, Cian Hogan, Josh Quill, Ciarán Kelly, Patrick O'Brien, Alfie Hennessy (Captain), Braden Dullea, Charlie McCarthy, Liam Walsh, Finn Cahill, John O'Sullivan, Ciarán O'Brien, Alex Molumphy. Subs: Robin O'Brien, Jack Cahill, Manus Stewart, Rory Nolan, Rian McCormack.
FE15
We travelled to Mayfield to take on the home side in the P2 Football League and we came away with an excellent 1-4 to 0-6 win. See our squad below.
FIXTURES
C3 Hurling League v Inniscarra, Friday, April 8 at Ballyanly at 6.30pm
C3 Hurling League v Douglas, Monday, April 11 at Park South at 7pm
P1 Hurling League v Douglas, Wednesday, April 13 in Doulas at 7pm
Féile Hurling on Saturday, April 16. Venue: TBC.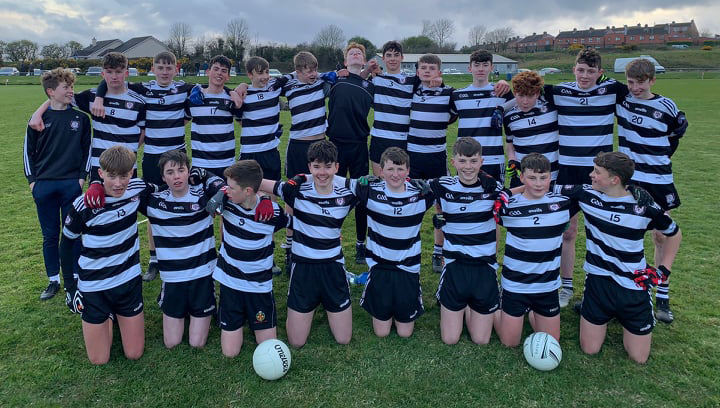 JUVENILE RESULTS
Rebel Og Coiste Fe13 Premier 1 Hurling Grading League Section 1
Douglas 0-6 Midleton 5-15
Rebel Og Coiste Fe13 Premier 2 Football Grading League Section 2
Erins Own 1-4 Midleton 6-12
Rebel Og Coiste Fe14 Football League 15 aside Group 2 section 1
Midleton 7-7 St Michaels 0-5
Rebel Og Coiste Fe15 P2 Football League
Mayfield 0-6 Midleton 1-4
Rebel Og Coiste Fe16 Hurling League 13 aside Group 1
Midleton v St Colmcilles - Conceded By St Colmcilles
Rebel Og Coiste Fe17 Premier 1 Hurling League
Fermoy 0-17 Midleton 0-10
Rebel Og Coiste Fe17 C3 Hurling League Section 1
Midleton 2 -10 Aghada 1-12
JUVENILE FIXTURES
THURSDAY, APRIL 7
Rebel Og Coiste Fe13 C3 Football Grading League Section 3
Mallow v Midleton a 7pm in Mallow
FRIDAY, APRIL 8
Rebel Og Coiste Fe15 C3 Section 1 Hurling League
Inniscarra 2 v Midleton 2 at 6.30p in Ballyanly
SATURDAY, APRIL 9
Rebel Og Coiste Fe14 Football League 15 aside Group 2 section 1
Blarney v Midleton at 6.30pm in Blarney
Rebel Og Coiste Fe13 Premier 2 Football Grading League Section 2
Midleton v Bride Rovers at 5pm in Midleton
SUNDAY, APRIL 10
Rebel Og Coiste Fe16 Football League 13 aside Group 1
Glanmire 2 v Midleton at 1pm in Sallybrook
MONDAY, APRIL 11
Rebel Og Coiste Fe15 C3 Section 1 Hurling League
Midleton 2 v Douglas 2 in Midleton at 7pm
WEDNESDAY, APRIL 13
Rebel Og Coiste Fe15 Premier 1 Hurling League
Douglas v Midleton at 7pm in Douglas
Rebel Og Coiste Fe14 Football League 15 aside Group 2 section 1
Kiltha Og v Midleton at 7pm in Dungourney
THURSDAY, APRIL 14
Rebel Og Coiste Fe17 C3 Hurling League Section 1
Bishopstown 2 v Midleton 2 at 7pm in Bishopstown
Rebel Og Coiste Fe13 C3 Hurling Grading League Section 1
Mallow v Midleton at 7pm in Mallow.
GOLF CLASSIC
Put a reminder in your diary for the 2022 Midleton GAA Golf Classic. It will take place at East Cork on July 20/21. More details in the coming weeks.
MEMBERSHIP
It's that time of year again. Membership for 2022 is now due. The membership rates are the same as last year. These are the different categories and fees.
ADULT NON PLAYER - €100
Non Player, Team Mentor, Officer, Committee Member: Must be paid by 31st March 2022 for Membership to 31st March 2023.
ADULT PLAYER (INCLUDING GYM) - €200
Employed Player 18 years+ including Gym. Must be paid by 31st March 2022 for membership to 31st March 2023.
ADULT PLAYER (INCLUDING GYM) – FULL-TIME STUDENT/APPRENTICE/UNEMPLOYED - €100
18yrs+ Adult Player Including Gym - You must be a Full Time Student or Apprentice or be Unemployed to avail of this option. Must be paid by 31st March 2022 for Membership to 31st March 2023.
ADULT NON PLAYER OAP OR UNEMPLOYED - €50
Non Player, OAP (65+), Unemployed: Must be paid by 31st May to have Voting Rights. Must be paid by 31st March 2022 for Membership to 31st March 2023
DIASPORA MEMBER - €50
A member who lives away from the club perhaps elsewhere in Ireland or abroad. This is a Social Membership only with no voting rights. Must be paid by 31st March 2022 for Membership to 31st March 2023
FAMILY REGISTRATION - €300
Employed Child/Children do not qualify for Family Membership. Child/Children born in 2003 or before do not qualify for Family Membership. Family Membership does not include the Gym. Additional Gym costs are €100pp per year. Must be over 18 years of age. Must be paid by 31st March 2022 for Membership to 31st March 2023.
YOUTH PLAYER – SENIOR INFANTS TO FE 18 - €135
Player must be under 18 Years of Age on 1st Jan 2022. Players in this category do not have Voting Rights until they reach their 18th Birthday. Must be paid by 31st March 2022 for Membership to 31st March 2023.
JUNIOR INFANTS PLAYERS OR MAGPIE ALL-STARS - €50
Player in Junior Infants Or Magpie All Stars.
The quickest way to pay is by the Klubfunder page:
https://www.klubfunder.com/Clubs/Midleton%20GAA/Membership#MembershipOptions
If you've any queries or need help with anything, please contact our Membership Officer Kieran Denihan 087-410 5991 or email midletongaaregistrar@gmail.com
Thank you to all those who have already paid their membership for 2022 and remember that players will not be allowed train or play games since last Thursday if they have not paid their membership.
The same goes for mentors - they must be paid up members.
CHILD SAFEGUARDING WORKSHOP
Midleton GAA will run a child safeguarding 1 workshop on 27th April 2022 in the club. To book a place on the course please email childrensofficer.midleton.cork@gaa.ie.
GYM REOPENED
Our club Gym has now re-opened to members. Access FOBs have been re activated.
Please note that some of the equipment will be undergoing some service work over the coming weeks so apologies in advance for any inconvenience.
LOTTO DRAW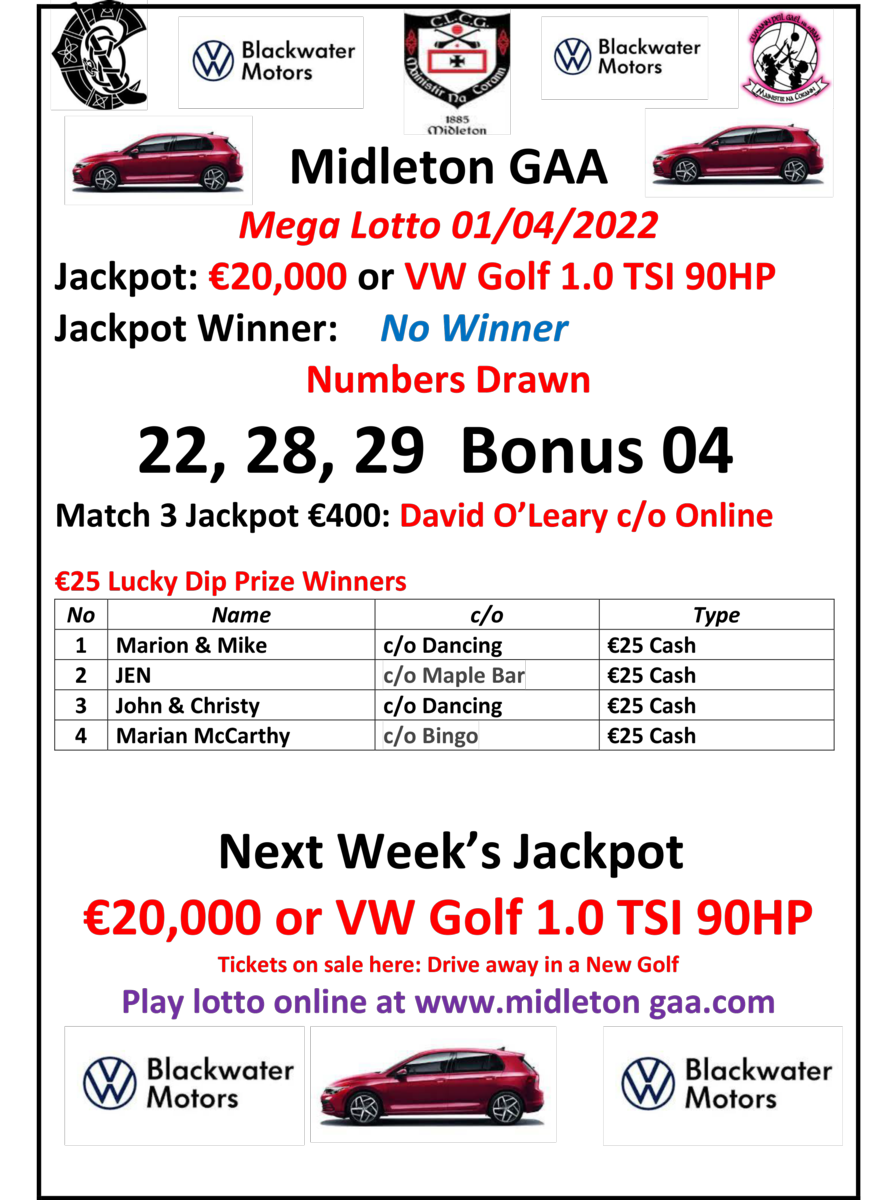 The numbers drawn in last night's Lotto Draw were: 22, 28 & 29 and the bonus was 4.
We had no winner of the overall jackpot of €20k or a VW Golf but we had a Match 3 winner, David O'Leary, who wins €400.
David came so close to scooping the overall jackpot as he had 3 as his bonus number and 4 was the number that came out. So close.
The €25 lucky dip cash winners were: Marion & Mike, Jen, John & Christy and Marian McCarthy.
Thanks to everyone who supports the lotto. You can buy a ticket at
In total Midleton GAA will give out local business vouchers to the value of €3,800 every year as part of our "Shop Local, Buy Local" campaign.
How to play: tickets are on sale at Pat Walsh Paints, Chadwicks, Frank Murphy Butchers, Murphy's Pharmacy, Crowley Butchers, or buy online at https://www.klubfunder.com/Clubs/Midleton%20GAA/lotto
BINGO
Our Bingo continues on Friday nights with an early game at 7.25pm. Everyone is welcome.
CLUB SHOP
The Midleton GAA club shop is back up and running for the 2022 season but please note that it's still online with collection only at the club on a Saturday morning.
All you have to do is go to the Klubfunder website (https://www.klubfunder.com/Clubs/Midleton%20GAA/ShopItems) and you will see the full range of what's available to buy. You can shop away to your heart's content, pay for it online and then collect your purchases at the club shop on Saturday morning between 9.30am and 10am. Thank you.
NO DOGS ARE PERMITTED IN OUR GROUNDS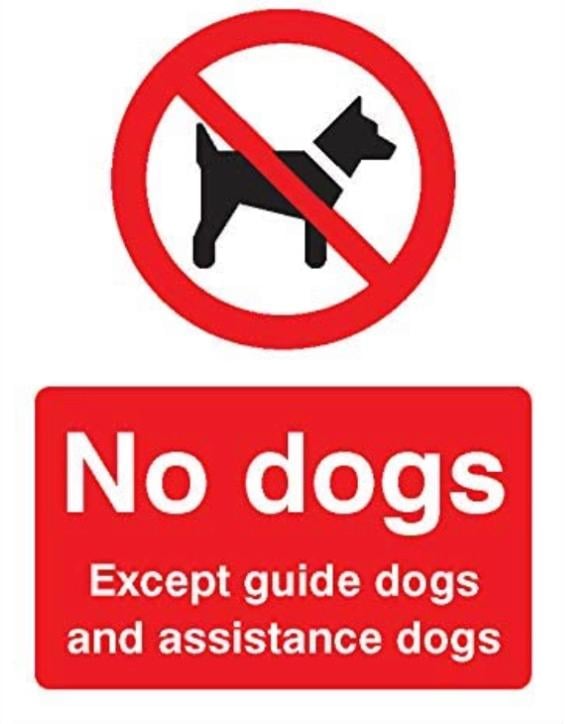 Due to Health & Safety concerns all dogs (with the exception of Guide and assistance dogs) are prohibited at all times either on or off a lead from entering our grounds both at Park South and Clonmult Memorial Park.
Our club pitches are private property which are maintained for training and games and are NOT a public park for exercising dogs.
This has recently become a major issue for us particularly in our new facility at Park South with little respect being shown as dog poo has been identified almost everywhere. Please note that Dog fouling is an offence!!
We are currently very active with Training and games but these are now in danger of being cancelled due to this persistent problem and we now are appealing to our club members, neighbours and the general public to adhere to this request immediately. Thank you.