Midleton Hurling and Football, Ladies Football and Camogie Club News
20 September, 2020
The key messages for this week:
COVID-19 Guidelines Update…Do The Right Thing For You & Your Club
Junior B Hurlers advance to Championship Semi-Final with a 2:22 to 2:12 win over Killeagh
Midleton Magpie All-Stars promotional video for GAA National Inclusion Fitness Day
Midleton GAA…at the 'Heart of the Community'. Ní neart go cur le chéile. There is no strength without unity.
Safe Return to Gaelic Games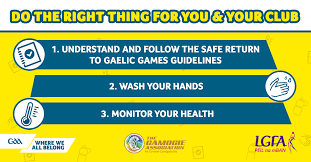 We have put together a comprehensive Plan for the safe return to Gaelic Games in Midleton.
This can be accessed at
downloadforms?rdDF=MIDLETON%20GUIDELINES%20FOR%20RETURN%20TO%20TRAINING.pdf
Prior to return to training, ALL adult players, team personnel and parents/guardians of Juvenile players are required to:
Complete the certified eLearning Module covering the main aspects of the Guidelines. This is available to complete at https://courses.gaa.ie/Covid19ClubEd/#/
Complete the GAA Health Questionnaire once online, which will be available through https://returntoplay.gaa.ie\. Please note that this questionnaire must be completed prior to return to training for the first time.
Using the same online system, all Adult players, parents/guardians of underage players and team personnel will be required to declare, before each training session/game, that their health status has not changed. This must be completed a minimum of 1 hour before the time of the session.
For Insurance purposes membership needs to be paid before training. Go to membership to see how much you need to pay
Midleton GAA H&F Account,Bank of Ireland, Main Street, Midleton
Account Number; 29207259
Sort Code; 90-29-01
IBAN; IE16 BOFI 9029 0129 2072 59
BIC; BOFIIE2D
Please write players name in the reference section.
Please also note that the club grounds are closed to activities other than those planned and supervised under the Safe Return to Gaelic Games protocols.
Mega Lotto Results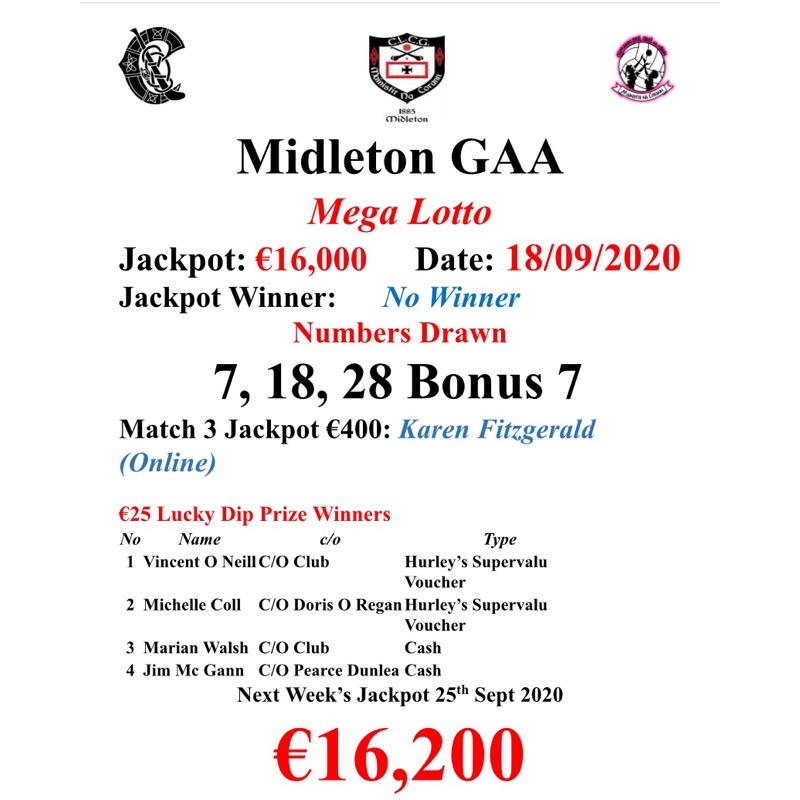 Well done to Karen Fitzgerald winner of €400 in match 3 Jackpot
4 Lucky Dip Prize Winners this week
The re-launched Lotto is a critical component of our fundraising for Park South. The support to date has been good, especially with the number of annual subscriptions that have been submitted.
In total Midleton GAA will give out local business vouchers to the value of €3,800 every year as part of our "Shop Local, Buy Local" campaign.
How to play: Go to http://www.midletongaa.com click on Play Now in Mega Lotto section. You can buy an annual ticket by selecting "50" from the "Number of Draws" to Play dropdown.
Fixtures & Results
Please keep an eye on the Fixtures Section of the website for updates on matches over the coming weeks. There are some other fixtures that are currently being finalized so keep an eye on website, social media and usual comms channels for updates.
How to stay 'up-to-date':
Some games are streamed. Keep an eye on Social Media Channels for announcements.
'Live' scores will be posted to our Social Media Channels.
The Fixtures & Results sections of the website will be updated with Fixtures for the coming week(s) and Results for the past week.
Fixtures: club_fixtures
Results: club_results
Magpie All-Stars & National Inclusive Fitness Day 2020
The GAA has invited all clubs to open their doors to the wider community and support the first GAA National Inclusive Fitness Day on September 23rd 2020. National Inclusive Fitness Day aims to promote sport and physical activity to everyone regardless of age, sexual orientation, ability, ethnicity, nationality, or fitness level.
Inclusion means people having a sense of belonging, of being comfortable in being part of something they value. Diversity means being aware of, accommodating, and celebrating difference, GAA is "Where we all Belong".
We are rightly proud of the work that has been done, since being founded in 2019, in making the Magpie All-Stars a valued part of our Club and providing, for these club members, a place where they belong. Magpies Abú.
Junior A Football & Junior B Hurling
Midleton Junior Football & Hurling teams have a strong presence in the remaining East Cork Championships. Our Junior A footballers are final-bound after an impressive win over Cobh in Lisgoold last Sunday with our Junior B hurlers, after a win against Killeagh in Shanagarry last Saturday night, progressing to the semi-final stage.
East Cork Junior A Football Championship Semi Final Midleton 4:08 Cobh 0:06
Team. Eoghan Collins, Cian Crowley, Aidan Ryan, Seadniadh Smyth, L Dineen (1-1), Seamus O'Farrell, Eoin Mitchell, Adam Daly , Padraig O'farrell, Sean O'Meara , Luke O'Farrell (0-1), Cathay Gunning (0-1), Garan Manley (1-1), Eoghan Maloney (0-1), Cormac Beausang (2-2,2f) Subs used: Ian Kennefick, Pa White, Tommy O'Connell, Padraig O'Brien Kieran Mulcahy.
The Junior A final against Carrigtwohill is fixed for Sunday 27th at 2pm
East Cork Junior B Hurling Championship Quarter Final Midleton 2:22 Killeagh 2:12
Next up for the Junior B hurlers is Castlelyons with the fixture to be played weekend of 27th September.
Ladies Football
U10 Notes
On Monday evening our U10 girls travelled to Youghal for our first outing of the season. We have been practicing a lot at training so it was great to put our skills to the test. We had great numbers on the night. It took awhile for both sides to get on the scoreboard but as we settled, we started to gain confidence, All girls were fantastic on the night and supported each other and contested for every ball. Final score was Midleton 2-03 to Youghal 1-02.
Thank you to the Parents for travelling and for your encouragement on the side-line.
Team: Anna Burke, Orlaith Corby, Anna Griffin, Maeve McCormack, Amber Cotter, Eva Saunderson, Roisin O Connor, Rhona Fenton, Georgia Obersby, Nessa Cronin, Clodagh Power, Sara Cahill, Eva Pyne, Keely Fitzsimmons, Camden Hudson, Bronwyn Hudson, Lily Masterson, Aoife O Shaughnessy, Nora O Leary Hayes, Ava McSweeney.
Our next outing is a match away to Aghada. Best of luck in this game.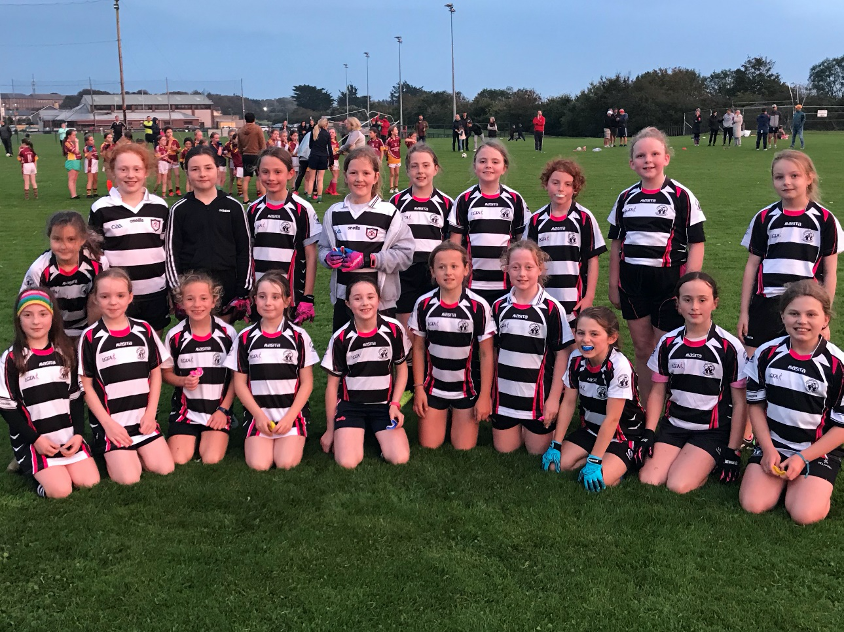 U12 Notes
It has been a busy few week for our young ladies as they have been fulfilling their league fixtures. We were away to Carrigtwohill in the 4th round of the East Cork League on Friday the18th September @ 6.30. It was a lovely fine evening with no breeze. Midleton scored their first point within 2 minutes and didn't look back from there. Credit is due to a very strong defence from Carrig who kept us on our toes. Final score Midleton 4-12 to Carrigtohill 1-3. Fantastic work from all the panel. Well done.
We met Na Piarsaigh at home in Clonmult Memorial Park early Sunday morning last the 13th of September. It was a damp start to the day and both teams struggled keeping possession as the ball was slippy. Midleton opened their account eventually after 5 minutes. Na Piarsaigh's team mainly comprised of U11 players and for the most part were outmatched by Midleton. We took the opportunity to give our U11s a good bit of game time and to gain some experience. The final result was 5-9 Midleton to 2-0 Na Piarsaigh. Well done on a job well done.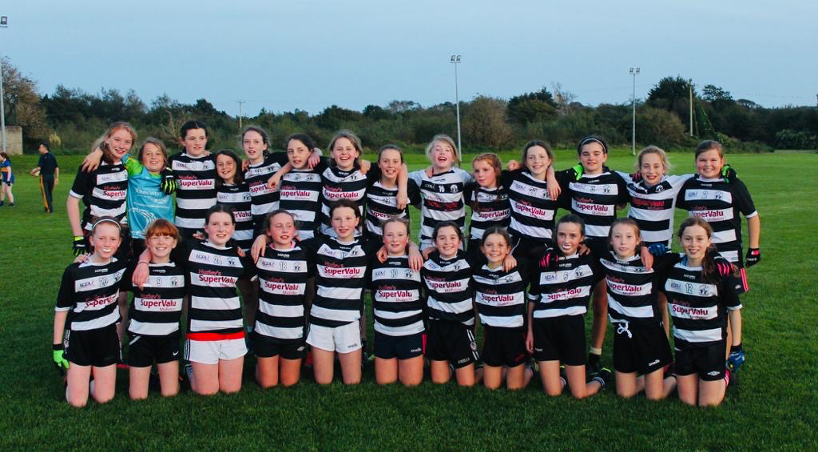 U14 Notes
On Wednesday evening our U14 Ladies finished off their league campaign with a close win over Erin's Own. On a very warm evening in Ballinacurra once again we had great numbers turn out. A very tough game was played by both sides. There was only a point in the game at half time. Midleton converted some great scores and edged out winners on the night. Over the next few weeks we are hoping to organise some challenge games to keep the girls playing.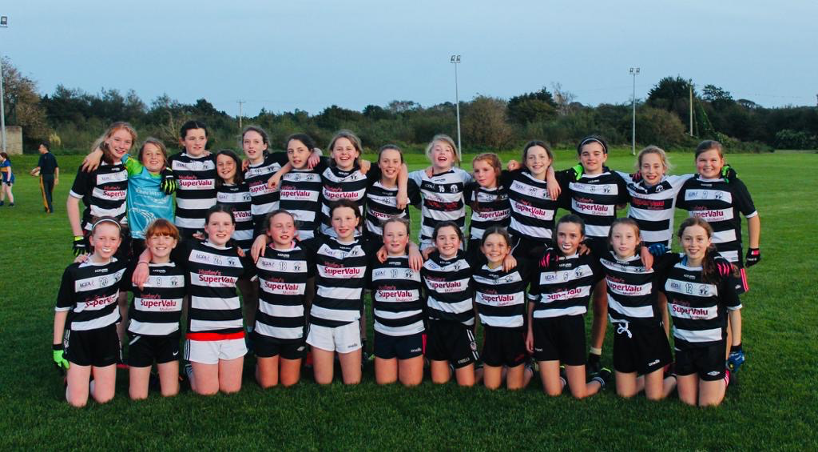 Training schedule for the coming week:
Monday in Ballinacurra: U8/12/14 will train from 6.45-7.45pm
The U10 girls will take the night off as they have had two matches this week.
The U16 girls will take on Watergrasshill in Glenville on Monday evening at 6.30pm.
Thursday in Midleton GAA Club U16/Minor and Junior 7-8pm
Camogie
U12 Notes
A superb team performance by our Midleton U-12 Camogie Team on Thursday evening against Sarsfield on home soil. Our forwards got off to a flying start and within minutes we were a goal and a point ahead. We continued to dominate up front adding a further 4 goals and a point before half time. We made a few changes at the water breaks and half time and this added an extra dimension to our game. Sarsfield came into the game in the 2nd half and put over some great points early on. Our backline remained consistently solid throughout with our goalkeeper pulling off some magnificent saves. Once again we dominated around the midfield and centre back area. The girls worked hard for every ball and finished off the game with a further three points from play in the 2nd half. It was a huge team performance with the girls showing great fight and spirit from start to finish on a sunny September evening. Huge congrats to all involved!
U12 Panel : Sadhbh Cronin, Emma Fitzgerald, Thea Howard, Abby Hennessy, Sophie McCarthy, Sarah McConville, Julie Murphy, Lucy Murphy, Ciara Ryan Dardis, Emma Ivers, Niamh Murphy, Emma Keeshan, Recbecca Cronin, Niamh McNamara, Cait O'Leary Hayes, Ciara McGrath, Cara Pyne, Faye Dunlea, Fay Lordan Bailey, Hannah O'Brien, Mia Walsh, Nicole Quike Lee, Robyn Keating, Rebecca Ryan, Roisin McManus.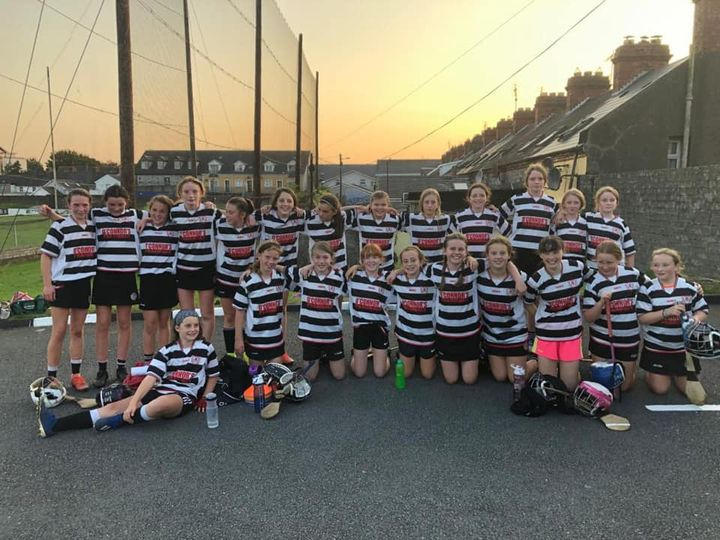 U12 v Sars
U10 Notes
We travelled to Glenville on Tuesday evening, 15th September to play 3 games against Watergrasshill. We brought our Young Magpies and they got 'stuck-in' from start to finish. There were some lovely passages of play and also some great defending. It was an enjoyable evening for everyone. The Players are showing great signs of improvement and these games will only help them more. Thanks to Watergrasshill for hosting us and thanks again to all the players, coaches and parents for their commitment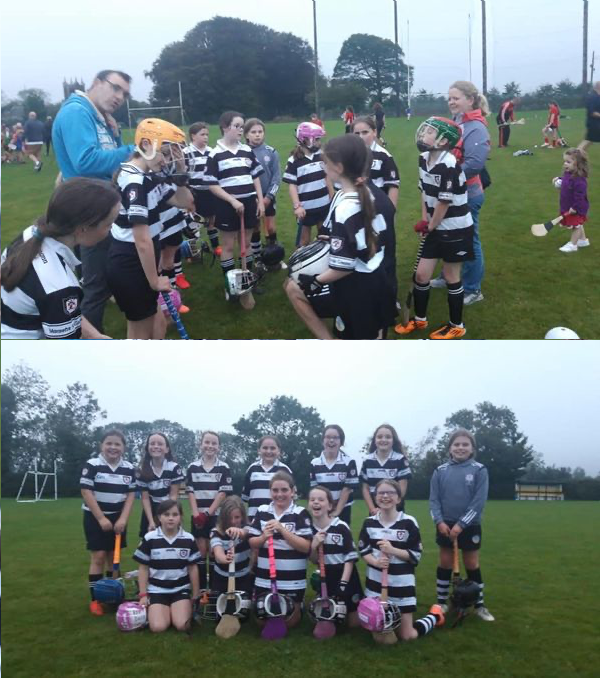 U10 v Watergrasshill
Best of Luck – U16 & U11
Best of luck to both our U16 and U11 girls over the weekend. The U16's continue with round 3 of their championship which they will play away to Killeagh on Saturday evening with a throw in of 6.45pm . Our U11 girls will partake in the Imokilly League where they will compete against St Catherines at home on the main pitch at 1.30.
Juvenile
Fé13 Notes
Midleton was the venue for our semi-final of the Bill O'Keeffe cup. On a beautiful sunny evening we took on Sars in a very entertaining game. There were some great individual performances, but the most satisfactory thing was that we played as a team. We now play in the finals on Saturday week, were we will play the winners of Ballincollig or Inniscarra. Well done on a good performance. Magpies ABÚ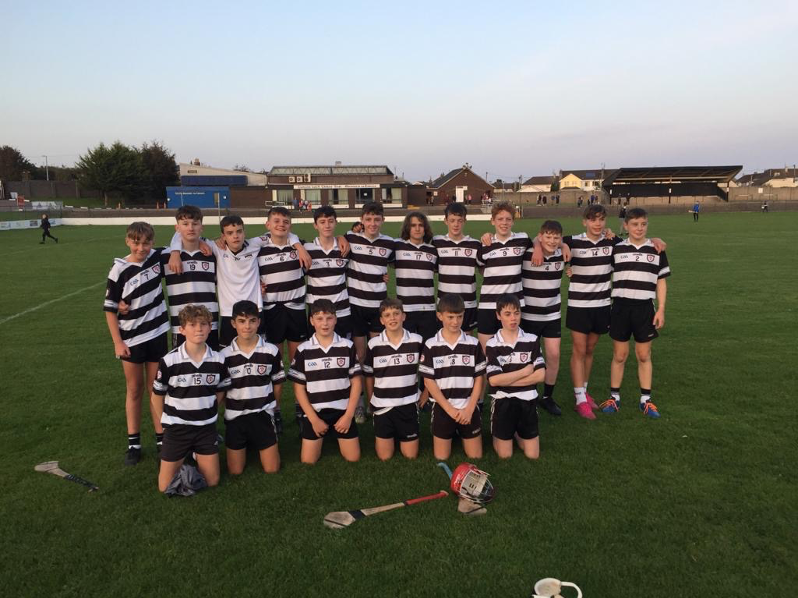 Fé13 v Sars
Fé12 Notes
Midleton 5-09 Aghada 1-08 Division 2 Football Playoff
The semi-final of this year's Fé12 Division 2 football league saw us welcome Aghada to Clonmult Memorial Park last Wednesday evening. The early throw in of 5.45pm didn't seem to bother the lads too much as they raced into an early lead with a very clever goal from full forward Ewan Murphy and further points from Ciaran Kelly and Darragh Mullins. A well converted penalty by the influential Max Murphy left the lads in a strong position at the first water break. The second quarter belonged to Scott Dunlea who score an impressive 1-1 in this period to leave the half time score Midleton 3-03 to Aghada 0-02. Aghada dominating large periods of the third quarter but some fine play by Jack Walsh and Cuan Twomey in defence and important scores from Cian Lawton and Darragh Mullins in attack kept Midleton in front. Further goals in the final quarter by the impressive Ewan Murphy and James O'Meara and points by Darrah Mullins gave Midleton the victory and sent them through to the final where they will play Kiltha Óg on Sunday 27th at 11.30am.
The panel for this match was: Bradley O'Brien, Liam Walsh, Peader Egan, Cuan Tuomey, Shane O'Mahony, Senan Carroll, Jack Walsh, Max Murphy, Darragh Mullins, Scott Dunlea, Cian Lawton, James O'Meara, Ciaran Kelly, Ewan Murphy, Dara Birdthistle, Riain McCormack, Jason Morley, Jack Cahill, Josh Quill, Patrick O'Dowd.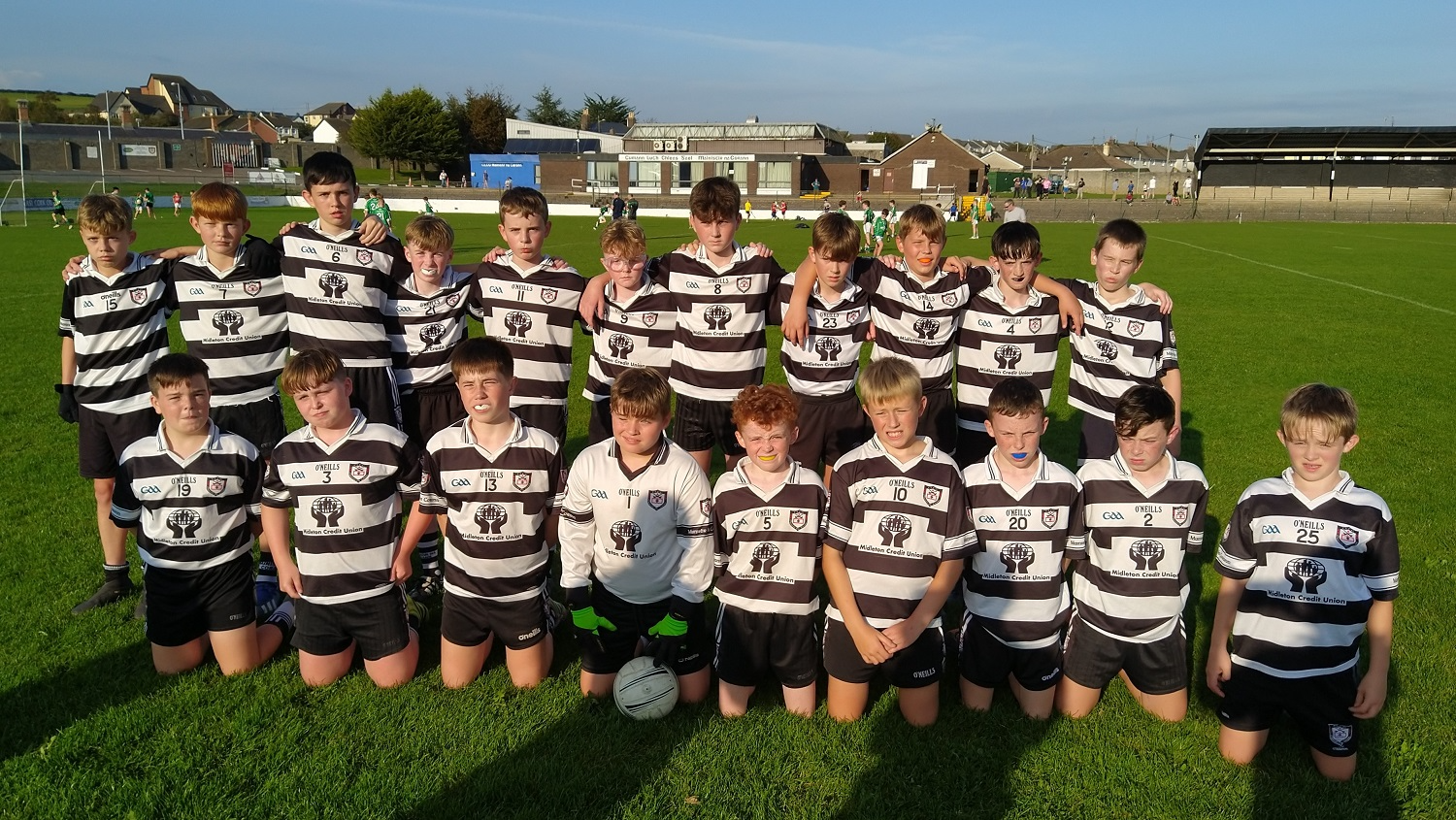 Fé12 v Aghada
The Fé12 lads were all delighted to see their teammate Kacper on the side line for the Aghada match supporting the lads on the night. A special thanks to Aghada for an extremely thoughtful gesture after the match when they presented Kacper and his family with a cheque in connection with the ongoing fundraising.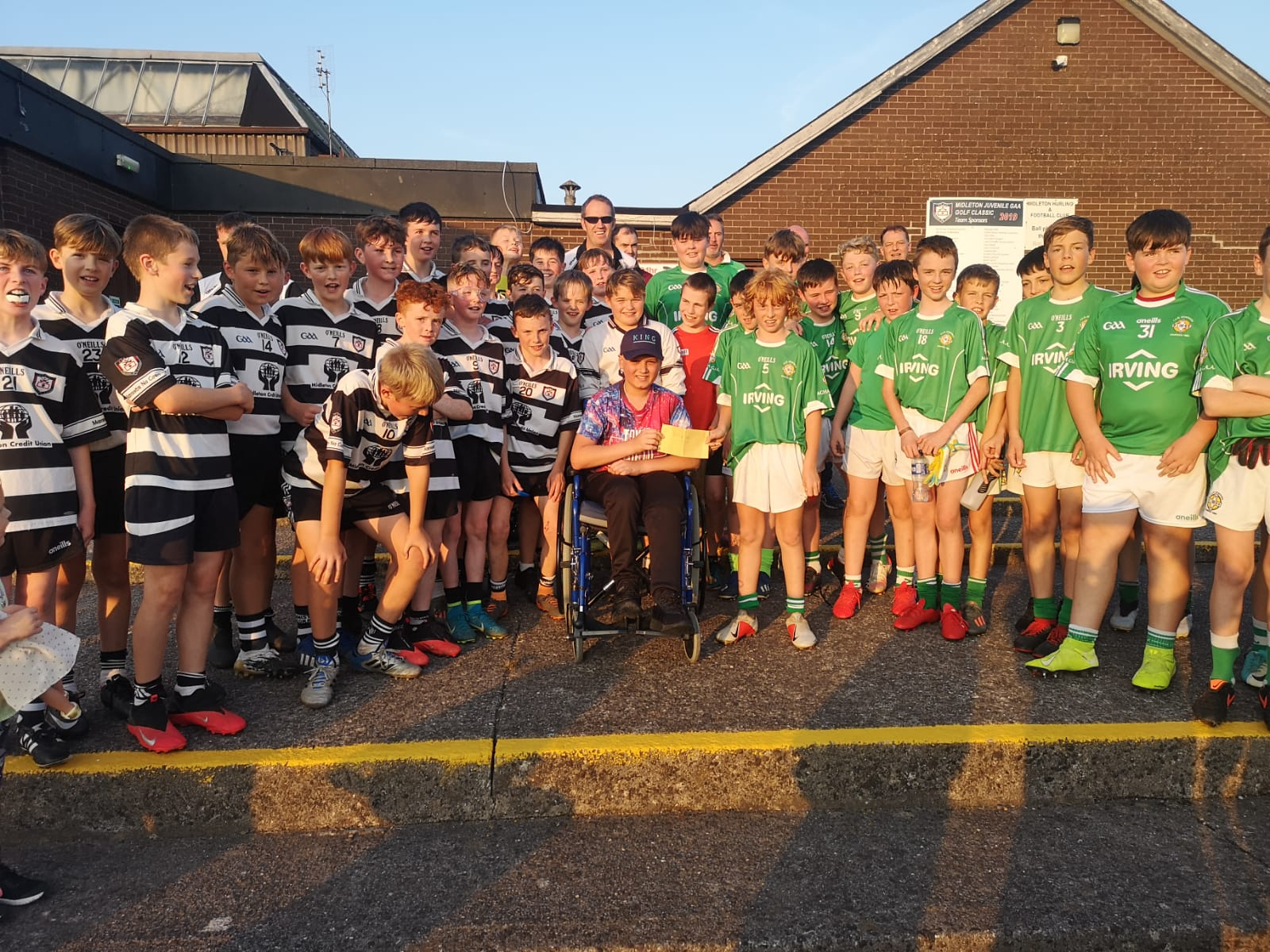 Fé12 Aghada team making presentation to Kacper
For more information check out: https://www.gofundme.com/f/for-brave-12year-old-boy-with-cancer/donations
Fé11 Notes
Challenge Match V Kiltha Óg
On Friday evening last, we made the short trip to near neighbours Castlemartyr, where Kiltha Og hosted us, in what proved to be a very entertaining game of hurling. It was Midleton's first full 15-aside game, having graduated from the smaller go-games format this year. A late Indian summer made for ideal playing conditions and drew a sizable crowd of onlookers to the banks of the pitch, which certainly added to the spectacle.
Objectives for the game, first and foremost was to get out there and enjoy the sport they love. Having only recently returned to training after the long layoff, it was important that they get out on the grass and express themselves. The game was also played with a view to getting the squad familiar with positional awareness on the larger playing surface. In fairness to the lads they stuck to their positions, with some gentle persuasion from the side-lines!
With a panel of 21 to choose from it was difficult to pick the starting 15, but we started well and settled into a cracking game with all 21 players getting game time. Some lovely passages of play from the midfield pairing allowed the forwards to pick up great scores. Our back line was resolute, providing a tough test for the Kiltha forwards. An even enough game in the end, but we were delighted to see that every ball was contested. Not an inch was given by any player from the first to final whistle, which was evident to see at the end of the game when the helmets came off.
Massive thanks to Jimmy Smiddy (Kiltha Óg) who refed the game and provided coaching to both sets of players throughout. Thanks as well to the Kiltha Óg Covid Supervisors who ensured hand hygiene was maintained upon entry to and exit from the field. Magpies Abú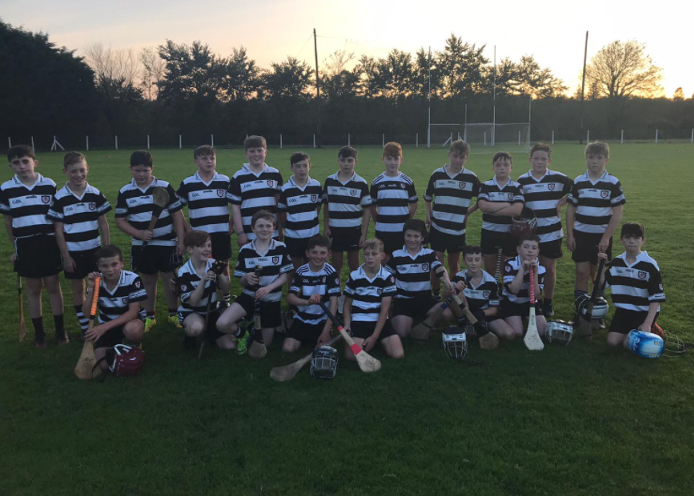 Fé11 v Kiltha Óg
Challenge Match V Glen Rovers
On a gloriously sunny Friday evening we travelled to the famed Glen Rovers for a hurling challenge game in our first outing as Under 12's and also our first game at 15 a side. The vast majority of the lads had never played 15 a side game before so understandably nerves were on show early on and we were slow to settle, allowing Glen Rovers push in to an early lead. To the boy's credit they didn't panic and despite falling behind to some well taken scores they kept the work rate up and soon settled. Our boys who have already had a year at this level showed some great leadership by guiding and encouraging their team mates in to the game and at the tail end of the first half there were signs of us growing in to the game as a team. A bit of a pep talk and reshuffling of positions at half time saw a different Magpies emerge in the second half with some outstanding performances and teamwork from all nineteen lads. The second half was a much tighter affair with Midleton just getting the better of it over the second 25 minutes. Has to be said there are a lot of positives and learnings taken from the game as well as some areas to improve on, but this will come as we move on and get some more games under our belts. Well done to all involved and also to parents for making the trip to the city on a Friday evening, much appreciated.
The panel on the day was:
Eoghan Donovan, Aaron Murphy, Braden Dunlea, Ethan Foley, David Seale, Fionn Byrne, Patrick O Brien, Rory Nolan, Daniel Moloney, Finn Cahill, Nojus Jurciukonis, Alex Molumby, Riain McCormack, Ciaran Kelly, Josh Quill, Hugh Barry, Adam Groarke, John O Sullivan, Kevin Lester.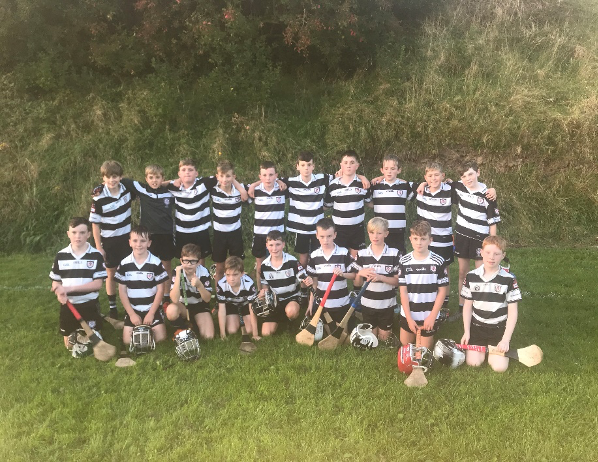 Fé11 v Glen Rovers
Davy Hogan Street Leagues 2020 – Match Day 2
Another early start for our young Magpies on Saturday last for Match Day 2 of this year's Davy Hogan Street League. Five matches in total took place in the September sun with no shortage of skills on display again. Match Day 3 takes place next Saturday where the race to finish in the top 2 will be decided. These 2 top two teams will then play in the final on Saturday October 3rd. Thanks to Conor Fitzgerald and Ryan Cahill who were our referees for Match Day 2.
| | | | |
| --- | --- | --- | --- |
| Saints | 3:03 | Garryowen | 7:03 |
| St. Enda's | 1:06 | Forkums | 2:03 |
| Garryowen | 6:03 | St. Enda's | 3:02 |
| Forkums | 5:03 | Saints | 1:03 |
| Sons of Rest | 2:03 | Owenacurra | 2:05 |
For team panels, panel photos, fixtures, and results click here.
Once again, the wonderful and very talented Andrew Foley was on hand and produced some fantastic photos on the day. The link for this is as follows: https://flic.kr/p/2jFRDGw
Fé9 Notes
Our Fé9's travelled in great numbers in glorious sunshine to play Erin's Own on Saturday morning. Well done to all the boys who played some great hurling.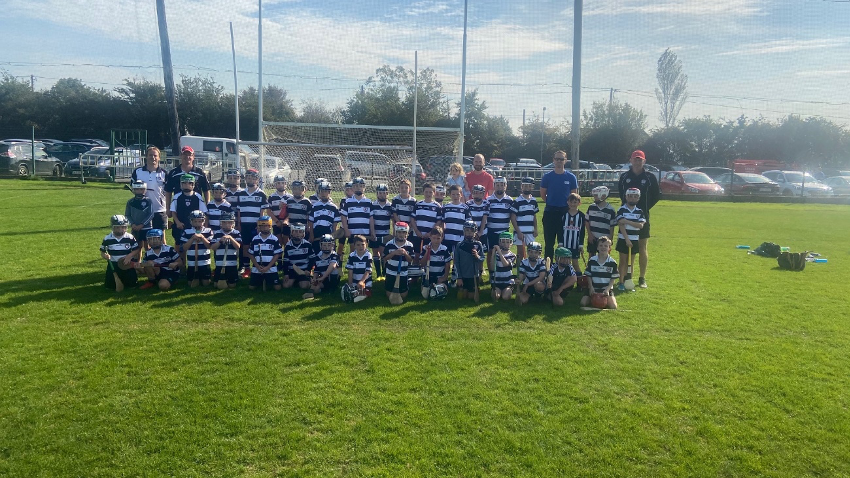 Fé9 v Erins Owen
Fé8 Notes
Our Lads were on the road again for a second week to Riverstown to play Sarsfields GAA. We brought 33 Young Magpies for this Hurling Challenge Games and the lads didn't disappoint us. We played four 7 a side 15min Matches and overall, the lads did brilliant in each of the games and Great Reports came in from all of our Groups.
We would like to Thank SARS for Hosting us and we look forward to playing them again sometime. Finally, Thanks again to all the Parents and Coaches for their great Commitment within this Group it was our second week Travelling Away and our Numbers have being Fantastic. So, Thanks again.
We hope to play Carrigtwohill next Weekend in another Hurling Challenge up in Carrigtwohill. TEXT Messages will be sent out to Parents during the week about this.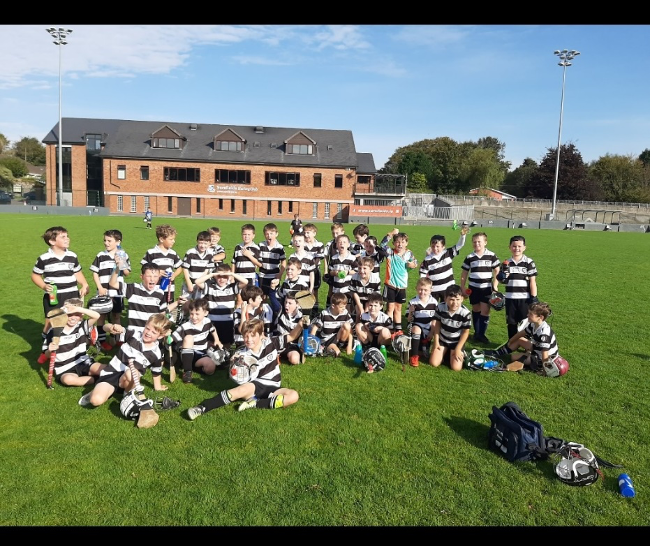 Fé8 v Sars
Fé7 Notes
The lads continue to train every Saturday morning on the main pitch. They are showing massive improvement every week and seem to be enjoying themselves with the games the coaches are giving them. We had over 30 young magpies playing hurling in the field on Saturday last and a large number of coaches also. Don't forget that the best training happens at home so keep on practicing those skills! As always new members are welcome to come along anytime.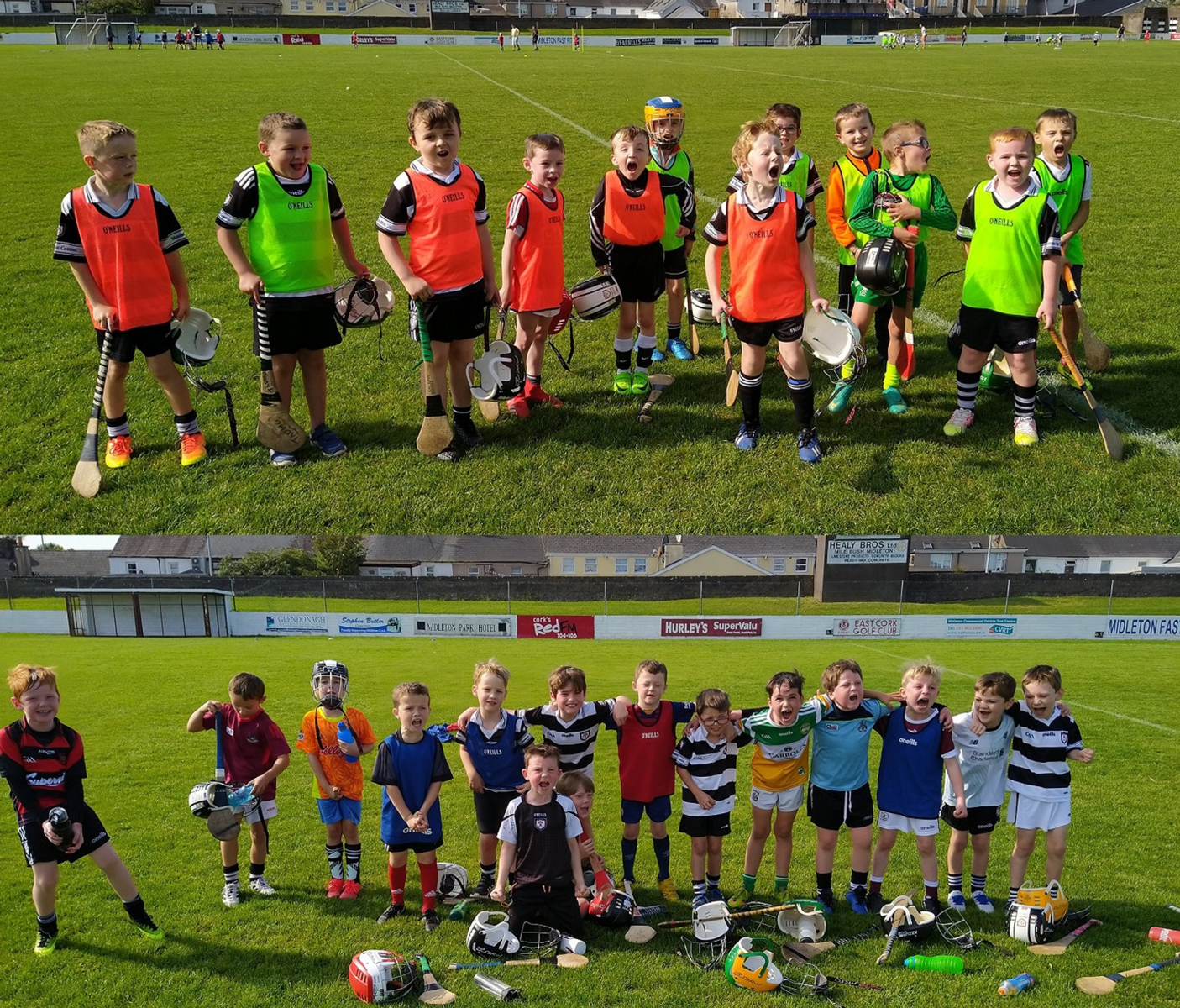 Fé7 Training