Midleton GAA , Camogie & Ladies Football Club News
06 December, 2015
Senior Hurling
Congrats to Paul Haughney who was selected at mid field in the Reardens Hurling All Star team. The awards took place last Wednesday in Reardens Bar Washington Street.
Post Primary
Congrats to St Colman's CC Midleton on their win over Mitchelstown by 2-11 to 0-16 in the Corn an Dara Uí Dhonabháin Munster Fe 16 ½ C Hurling last Friday week in Ballincollig. Ryan O Riordan, Cian Crowley, Aaron Mulcahy, Ross O'Regan and Jake Shanahan were all part of the team.
Well done to Tommy O'Connell who was part of the CBC team which recently won the Corn Shéamais Uí Dhonnchú Munster Fe 16 ½ B Hurling Final defeating Abbey CBS by 0-09 to 0-06 in Shanballymore.
CBC also had a fine victory over Castletroy Community College in the Harty Cup last Wednesday by 1-16 to 0-09 which leaves them top of their group, Tommy O' Connell, Eoin Moloney & Shane Finn can now look forward to the knock out stages in January.
Midleton CBS are making life very difficult for themselves, a draw last week against Blackwater College means that they must now defeat De La Salle this Wednesday to progress. Sean O'Leary Hayes, Seanaidh Smyth, Garan Manley, Padraig O'Brien, Sean O'Meara, Kevin Mulcahy and Adam Daly were all part of the panel.
Ladies Football
East Cork Minor Football Plate Final: Inch Rovers 1-10 to Midleton 1-1.
Inch Rovers deservedly defeated us in the final of the East Cork Minor Plate in a match played in Killeagh. There was a strong cross field north westerly wind which made playing conditions difficult. Despite this Inch stated the brighter and by the ninth minute had opened a three point lead. Thereafter we had the better of exchanges for the remainder of the half with Charley Moore converting a free before Abby Quirke was dragged to the ground for a penalty.
This was duly dispatched by Charley Moore and Midleton led at the break 1-1 to 0-3.
However six minutes into the second half, disaster struck. A miss placed pass as we were attacking led to a break which eventually resulted in Inch scoring a goal. This was the break that Inch needed and thereafter they took control of the game as we began to tire. This was the last game at this level for Lucy Lawton, Claire O'Mahony, Aoife Madden, Niamh O'Farrell, Meg O'Regan and Ciara O'Doherty and each gave their all in the game and indeed for the team and for the juniors throughout the year.
A number of the younger girls stepped up from the U-16 grade during this league and performed very well during the competition. These same girls also stepped into the breach when the Juniors came calling during the summer. Well done to all and the selectors would like to thank you for the great commitment to the club during the year. No doubt you will be tasting success in the club colours in the near future.
Panel : Charley Moore, Aoife Franklin, Lucy Lawton, Caoimhe Morrission, Claire O'Mahony, Aoife Madden, Rosin O'Callaghan, Niamh O'Farrell, Megan O'Regan, Molly Beausang, Deirdre Corcoran, Dionne Carroll, Laura O'Leary, Ciara O'Doherty, Rhea Buckley, Sadhbh Beausang, Kate Mary Cullinane, Claudia Kearney and Abby Quirke.
Training for our Under 8's girls is now finished until the New Year.
Hopefully the weather will be good to us for our older girls. U10's upwards are at the Hockey pitch from 7-8 pm. The Club would like to extend our Sympathies to Aidan D'ardis on the recent death of his father.
Camogie
As 2015 draws to a close and the players and coaches are on a well-deserved break from training it is timely to take stock of the year gone. It has been a great year for our Club both on the playing field and from a club development point of view.
The playing season started with the under 12's participating in the Feile competition in Semple Stadium, this was the first ever match played for many of our young magpies – not a bad venue to start your playing career. We took part in our first competitive league matches at County under 12 and under 14, as well as participating in the East Cork under 13 summer league. While no silverware was garnered this year, it is important to note the club is in its infancy, with the commitment and application from the girls in all age groups it is safe to say that this too will come. The younger girls also had busy season, with a number of blitzes and go game matches throughout the year. The playing highlight for the under 6's being an end of season blitz on home ground and for the under 8's and 10/11's a trip to Killarney for the Veronica Stack Memorial blitz.
Some of the other highlights during the year were participation in the St Patricks day parade, a team bonding trip to East Cork Adventure for the older girls, a summer camp which this year was organised with the assistance of Ross Corbett Munster Camogie Development Officer. A 'Come Hurl with Me' programme, when parents got the opportunity to participate in a 6 week programme to learn the skills of the game. We were in the fortunate position again this year to have the opportunity to travel to Croke Park to support the Cork Camogie Senior Team and watch captain Aisling Thompson lift the O'Duffy cup. We also her to Midleton twice in recent months firstly along with the rest of the Cork Senior team for an open training session ahead of the All Ireland final and again along with fellow All Ireland star Laura Tracy as part of the Bank Of Ireland Enterprise event when some of our girls got to take to the field with the senior stars.
The season came to close on Saturday last will our end of year Christmas party in the GAA Club. All of the players were presented with medals to acknowledge their participation and effort in the year gone and we also were privileged with a visit from Santa who is understandably very busy this time of year, before he rushed off Santa pulled the first of the raffle ticket. We would like to thank those who provided raffle prizes namely: East Cork Adventure Centre, Jungle World, Jameson Heritage Centre, Headquarters Hair Salon, Garde Engineering & Recycling Centre, Ted Murphy Garden Centre, Margaret's Beauty Salon and Fota Island Spa.
A special word of thanks to our supporters and to the Midleton Hurling and Football Club for their continued support, for the benefit of their experience and for the use of all facilities.
Thanks to Michael Carroll for his very generous and greatly appreciated set of Jerseys for our under 12/13 /14 teams. To our coaches who give not only of their time each week to train the girls but give of their weekends to attend matches and continued development themselves as coaches through participation in coaching courses and workshops organised during the year. While the players may be on a break over the next six weeks, the coaches are using the opportunity to come together along with our newly appointed Coaching Officer to plan for 2016.
To the parents thank you for supporting and transporting the girls throughout the year.
And to the girls .... our girls ... that making it all worthwhile - well done on a great year. Happy Christmas to all. Magpies ABU
Annual General Meeting
The Adult H & F Club AGM will take place on Wednesday next the 9th of December at 8pm in the Club, all members and intending members welcome.
Lotto
Our Lotto Jackpot was €1,800, there was no winner, the numbers were 2,15,19 & 24, the Lucky Dip winners were Declan/Caoimhe Ryan, Catherine Desmond, Kevin Fitzgerald, JP Quigley & Maurice Garde, the next week's Jackpot will be €2,000.
There was four extra prizes of €30 Xmas meat vouchers supplied by Crowley's Meat Centre and the winners were Madeline Doyle, Helen Quinlan, Caroline Wallace & Gerry Higgins.
The Lotto draw takes place each Friday in the Club. Tickets are on sale at the Club Bar, O 'Neills Bar, Linehans Bar, Maple Leaf Bar, O' Farrells Butchers, Frank Murphy Butchers, Pat Walsh Paints, Chadwicks, Teach Beag & Niall Mac's Bars.
BINGO takes place each Friday night in the GAA Pavilion with a weekly guaranteed Jackpot of €1,000.

Juvenile
Fe15
Last Monday night our Fe15 footballers were honoured at an event held at the Clayton Silversprings Hotel, as the winners of the Rebel Og Award for November to commemorate a great season and a deserved victory in the Fe 15 P1 Football Championship. This was especially meritorious since this team has won the P2 Football Championship and League last year had gone on to claim the ultimate accolade this year.
The event was sponsored by the Clayton Hotel, Cummins Sports, RedFM and Irish Examiner as Rebel Og wished to congratulate Midleton U15 Premier 1 football side on their recent victories.
Team Captain Ciaran Evans, Players Mark Daly, Jake Shanahan and Alan Power represented the Team while Mentors Paudie O Brien, Paul Britton, Mark O Sullivan, Criostóir O Cathasaigh & Liam Wade were also present.
Cormac Quirke, Chairman Midleton GAA Juvenile Section said
"On behalf of the Juvenile Committee of Midleton GAA, I would like to congratulate our FE15 Footballers and Management team on winning the Premier 1 Football Championship. This was a great result for the team and the Club on the back of winning the FE14 Premier 2 Football Championship last year. A huge effort was put in this year by both the players and management team and this victory was a fantastic reward for both. As a Club we have made great progress in both Hurling and Football since the inception of Rebel Og which our Club has fully supported from the start. This result shows the benefit to our Club playing in the Premier grades in both codes which can only improve us going forward. The Juvenile Committee would also like to thank the player's parents for the support throughout the year".
Ciaran Evans Team Captain in his speech said:
"The hard work started back in January when we started training. Our team always works hard for each other and we don't like being beaten. When we were beaten in the quarter final of the hurling Championship, we focused hard on the football Championship. I would like to thank our Coaches for their hard work throughout the year and I would especially thank Criostóir O Cathasaigh as without him, I doubt we would have been playing in Premier 1 this year. Last year, he gave us the belief that we could win the Fe 14 Premier 2 Football Championship, and now this year we're Fe 15 Premier 1 Football Champions. I would also like to thank our parents for their ongoing support over the last number of years and hopefully we'll perform well in the Hurling & Football Championships next year. Our Team and Club are delighted to win this Rebel Og award and hopefully there's more to come."
Paudie O Brien, Team Manager, in his speech said
"We are delighted to win this award. Thank you to the Sponsors and the judging panel for bestowing this honour on us. This award belongs to the players for their huge efforts during the last few years. They are developing both as players and as fine young men"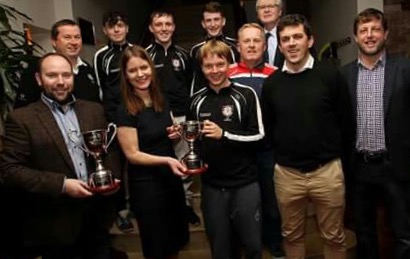 It's been a great year for Football in Midleton with our Fe 16 team also winning the Premier 2 football League recently in the final against Mallow. We also capped off a great season for the Fe15s when we won the P1 Hurling League last Tuesday night.
Midleton 1-13 Inniscarra 0-11Midleton Fe 15's ended a highly successful year when on last Monday night under lights at Ballincollig we defeated Inniscarra in the Premier 1 Hurling League Final to add to the Fe 15 P1 Football Championship.
Midleton were the favourites going into this game but we were made to fight all the way up to the final whistle. There was never but a few points between the teams and the old saying "Goals win Matches" was never truer on this occasion.
Inniscarra tore into our lads from the off and we knew we were in for a hard night. It was "nip and tuck" in the opening salvoes and Inniscarra's midfield and Half Forward line were causing us trouble. We settled and got to grips in these areas but Inniscarra were deadly from long range frees. The score at half time was Midleton 0-8 Inniscarra 0-4. In the second half Midleton threatened the Inniscarra goal on a number of occasions but were repelled time and time again by a highly resilient rearguard. The breakthrough happened midway through the half when Midleton scored a great goal after consistent pressure. Inniscarra kept in the game again with some long range frees and with some positional changes tried to get the goal they needed. This was never to be as the Midleton backs were resolute all through.
We were deserving winners in the end, even though we didn't play to our full capability. Great credit to Inniscarra who have greatly improved over the last year.
Team: Ryan O Riordan, Alan Power, Christian Murphy, Mark Daly, Sean O Sullivan, Ciaran Evans, Cormac O Brien, David Scanlon, Tommy O Connell, Kian Farmer, Kevin Finn, Cian Murray, Evan Rowlands, Ross O Regan (capt), Aaron Mulcahy, Adam O Connell, Fergus Wade, Ronan Lynch, Coleman Quinn, Craig Barry, Sam Quirke, Gary Carroll, Cian Crowley and Jake Shanahan.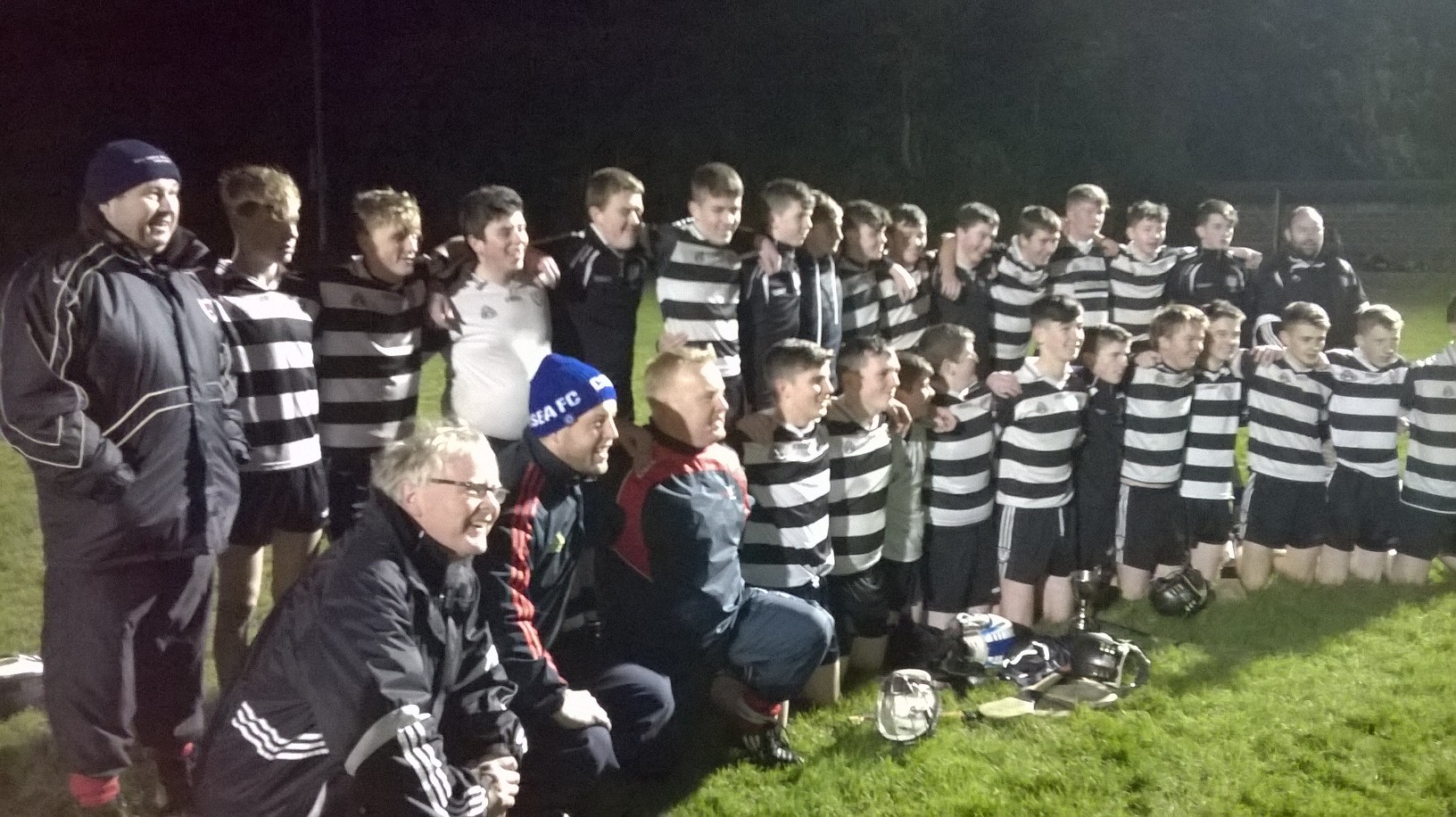 Indoor Training
Indoor Training takes place each Saturday from 10am to 1pm in the Community Centre (Gaelscoil) for Junior, Senior Infants & First Class groups. Have a helmet & shinguards, hurleys will be provided on the day.
Christmas Draw
Tickets are now available for our annual Xmas Draw which will take place on the 12th of December. Please contact Jim Sullivan or Cormac Quirke if you can help selling some tickets or if you want to buy them as this is a very important fundraiser.
Tickets are also available at Pat Walsh Paints, O'Neill Bar, O' Farrell Butchers.
Please support all our sponsors which appear on the tickets.
Social & Medal Presentation
The Juvenile Social Night and Christmas Raffle will take place in the Club Hall on Saturday the 12th of December.
The teams attending are Fe10, Fe11, Fe12, Fe13, Fe14, Fe15, Fe16 along with their parents. Players need to be in the club pavilion by 6.45pm, Food will be served at 7.15pm, then Medal presentation including player of the year presentations for each team followed by the Christmas Raffle Draw at 9pm in the Club Lounge.
We would like to remind everyone to return all sold raffle tickets to the Club on our before the night please. Raffle tickets will also be available to purchase on the night.
Once again the club would like to thank all those who sponsored the prizes, bought tickets or helped to organise the raffle.
We look forward to seeing you all on the night for what has always proved to be a very enjoyable evening for all.
Annual Long Puck
The Sean Keohane Memorial Long Puck will take place once again this year from Lisgoold village to Midleton on St Stephen's day, further details to follow.
Club Shop
The shop will be open from 11am to 12 each Saturday; don't forget to order your Xmas gifts before it's too late.