Midleton GAA Club News
29 March, 2015
Midleton Hurling & Football Club News
Junior A Football Championship
Our Footballers had a great win in the first round of the East Cork Championship last Friday night over Cloyne in Rostellan on a score of 4-04 v 0-01.
This was a very workman like performance by the team, our backs were very strong and disciplined and our attack were clinical when the opportunitys arose.
Well done to all involved, we are now through to Round 3 and await our opponents.
Team: Josh Deady, Joe Collins, Patrick O'Mahony, Gavin Bagnell, Cormac Walsh, Seamus O'Farrell, Darren Quirke (0-01), Shane Ryan, Aidan Ryan, Cillian Hurley (capt.) (2-00), Padraig O'Shea (0-01), Leslie Coughlan, Declan Ryan (1-01 free's), Alywin Kearney (0-01) & Patrick White (1-00).
Junior A Hurling League
Last Sunday morning our hurlers got their County League campaign off to a good start with a home victory over Ballymartle by 2-10 v 0-12. Despite the very windy conditions both teams coped well and gave a decent account of themselves.
Team: Joe Loftus, Elliot Mulchay, Alywin Kearney, Billy O'Shea, Darren Quirke, Leslie Coughlan, Cillian Hurley, Padraig O'Farrell, Padraig O'Keeffe, Keith Ryan, Shane Ryan, Eoin Walsh, Padraic Nagle, Declan Ryan & Sean O'Farrell. Subs used Niall Walsh, Michael Abernethy, Mark O'Keeffe, Brian O'Sullivan & Eoin Ferriter.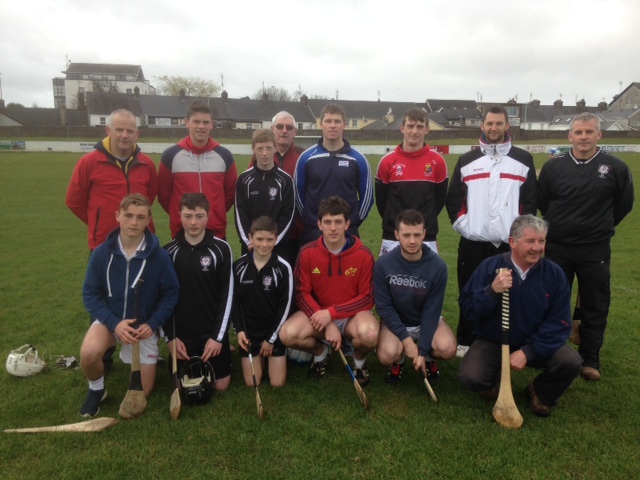 Group pictured at a recent Free Taking Session
Junior B & C Hurling
Training continues each Monday night @ 7pm in the Club for anyone eligible and interested in playing Junior B & C Hurling.
The first round of League games will take place around the second week of April.
Allianz Senior Hurling League
Cork defeated Wexford in Pairc Ui Rinn by 0-18 v 0-14 in the League quarter final , Conor Lehane scored 0-03 from half forward, Luke O'Farrell was full forward and Killian Burke played at centre back.
Cork will play Dublin in the League semi final on Sunday the 19th of April.
Membership
Club membership for 2015 now due. Playing members and selectors must have membership paid to allow participation in games post 31st of March.Membership rates can be viewed on the club website www.midletongaa.com or by contacting the Membership officer Terence McCarthy on 086/6013228 or any club officer or team manager. New members most welcome, please note that 31st of March is also the Club deadline date for eligibility to vote in the 2015 AGM.
Fixtures
Wednesday 2nd April Junior A Hurling League v St Colums @ Cloughdubh 8.30pm
Saturday 4th April Senior Hurling League v Ballymartle away @ 5pm
Sunday 5th April Junior A Hurling League v St Catherines away @ 2.30pm
5 Year Club Development Plan
Last Thursday evening the Chairman of the Steering Committee Mark Walsh presented the final draft of our Club Plan to the executives of the Hurling & Football, Ladies Football and Camogie Clubs. Afterwards each of the Clubs unanimously accepted the proposal and wished the Steering Committee well with the final Launch.
Chairpersons Liam Ryan, Paddy Corcoran and Denis Kelleher all congratulated the Steeering Committee for their wonderful work and commitment in bringing this Plan to fruition. The Plan will be formally launched on Friday the 10th of April at 8pm in the Club Lounge with club members and all contributors welcome to attend.
Further details on the night will follow shortly.
GAA Golf Society
If you are either a member of a Golf club and play regularly or you might just wish to play a few social rounds of Golf during the year perhaps you might like to join our Golf Society for the coming year. Membership is only €20 plus a competition fee for each outing. For further details contact Jim O'Sullivan 086/1639010 or Pat Hayes 086/4107046. Our first outing in on this Saturday 4th of April at East Cork Golf Club (Easter Hamper sponsored by Bernard Cashman of Cashman Car Sales) between 1.40 to 2.50pm. Other outings include the Captain's prize on 6th May in East Cork & on the 12th of June at Fota Golf Club, more details to follow later.
Lotto
Our Lotto Jackpot was €11,800, the numbers were 3,16,18 & 24, there was no winner, Lucky Dips were Lil O'Driscoll, Betty Power, Seamus Murphy & Kathleen Mc Carthy, next week's Jackpot is €12,000. The Lotto draw takes place each Friday in the Club. Tickets are on sale at the Club Bar, O 'Neills Bar, Linehans Bar, Maple Leaf Bar, O' Farrells Butchers, Frank Murphy Butchers, Pat Walsh Paints, Chadwicks, Teach Beag & Niall Mac's Bars.
BINGO
Please note that there WILL BE a BINGO session on Good Friday night in the GAA Pavilion from 8pm as usual, guaranteed Jackpot of 1,000 euro!!
Green Sheet (48 calls) €880 & Blue Sheet (Lucky Number) €480
Congrats to Kath O'Flynn who won €1,000 at the Bingo last Friday night.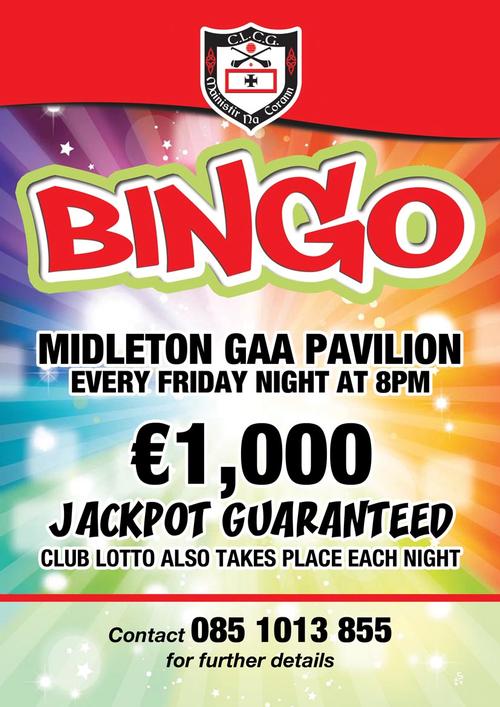 JUVENILE NOTES
Fe 12
Our fourth game of the Premier Football League was played on Saturday last against Ballincollig on a wild and windy afternoon in Ballincollig.They got into their stride very quickly and had us under pressure from the throw in. They registered a couple of scores very early on. But what typifies this group of young Magpies is their never say die attitude. We might have been under a little pressure for the first ten minutes of the game but then it all changed as we took over for the remainder of the first half. But because of a number of things, good Ballincollig defence, bad luck with shooting at goals and most particularly the strong wind we were unable to register any score. The half time score after playing against the wind was Ballincollig 3-03 Midleton 0-0.
The second half was owned by the Magpies and on numerous occasions we threatened to net a feast of goals. But it just was not to be. Ben O'Neill scored a cracker of a goal and Evan Kelly kicked a fine point. Other notable performances came from Brion Saunderson, Tomas Lambe, David Connolly, Darragh McCarthy, Evan Kelly and Evan McCarthy. Final scrore was Midleton 1-01 Ballincollig 4-05.
Midleton Panel: E. Kelly (0-1), R Gies, E McCarthy, N. Corcoran, F Greenwood, D Connolly, N. Fitzgerald, C Smyth, D. Codd, C Murray, D McCarthy, B O'Neill 1-0, R Hartnett, B Saunderson, T. Lambe, P McGann.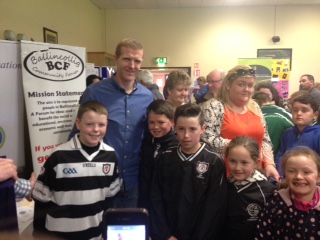 Fe 15
Our footballers had a very good victory (their first of the campaign) over St Finbarr's in the Premier 1 Football League last Friday morning in Togher by 3-12 to 0-10. The game opened brightly with both teams getting a few points each. The Barrs though looked dangerous up front and with Midleton gifting a few frees for fouls on the ball the Barrs raced into a 0-5 to 0-2 lead after 15 minutes. Midleton then started to play direct football and scored 3-3 before half time. Two of the goals were as a direct result of great runs from midfield. Half time score was Midleton 3-5: Barrs 0-7.
Midleton played more controlled football in the second half and cut out the silly technical fouling that had yielded Barrs 5 of their 7 first half points. Both teams went point for point in the first ten minutes of the second half and Barrs were finding it hard to break down the Midleton rearguard to get the goal they needed to get back into the game. Time after time they were repelled by strong physical and fair defending. While we were soaking up pressure we alway threatened on the break and we proved to be the better team in the second half tacking on 0-7 to Barrs 0-3.
The final score was probably a bit flattering for Midleton but without question this was a deserved victory. Team: Jake Shanahan, Alex O Brien, Cormac O Brien, Adam O Connell, Kian Farmer, Kevin Finn, Griffin Hurley, Coleman Quinn, Cian Murray, Ross O Regan, Evan Rowlands, Ciaran Evans, Ronan Lynch, Ryan O Riordan, Dan Sheehan, David Scanlon, Gary Carroll.
Fe 16
We had a very good away victory in the Premier 1 Hurling League against Sars last Friday evening by 2-18 v 2-09.
Juvenile Flag Day
The Juvenile Flag day will now take place be on Thursday 2nd of April from 8am to 8pm at HURLEYS SUPER VALU. Help will be required from all Club members on the day. Please contact Mary Quinn for available times.

Outdoor Training
Training for all the Street League groups will restart on Saturday the 11th of APRIL at the MAIN PITCH,training times at the MAIN PITCH will be decided in the coming weeks. Also on the same day the COFFEE MORNINGS will take place,we will be looking for PARENTS to help out each Saturday.
Club Gear
The Club shop is open each Saturday morning from 11am to 12, a full selection of gear is available.