Midleton GAA News 27th October 2012
29 October, 2012
Junior C Hurling Final
Midleton 0-08 Dungourney 0-07
Our Junior C hurlers clinched back to back East Cork titles on Friday evening last when they had one point to spare over Dungourney. They game was played under lights in Killeagh in dry but very cold conditions. Midleton made the better start and led by four points to one after 15 minutes. Midleton lost Stephen O'Brien early in the game and this led to the introduction of Coleman Quirke. Dungourney had the better of the second quarter but were finding it hard to put scores on the board. Midleton were also struggling to convert what limited chances came their way. At half time Midleton led by 0-05 to 0-02. Dungourney started the brighter in the second half and hit a purple patch where they scored three unanswered points. At this stage the momentum was with them and it looked like their greater physical size and experience would be the deciding factor. However a couple of frees from Andy Rea settled Midleton nerves. However back came Dungourney again to level the game as we entered added time. It looked like a draw game which I think most people would have seen as a fair result. However Midleton had one last attack and when the ball broke to Alan Stanton his pace made an opening for him self and he duly converted from thirty yards out off his right side. It was the winning score and one that did not look likely as we entered the final quarter. It was a great team performance as to a man the Midleton players left it all on the pitch as they battled away against very worthy opponents. The cold condidions meant it was not the prettiest of games but for honest effort from both teams it was hard to beat.
Goalkeeper Coran Swayne made a vital save early in the game and was solid throughout. The full back line of Colm Leahy, Joe Collins and Tom Motherway never gave their opponents a moments peace. The half back line of Liam Walsh, Brendan Ferriter and Barry Fitzgerald worked hard for the hour with Barry particularly prominent in the third quarter when we were under a lot of pressure. Youngsters Keelin Kennedy and Alan Stanton had good games in the midfield. Andy Rea worked hard throughout as did Patrice Tschamanga who showed his talents are not just with the big ball. Veteran Coleman Quirke who was introduced early for the injured Stephen O'Brien was prominent throughout and worked tirelessly to the end. The experience of Coleman and his brother Muiris was vital as the game seemed to be drifting away from us in the second half. Dara O'Keefe and captain Gearoid Fitzgerald worked their socks off in what was a great team performance.
The subs when called upon all played their part. Congratulations to team mentors Gavin Power, Michael Tobin and Ger Lawton on completing two in a row. The game was well controlled by referee Michael Walsh from St. Catherines.
After the game East Cork Board Chairman Michael O'Brien presented the Michael Foley Cup to winning captain Gearoid Fitzgerald.
Click HERE for photos from the game
Midleton team: Coran Swayne, Colm Leahy, Joe Collins, Tom Motherway. Brendan Ferriter, Barry Fitzgerald, Liam Walsh, Keelin Kennedy and Alan Stanton, Stephen O'Brien, Patrice Tschmanga, Andy Rea, Muiris Quirke, Dara O'Keefe, Gearoid Fitzgerald. Subs Coleman Quirke, Brian Fitzgerald, Paul O'Brien, Shane Goulding. Brian Rossiter, John Shanahan, James O'Leary,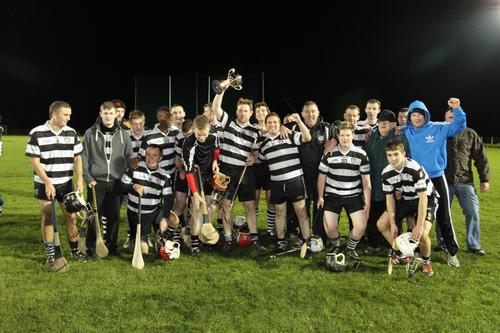 Junior B Football Championship
Midleton 1-12 to Glenbower Rovers 0-06
Our Junior B Footballer opened their East Cork campaign with a comfortable win over Glenbower Rovers on Tuesday of last week. We now awaitt the winners of Cloyne and Russell Rovers in the next round.
Team: Dara O'Keefe, Brendan Ferriter, Sean Corcoran, Liam Clohessy, Colm Leahy, Eoin Walsh, Jerome Curtin, Patick O'Mahony, Patrice Tschamanaga, Keith Ryan, Michael Keohane, Paudie Farrell, Davy O'Brien, Pat Fox, Olla Bella.

Junior Football League County Semi Final
Midleton 1-06 Buttevant 1-09
On Wednesday of last week we travelled to Kildorrery to face Buttevant in the County Football League semi final. Afetr an hour of play we came out the wrong side by three points. We were level through a penalty with ten minutes to play but our opponents added three unanswered points to see them through.
Team: Dara O'Keefe, Brian O'Sullivan, Barry Fitzgerald, Brendan Ferriter, Eoin Ferriter, Seamus O'Farrell, Joe Collins, Declan Ryan, Patrice Tschamanga, Kieran Mulcahy, Paul Barry, Pa White, Willie O'Brien, Oisin Cotter, Olla Bella.

Junior B Hurling Championship Final
The final of the East Cork Junior B Hurling Championship takes place this coming Saturday November 3rd in Caherlag with a 3.30pm throw in when Midleton face Sarsfields in what should be a cracking game. Midleton have reached this stage with wins over Killeagh in their opening game, they then defeated St. Catherines in the quarter final and overcame Carrignavar in the semi final. Sarsfields have defeated Youghal in the quarter final and Dungourney in the semi final. The standard of hurling served up to date has been very high by both finalists so heres hoping for the same again on Saturday. Best wishes to the players and mentors Gavin Power, Mick Tobin and Ger Lawton on Saturday.
Midleton GAA Gym Membership
Our Gym is now open for Membership. Priority will be given to applications from existing Club Members and their immediate families, former players with Midleton GAA and Members of Midleton Ladies Football Club. Further details are available on our Club Website and from any Club Officer. Gym Membership for an existing Member of Club is €70, Non GAA Club Member is €100 and for spouse or sibling of Gym Member is €50. Contact Ian O'Brien or John Fenton for further details.
Midleton GAA Lotto
26th October. Jackpot €10,600
No winner. Lucky Dip winners of €40
Nora O'Reilly, c/o The Bingo.
Michael Tobin, St. Mary's Road, Midleton.
Kathleen Fitzgerald, Shanagarry.
Jo Crowley, Clonmult, Dungourney.
Nora Higgins, c/o The Bingo.
Next weeks Jackpot €10,800
Thank you for your continued support.
If you wish to pay for your Club Lotto by direct debit please contact a member of the Club Executive who can supply you with a mandate form.
Juvenile Notes
Fe 15 County Hurling Championship Win
U-15 A County Final , Midleton V Erins Own in Lisgoold 28/10/2012
An exciting U-15 A county final was anticipated by all on Sunday following Midleton's defeat by Erins own in the Eastern final the previous month. With this foremost in the minds of the Midleton players, they arrived in Lisgoold extremely focussed and determined to bring the game to their old rivals. The commitment and passion displayed by both teams led to a great battle and a fantastic game of hurling for the spectators.
Midleton played into a strong wind in the first half which meant that the Erins Own puckouts were landing deep in their half, but centre-back Séadnaidh Smyth was in superb form on the day, and with his strength and speed he ably battled for, and dealt with, any ball that came his way. Time and time again his clearances set up the Midleton forwards for their next attack. With captain and full-back Jack Enright brilliantly marshalling the full-back line, Conor Evans bravely tackling any Erins Own player in his vicinity, and midfielders Luke Finnerty and Sean O'Meara getting stuck in and dominating their area, all the teamwork eventually paid off and Midleton got a great cushion when a powerful ground shot by Mark Crotty found the net. This gave them confidence and, with every team member giving their all, they drove on and added to their tally.
By half time the scoreline read Midleton 1-6 Erins Own 0-6, with corner-forward Garan Manley scoring 4 points, 3 from play, one from a free, Cormac Beausang (who played really well despite being sick for a few days) pointing a free, and midfielder Luke Finnerty scoring a beautiful point, with Luke having made some spectacular catches at vital times in the first half also.
As expected, on the re-start Erins Own came back into the game and reduced the lead to 2 points. However with goalie Liam Franklin, together with corner-backs James O'Brien and Ryan McConville unyielding, and wing-back Ross Cummins thundering into the game, Midleton weathered the storm. The deciding moment came in the 46th minute when centre-forward Kevin Mulcahy crashed home a great goal. Thankfully this put a bit of daylight between the sides. At this stage Jordan Roche replaced the hard-working Eoghan Collins who had given his all, and Jordan made an immediate impact with a great point.
Séadnaidh Smyth continued his trojan work throughout the 2nd half, Kevin pointed again, 2 more frees were converted by Garan, and 2 frees were also put over the bar by Cormac Beausang who adopted a roving role for the final 10 minutes, all of which helped to close out the game. The above, coupled with great performances by u 13 player Eoin Moloney, who was very influential at no. 14, as well as massive efforts by Conor O'Neill, David Mulcahy and Timmy Abdullah who all came on and contributed hugely, led to Midleton's victory. A special mention must also go to our other u13 players on the panel Cathal Gunning and Tommy Scanlan, as well as Fe14 player Pádraig O'Brien and Fe13 player Sean O'Leary who both missed out on the day through injury but had done enough in the earlier rounds to ensure our place in the final, as had Thomas Desmond and Adam Daly. It was a tough, fast, sporting game which finished Midleton 2-12, Erins Own 0-9.
This was a great win for a young group of players who, despite brave efforts, have not enjoyed much success over the years in terms of silverware, and so it was all the sweeter for them. Essentially it was a huge team effort that swung it for them with great heart and determination shown throughout the game. Let's hope that the players will build on this and together drive on to bigger and better things in the coming years.
Click HERE for photos from the match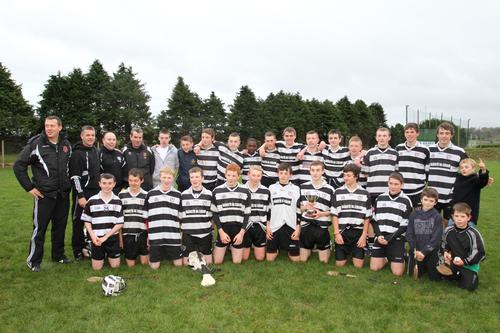 Fe 9
Midleton's Fe 9 hurlers hosted Inniscarra last Saturday 27th October in Clonmult Memorial Park. The panel was divided up to make two teams. Inniscarra proved to be very strong opposition. The games were fast and furious and all players entertained the gathering for a full hour of hurling. This group of young Magpies are turning into a very strong bunch of young hurlers and footballers. The secret to their success must be the extra practice they are putting in during the week when at home. If they can keep this going then it should be upwards and onwards for them.
Special thanks to the parents who helped prepare and tidy up after the games had finished with the refreshments for the players and mentors.
Training this Saturday - 3rd of November - starts in Midleton College all weather pitch at 11am
Juvenile Registration Day
For those who missed the registration day you can talk to your child's team mentors who will have registration forms. Their details are on the club website under their individual teams.

Training
With the nights closing in and the main pitch closing for the winter team training venues and times will be changing. Keep an eye on the club website www.midletongaa.com on the juvenile team page for your child's team training times. Team managers will update teams by text when changes are due. We would ask parents to encourage their children to practice during the week even if the weather is bad, parents can practice catching the ball indoors. For players from junior infants to Fe 9 please remember to bring your €2 to training sessions. This money is vital to keep the juvenile section of the club funded.
Club Gear
With Christmas fast approaching, club playing and leisure wear or vouchers can be purchased for presents. Just contact any of the team selectors or you can enquire through the club website www.midletongaa.com